What is a Smart Scale?
Many people keep a habit of using a scale to measure their weight to track the effects of how they are losing their weight. Traditional physical scales are easy to use and show straightforward measurements for users to read easily. However, all that a traditional scale can tell you is just a number that stands for your weight. It really can't let you know more details like a smart scale can do. So, what is a smart scale? A smart scale is generally considered to be one part of a complete fitness and health tracking system. Let's put it another way, it is an electronic scale (usually used a bathroom scale) that is able to measure weight and other body composition metrics. After measurements are gained, the smart scale will send the results to an app or online service in a wireless manner. And the online service or simply just the app will automatically have the data recorded. Generally speaking, The multiple bio-metric measurements a smart scale can track will include bone density, muscle quality, water percentage, body fat and more.
What Can a Smart Scale Do for You?
Some people who are still not familiar with smart scales would wonder their purposes and value, raising questions like -- Are smart scales worth it? Well, if you want to know more about your body and more details about your health situation, a smart scale will be absolutely worth it. It goes without saying that a smart scale can do much more than a traditional physical scale can. It does a lot more than measure your weight only.
Body Fat Measurement:
A smart scale can measure the body fat percentage in your body. Letting you know clearly how much of your total weight consists of fatty tissue will definitely benefit you greatly. As the smart scale tells you the detailed composition of the essential fat and stored fat, you will know whether the fat is overly high or low, and then care more this part by working out or using a more proper diet. For instance, most men's body fat percentage is about in the range of 18-25%, while most women's percentage is about 25-31%. Scientifically, for men, the lowest fat percentage should not be lower than 6%, and for women, should not be lower than 11%. This is closely related to the balance of body health overall. 
Muscle Mass Measurement:
Muscle mass is simply the percentage of muscle tissue in your total body weight. It sounds like the opposite of body fat, to put it more exactly, it isn't sheer the other way around as far as fat is concerned, as human body also contains bones and a large amount of water inside. For those who are working out to gain muscle, a smart scale will come in handy because it's not easy for you to precisely tell whether you getting muscle mass or just getting fat visually or by touching your body. A smart scale can do the measurement the right way.
BMI Measurement:
This sounds a lot scientific. It stands for body mass index which fully reflects human body health status. This index is a ratio for us to compare our height and weight. For those who keep working out on a daily basis, they care much about if they are overweight in contrast with their height. Let's say the height is basically stable for grown-ups, while weight can be adjustable by using the correct diet and exercising. To know if you are overweight or underweight, you should use a smar scale to measure your BMI. Scientifically, BMI less than 18.5 means underweight, and from 18.5 to 24.9 means normal health balance, and more than 24 means that you really need to lose some weight.
Lean Body Mass Measurement:
For most smart scales you could find out there, they can measure more than body fat, muscle mass, and BMI, they can even measure fat free body weight (also called lean body mass). It simply means the value your total body weight minus the fat weight. Well, it literally is the data that contains your muscle, bone and water weight.
Best Smart Scales on the Market:
After a thorough research of the best smart scales on the market, the typically best smart scales would include Withings smart scale, Eufy smart scale, Garmin smart scale, Fitbit smart scale to new a few. In our blog today, we are going to compare these best smart scales that have earned a well-known name globally to see if they show a striking contrast in design and performance.
Part# 1: Withings Smart Scales
Withings smart scales are generally believed to offer the best features. These smart scales feature advanced sensors for quick and accurate measurements. One of the greatest advantages from Withings is its seamless Wi-Fi synchronization. With Wi-Fi, you can control the device easily to record and keep track of your data. All Withings smart scales can automatically sync to the Health Mate app for easy control and management. You can do more other than measurements, like set goals, see your trends over time etc. 
Let's see 3 best smart scales with Withings typical features. You can also buy these Withings smart scales at Amazon.
1.  Withings Body+ - Smart Body Composition Wi-Fi Digital Scale with smartphone app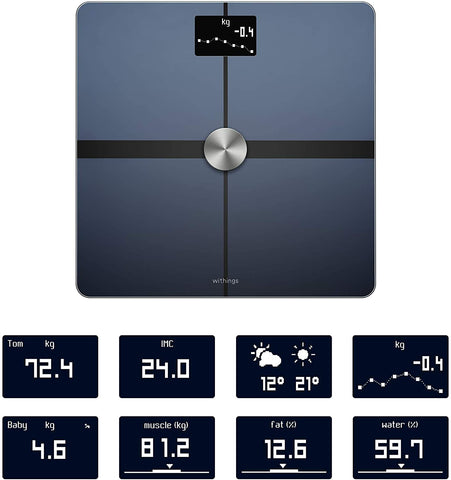 Like most Withings smart scales, this scale is able to measure full body composition with accurate percentage. For the data measured, it can automatically sync to the Health Mate app through Wi-Fi. Other than its own app, this smart scale is well engineered to be compatible with tons of top health and fitness apps on the market, like Apple Heath, Fitbit, Google Fit, you name it. From the scale, you can experience the intuitive interface. Actually it supports up to 8 users to measure weight with access to their personal weight records. Designed for multiple users, this smart scale can be used as family scale to keep track of health. Such a family friendly smart body scale sells at $79.
2.  Withings/Nokia Body Cardio – Heart Health & Body Composition Digital Wi-Fi Scale with smartphone app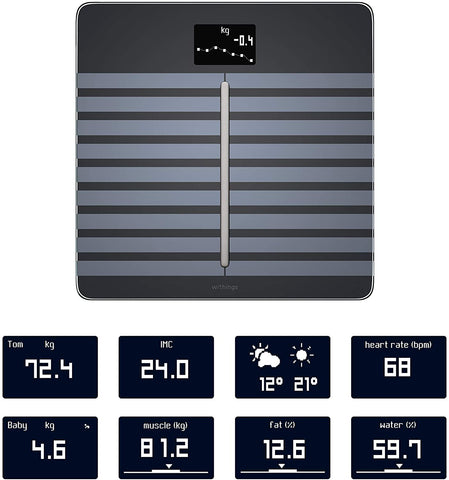 This Withings smart scale is also a health tracker that you can use for the whole family. Most of its features are similar with Withings Body+, such as automatic synchronization via Wi-Fi to Health Mate, compatibility for many health and fitness apps like Fitbit, Apple Health, availability for 8 users, accurate measurements and more. In addition, this Withings Nokia Body Cardio greatly differs itself from other models with its easy-to-use design. The base has a solid construction by aluminum housing and heat-tempered glass. People like it for its incredible thickness, only 0.7 inch thick. Usually, it's used on a hard floor, or you can choose to use it on a very thick carpet, which won't affect the accuracy in measurements. Considering everything it can do and the way it's built, $119 would be worth the value overall.
3.  Withings Body - Smart Weight & BMI Wi-Fi Digital Scale with smartphone app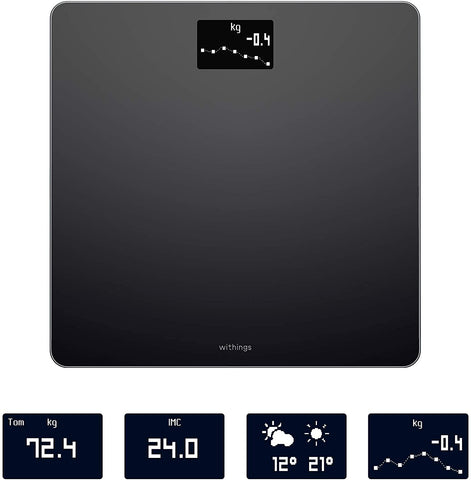 Withings Body is a scale with smarter features you can use to develop a healthy body. The most straightforward function from Withings Body is the instant weight insight, which allows you to see progress during each weigh-in with weight trend screen. This helps you stay motivated and quickly check your body status to keep up with pace of the right BMI. For easier control, you can use Alexa by saying "Alexa, ask Withings". Besides, the scale can provide a daily local on-screen weather forecast that changes throughout the day. Overall, this smart scale is a very budget friendly option, with the price tag $59.
Withings Body, Body+ and Body Cardio basically share the same functionalities, such as weight and BMI measurements, Wi-Fi and Bluetooth connectivity, long battery life,  multiple users etc. And obviously they differ from each other for the prices. The different prices could be differences in design and functions, for example, Body Cardio is rechargeable and can do body composition measurements like heart rate.
Part # 2: Eufy Smart Scales
With two typical smart scales though, Eufy is on the rise in this field, thanks to its technologies and improvement in performance. 
1. Eufy Smart Scale C1 with Bluetooth 
The Eufy smart scale C1 is a big family scale that can be used by 16 users. And even from the same account, the scale is able to automatically recognize each member's data. It uses 2 pairs of highly sensitive G-shaped sensors for accurate measurements. With such outstanding sensors, you can instantly get access to up to 12 insightful measurements for your body heath data. Like Withings, Eufy has its own Eufylife app(for free). And Smart Scale C1 is fully compatible with third party apps like Apple Health, Google Fit, Fitbit for easy measurement tracking. C1 scale offers an affordable price $35.
2.  Eufy by Anker, Smart Scale P1 with Bluetooth
Smart scale P1 is an upgraded version of C1. Likewise, it can serve up to 16 users, making itself a perfect choice for a family smart scale. And for the sensitive G-shaped sensors, and compatibility for third party apps, it's basically the same with Smart Scale C1. However, it features stronger Bluetooth connectivity. And compared with C1, it supports measurements for more aspects. It covers Body Age and Protein measurements, which are not included in C1's 12 measurements. Funny fact is that the price is upgraded as well, $49.
These two Eufy smart scales may serve the purposes similarly despite some differences in functions and performance. I guess they impress you almost the same way since they are from Eufy, a sub-brand of the famous Anker. Eufy has a huge collection of smart household items. These two smart scales are their first two scales launched with almost the same features to track health together with different price tags. 
Part # 3: Garmin Index Smart Scale  
Garmin smart scale is widely known, however, you have to live with the fact that there's only one Garmin smart scale currently, the Garmin Index Smart Scale, one and only, but professional. If you compare Garmin with Withings, Eufy smart scales, you might be impressed with the simplified, intuitive interface. It's easy to operation and easily measures weight, body mass index, body fat, muscle mass etc. Garmin is characterized for its Garmin Connect where you can connect Wi-Fi and wireless sync your data. Garmin Connect shows a lot of details for your stats, from which you can see your progress, effort, and goals. Typically, it can recognize 16 users and automatically upload each one's body composition metrics to each one's Garmin Connect account. The price $150 looks like an expensive option. You might consider this smart scale more to think it worthwhile or not. 
Part # 4:
Fitbit Smart Scales
Fitbit is selling tons of smart household items, whereas, the company has only two smart scales that are enjoy hot sales, the Fitbit Aria Air and Fitbit Aria 2. The two models don't differ much from each other in appearance design. Yet, there are still some differences between them in functions and performance, because that will explain the huge gap between $129 and $49 for the prices.   
1.  Fitbit Aria 2 Wi-Fi Smart Scale
This is the Fitbit that sells at $129. It has a reason to double Aria Air's price. In the first place, it measures your weight, BMI, lean mass and body fat percentage and automatically syncs it all to your Fitbit dashboard. Thanks to its wide compatibility and powerful Bluetooth connectivity, you can have the measurement stats wirelessly synced to most computers, iOS and Android devices. With Fitbit Aria 2, you can make use of the tools in the Fitbit app. For instance, you can create a food plan to manage the calories measurements, or you can set goals for weight or other activities and track your progress accordingly. Fitbit is designed to motivate users to work out more to stay fit.
2.  Fitbit Aria Air Bluetooth Digital Body Weight and BMI Smart Scale
Sounds more like a bargain(price $49) compared with Aria 2 though, Aria Air can do what it's supposed to do impressively well. Thanks to a straightforward screen, the scale quickly measures and displays the stats. You can sync the stats to your Fitbit dashboard via Bluetooth. From the Fitbit app, you can see your progress and trends by vivid graphs. It also supports multiple users to track their stats. Maybe you would think it's not as nicely built as Aria 2, or Aria 2 serves you with more details in measurements.
Conclusion:
After the detailed introduction of Withings, Eufy, Garmin and Fitbit smart scales, and from the comparison with each other, you would have an idea on mind whether these smart scales are worth it, or which ones are more worth it. No matter which ones are better, these scales we put together are the best smart scales available online. They are designed differently, function differently, but they will meet your needs for quick body composition measurements and easy tracking of health on a daily, weekly or monthly basis. From Withings, Eufy, Garmin, to Fitbit smart scales, one model or two of these world famous brands will suit you best according to your requirements to keep track of your health.