The newest generation iPad Pro is no doubt an ideal tablet for those who do art and design types of work because of built-in hardware like 8 cores image processor designed for 4K video editing, 3D designing effect, better touch control, etc. To make an artist or a designer's work more effortless, quite a few iPad Pro drawing accessories have been launched on the market.
Highly Recommended 7 Best iPad Pro Accessories for Drawing
1.  Magnetic iPad Stand from Lululook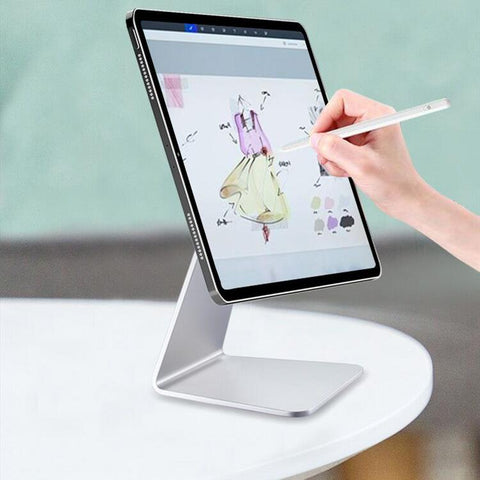 This magnetic iPad stand from Lululook is another useful iPad Pro accessory that you can add to your collection. Made of robust aluminum alloy, the iPad stand holder is specially designed to be quite thick to ensure its reliability and stability. When it comes to stability, it has a solidly-built base. Despite space-saving design, it's strong enough to support your iPad steadily, not to mention that it has anti-slip silicone feet in the bottom to prevent the whole stand from moving around on your computer desk. Naturally, this iPad stand is obviously known for its advanced magnetic attachment which is able to align iPad in place effortlessly. Besides,it's been extremely popular thanks to its wide angle adjustments, with its 360°rotation for versatile viewing angle option. Apart from easy setup for portrait and landscape viewing, the holder board itself can be easily adjusted from -20°to 200°to improve your visual experience. With all these features for adjustments, it's a great iPad stand for drawing, sketching or watching videos on your iPad.
Possible Downside:Lacking advanced features, yet, it's perfect for drawing, graphic, sketching, watching videos on iPad.
2. iPad Pro Paperlike Screen Protector
Lululook offers a creative accessory for iPad Pro: the iPad Pro Paperlike screen protector, one of the finest iPad Pro accessories for artists. As advertised, the iPad screen protector is specially made for creators and doers. For example, if you work as a sketcher, you can enjoy using iPad Pro as a page in your sketchbook with this Paperlike screen protector. Offering the ideal amount of friction for extended drawing sessions and right stroke resistance for optimal accuracy, the screen protector makes it easy to sketch, take notes, annotate drafts, etc.
"Paperlike screen protector is the must-have accessory I recommend whenever I teach how to take notes paperless on iPads using an Apple Pencil.", said Tom Solid, the Founder of the PaperlessMovement. Besides, even not for artist's work, a Paperlike screen protector has been greatly helpful for entertainment too. Thanks to superior display quality, together with a matte, anti-glare finish, the protector improves your experience of watching online videos like Netflix or YouTube.

Possible Downside: None that we know of so far, few users complain any.
Like the popular Paperlike iPad Pro screen protector, iPad Pro drawing stands are typically the best iPad Pro accessories for artists. If you handle this line of work using an iPad Pro, here's a list of the best iPad Pro accessories for artists that would intrigue you and make your work more productive with half the effort.
Before this drawing stand, there have been millions of iPad Pro stands you can find on Amazon. Yet, this one is a professional tool for drawing purposes. Made of medical grade silicone, this stand is pretty sturdy and protects your iPad Pro well. This iPad Pro accessory for artists features great ergonomics for better viewing angles with easy adjustments. The drawing stand holds its 4 positions securely, without moving a little bit when you use your iPad Pro. It provides solid, rigid support for graphic artists. For different tasks you are doing with the iPad Pro, there are different angles for you to choose from. With the hidden spring loaded hinges designed for easy opening and closing, you can change viewing angles freely. The legs for this drawing stand fold flat easy, making it a portable accessory to go with you wherever you might go.
Possible Downside: Some users reflect that the stand is really unusable if you plan to use the 2nd gen Apple pencil to draw. For this Apple pencil, it's lacking compatibility. Except for this, this iPad Pro drawing stand works like charm.

This Articka artist glove is a great iPad Pro drawing accessory for digital artists using iPad Pro daily. Supposed that you don't choose to use the palm rejection stylus pen, maybe you really deserve to use this glove. It allows your hand to slide smoothly over the screen with any friction between the glove and the screen. Thanks to the great smoothness without any friction, digital artists can easily write, draw, sketch, etc. This glove is made of 100% elastic Lycra material for the greatest comfort and softness. Moreover, the material effectively prevents smudges or oil from the skin of hands, eliminating palm touch, and fingerprints. This glove is extremely lightweight in design, helping your hand to glide across the screen easily. You can barely feel you are wearing it to draw smooth flowing lines. If you skip a palm rejection pen, this glove is literally an awesome iPad Pro accessory.

Possible Downside: Lacking detection for hand or palm by the screen.
This tri-fold case for iPad Pro functions as a great accessory for artists using iPad Pro. It features a slim, thin profile, with a magnetic clasp. The iPad Pro case offers great protection for the screen with a front leather panel and suede leather inside. The durable TPU material gives great protection from scratches for the back. The protective case unfolds and folds easily with full compatibility for the 2nd gen Apple pencil. Other than protection, this iPad Pro case is a smart case designed to auto wake and sleep instantly when you open and close the trifold case. The magnetic cover supports viewing and typing stand modes for convenient use. It has a lightweight design while keeping Apple pencil from falling off. This model is made for Apple iPad Pro 12.9" 2020 & 2018.

Possible Downside: The top part seems a little flimsy, and stays not so securely sometimes.


6. Palm Rejection Stylus Pen for Apple iPad
Let's see another iPad Pro accessory for artists. This stylus pen is claimed to be an up gradation based on Apple's pencil. This stylus pen enables you to draw, take notes, or sketch on iPad Pro freely. It works as if it were a real pen you holding in hand, thanks to the palm rejection function. You can rest your palm on the screen while using this pen without the need for a stylus glove. The digital stylus pen is easy to switch on and off by touching the top, without the need for Bluetooth for any app. The company XIRON has made great efforts on the technologies of this high precision iPad stylus pen, which uses a fine 1.2 mm tip with high quality accuracy for writing and drawing. The palm rejection stylus pen is powered by a rechargeable USB Type C cable. 120 minutes' charging will enable it to work for 20 hours continuously. This stylus pen is generally considered to be an alternative for the Apple pen with a very competitive price: $36.99, a lot cheaper than Apple pen. If you budget carefully, this could be a great choice.

Possible Downside: Sometimes, the pen stroke is not recognized instantly; Lacking pressure sensitivity when it starts to work.


7. Logitech K780 Multi-Device Wireless Keyboard

Adding a wireless Bluetooth keyboard to an iPad Pro is something you could rarely imagine for all the best iPad Pro accessories you use. Actually, this wireless keyboard can work for multiple devices like Windows, Chrome, Android, iOS tablets, and smartphones. If you connect it to an iPad Pro, the keyboard's integrated cradle holds it securely in place with an ergonomic viewing angle. You can type more comfortably and faster than before. The keyboard has a convenient button for you to switch easily between devices you connect via Bluetooth. Its wireless Bluetooth range is about 33 feet away. As for details, this keyboard's keys have great tactile feedback while typing, and the key spacing allows for comfortable typing. What's more, the keyboard's battery life is great, on average, you need to change batteries on a monthly basis.

Possible Downside: Low battery indicator is designed on the bottom, very hard to notice; Keys are a little noisy when typing.


Built for Easy Use of iPad Pro:
From the above 6 best iPad Pro accessories for artists, we can simply conclude that you can extend the usage of an iPad Pro by adding some helpful accessories. Particularly, if you do regular graphic art and design works, these accessories, from a paperlike screen protector, a drawing stand to a glove, even a wireless keyboard, have provided you with many possibilities of exploring iPad Pro's potentials, which make your drawing work much easier, more accurate and more efficient.