If you are a crazy gamer or game geek, you must get a full set of gaming devices for your gaming life, such as a great gaming keyboard, multiple monitors, stunning gaming headsets, and of course, the best gaming mouse. Gaming mice are naturally different from ordinary mice you use in the office. They are rich in Chroma RGB lighting, optical sensor, programmed buttons, drag-free cord, and particularly lightweight. Getting the right size for your hands is important because a right gaming mouse offers you a better grip for easy gaming control.

If you are looking for a good gaming mouse for small hands, you will find some are drag-free cord, and some are wireless gaming mice. They have a lot in common since they are built for a great gaming experience. Yet they still differ from each other more or less, with additional features to impress users. Undoubtedly, any feature you can find on the best gaming mouse for small hands is designed to serve gaming purposes. Let's see a list of 10 best gaming mice that have been proven comfortable for small hands with extraordinary performance to play games with convenience and pleasure.

1. Razer Viper Mini Ultralight Gaming Mouse
Amongst all the models we tested, this Razer Viper gaming mouse is typically versatile for its comprehensive performance. If you are looking for a gaming mouse that basically fits any game you would play, this could be your best option.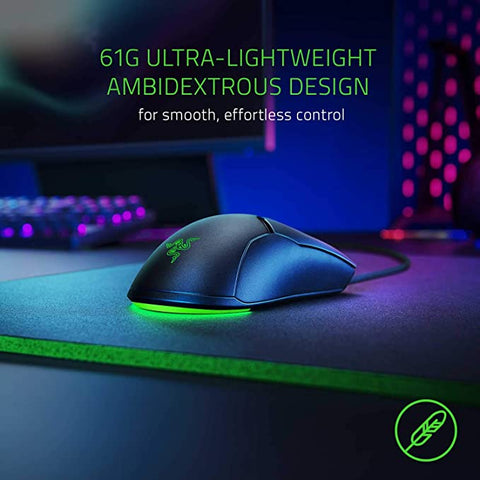 All its features will meet your expectations. Super lightweight design, 61g only, that means you can handle it freely even though you have a small right hand. With its 8500 DPI optical sensor, you can enjoy super precise tracking with easy control on the screen. This is extremely important for gamers as it helps focus on great precision in the game. Compared with traditional mechanical switches, Razor optical mouse is based on light beam actuation for quick, fluent control. 
The customizable Chroma RGB color would cater to the needs of most gamers, as it creates a fantastic gaming atmosphere by its 16.8 million color combinations. True, who can't live without RGB lighting for playing games? Besides, the gaming mouse has a well built scroll wheel that allows you to experience great control on your mouse pad, especially while you enjoy the drag-free cord of the mouse.
Pros
 Cons

Rich Chroma RGB Color

Great optical sensor

Great scroll wheel

Lightweight design for small hands

Triggers have a bit of rattle
2. Logitech G203 Prodigy RGB Wired Gaming Mouse
Technically, Logitech G203 gaming mouse is the fastest mouse you can find. Many users have been deeply impressed with the fast response. As every click, every move you make with the mouse, the screen responds exactly at the same time. Plus, the advanced button tensioning reduces the force needed to click the left and right buttons, making your control of the mouse much easier. If you get yourself totally immersed in the game world, you won't feel like you are using a mouse, it's more like your fingers are the actual motions on the screen.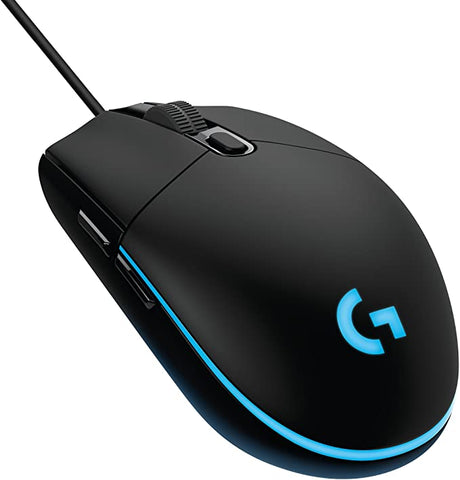 The fast response ensures a great gaming experience. Not to mention the 6000 dpi sensor, it's extremely accurate, easy to control all sorts of games. And considering the whole size of the gaming mouse, you would love the shape that's built for people with small hands. It feels comfortable to hold in hand for tracking, clicking, moving, sliding, etc.
Pros

 Cons

Quick response for easy clicking

Great comfort for small hands

Great sensor with great accuracy

The cable is not long enough

Scroll wheel not smooth enough


3. Razer DeathAdder v2 Mini Gaming Mouse
Another Razer gaming mouse to recommend: It shares many Razer gaming mouse features like other Razor mice. Having a Razer DeathAdder V2 mini gaming mouse will make you ditch old mechanical switches mice. It's pretty light and slim for those who have small hands. The small size is not particularly obvious if you don't hold the mouse to feel its ergonomics. The hand, more precisely, the palm friendly design is as important as the mouse's other features. Because the comfort for holding depends on how long you would like yourself in your game time.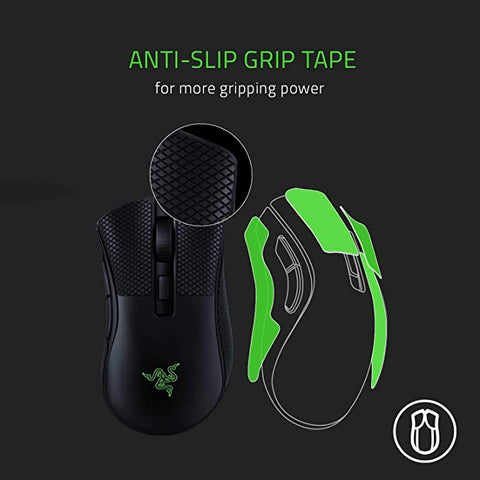 The high performance you deserve from a Razer DeathAdder V2: sharp and predictable movements and clicks give you a great experience for long hours' mouse control. The side buttons are well laid out with great ergonomics too. They fit your fingers well with a solid clicking feel.
Pros
 Cons

Rich Chroma RGB Color

Great optical sensor

Great scroll wheel

Lightweight design for small hands

RGB lighting can't be disabled optionally
4. SteelSeries Rival 600 Gaming Mouse
SteelSeries Rival 600 features great ergonomics in design. Whether or not you are looking for the best gaming mouse for small hands, this model will suit your needs for the size. The moderate size finds its way to mold to a certain hand. It simply allows you to use for long hours without fatigue. Whether you prefer a palm grip or a claw grip, it meets your needs with great comfort.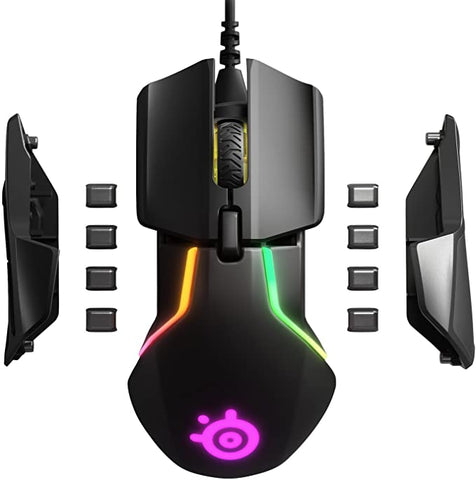 SteelSeries has its own software which is available on macOS or Windows. This software can help you customize every aspect of the gaming mouse. It features an awesome on-board memory, which allows you to save your customization options. So, even you use the mouse in another computer, you can still have your own customization.
Pros

 Cons

Great optical sensor

Great ergonomics for holding 

Easy setup for software

The cable is not braided, lacking smoothness in movements
5. Cooler Master MM710 53G Gaming Mouse
This Cooler Master MM710 gaming mouse impresses people most for its perforated housing design. They cut some holes into its shell so that the mouse can lose some weight. You can see a good many holes all throughout its body, this is the lightweight mouse they created. The creative perforated housing is very durable while reducing the weight.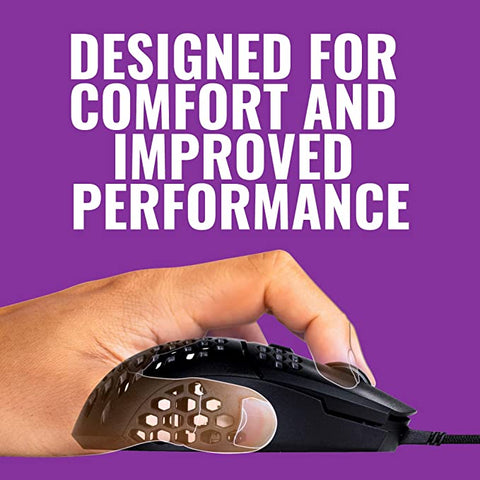 Being a standard gaming mouse, MM710 uses Omron switches with 2 click buttons, rated for 20 million presses. This is exactly what gamers need for shelf life. As for the optical sensor, it uses 16,000 maximum DPI with programmable DIP settings for you to cycle through by using the small button. Besides, it uses PTFE material for the mouse feet for smooth control.
Pros

 Cons

Lightweight honeycomb shell

Great optical sensor 16,000 DPI 

Omron switches for up to 20 million presses

Seven default settings for DPI requires you to click seven times to get back to the starting position
6. Logitech G502 Proteus Spectrum RGB Tunable Gaming Mouse
As a great RGB gaming mouse, G502 offers 16.8 million color options for you to choose from. If you focus on an RGB gaming mouse, G502's lighting will suit you the best. You can change the color of the Logitech logo as well as the DPI lighting, in addition, you can enjoy three lighting effect modes, Breathing, Fixed Color, and Color Cycle.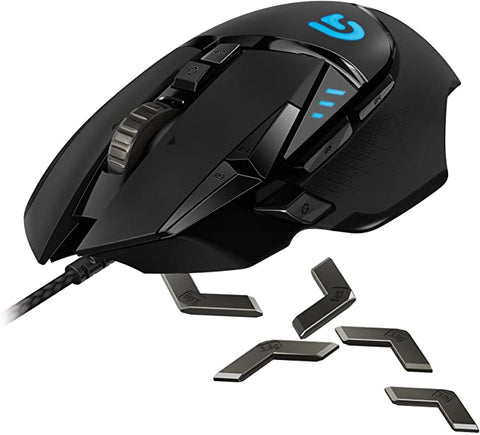 G502, as Logitech claims, uses one of the best sensors on the market, the PMW3366. Such an advanced optical sensor allows you to get exceptional tracking accuracy and consistent responsiveness. It's able to track pixel to pixel movements at high and low DPI. You are free to either program the DPI settings with its software or directly use the default settings. Besides, like Cooler Master, G502 buttons are also rated to 20 million clicks with mechanical micro switches.
Pros
 Cons

Rich Chroma RGB Color

Great optical sensor PMW3366

Switches for up to 20 million clicks

The scroll wheel is made of plastic for outer frame


7. ASUS Wireless Optical Gaming Mouse for PC
ASUS ROG Gladius is one the best wireless gaming mice for small hands as it fits snugly in the right hand, optimized especially for palm, claw grip or fingertip styles. The slim size makes it comfortable for small hands. If you are a fan of wireless gaming mouse, you must concern about its wireless connectivity. This model has two connection options, one is to pair Bluetooth with Bluetooth supported laptop or desktop computer, the other option is that you can get quick connectivity via 2.4GHz RF USB Dongle.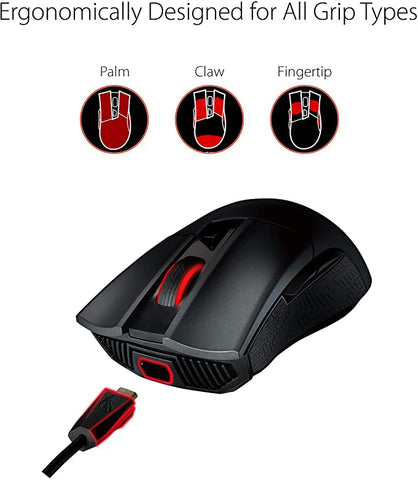 The ROG-exclusive switch socket design allows for an option for you to install the switch to your preferred operating force and feedback. However, if you find changing mouse switches too troublesome, you might as well just let it be default. If you skip this customization for the switches, you can customize the RGB lighting as ASUS ROG Gladius provides endless spectrum of colors with a wide range of lighting effects.
Pros

 

 

Cons

Rich Chroma RGB Color

Great ergonomics for holding 

Exclusive switch socket design

Easy wireless connectivity

Software support is lacking


8. BenQ Zowie EC2 Ergonomic Gaming Mouse
BenQ Zowie EC2 has a solid construction overall. It's a typical light, small gaming mouse with durable material and a decent look. Surprisingly, we found excellent results in testing its movements physically. It basically has no rattle or noise. While the whole construction is well built, its switches are also satisfying with more tactile feedback. The switches require minimal actuation force so that small-hand gamers find it very comfortable.

On the other hand, Zowie EC2 features a great sensor 3360, which has been way upgraded upon its previous version 3310. Such a great sensor is needed for tracking accuracy and consistent responsiveness if the mouse is used for games mostly. In addition, this gaming mouse has paid much attention to other details, like the cable attachment point is raised to reduce the chance of cable dragging, and the cable is 6.6 feet long for user convenience.
Pros
 Cons

Perfect grip for big and small hands

Great optical sensor 3360

Lightweight and durable without rattle

Scroll wheels color can't be changed independently of CPI/DPI


9. PICTEK Gaming Mouse Wired
PICTEK T7 has a sharp look that perfectly fits your gaming atmosphere and blends with other gaming gear naturally. And what really makes this gaming mouse stand out is its high-performance features. Like its programmable buttons, it supports macro editing to meet the needs for different games, such as MOBA, RTS games. And the mouse has default DPI levels from 1200/2400/3500/5500/7200 DPI. DPI can be easily adjusted to get responsiveness and accuracy with 2 DPI buttons. Buttons are ergonomically placed and responsive to the touch.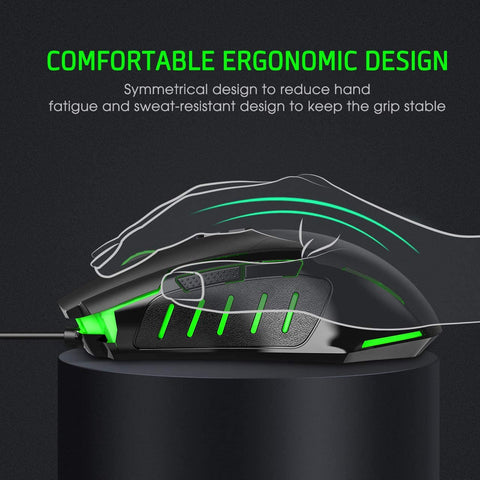 As for its color lighting effects, it provides up to 16 million color options for the backlight setting, making it a dynamic RGB gaming mouse. If you are a pro gamer, it's cool to add such a gaming mouse to your gear set.
Pros
 Cons

Programmable mouse buttons

Fantastic RGB lighting colors

A beautiful look with great ergonomics in design

Quick response and great accuracy
10. Corsair M65 RGB Elite
Corsair M65 is widely considered to be the best wired gaming mouse amongst so many choices out there. It gives a pretty good first impression to testers by its excellent sensor performance. The advanced optical gaming sensor 18,000 DPI can be adjusted and programmed in the iCUE software, which is compatible with Windows and macOS systems. With such a great sensor, you can enjoy great accuracy in tracking.

Moreover, its buttons are fully programmable too. They are well placed for the sake of easy gaming control. Many users appreciate the unique sniper button right under the thumb position. As for switches, it uses Omron switches rated over 50 million clicks for long lasting quality.
Pros
 Cons

Corsair software works great for customization

Fantastic RGB lighting colors

Advanced optical sensor 

Useful buttons and high-performance switches

It's kind of heavy

Not so user friendly for large palms