Speaking of wooden household items, our last blog about such wooden products can date back to last year. We put up a roundup of 8 best wooden clothes hangers in 2019, showcasing the luxurious designs and practical use of wooden hangers. Along with the beautifully made wooden items for the moment, it seems that the wood luxury has come back in vogue again. Amongst the numerous wooden products you can find out there, some wooden coat racks really stand out owing to their exquisiteness in real wood construction as well as practical designs to work brilliantly as it's supposed to.
After trying nearly five dozens of wooden coat tree style racks on the market, we've picked the top 10 of them, as our favorite collection. These 10 best wooden coat racks in 2020 have reliable quality, thoughtful designs, and impressive functionalities overall. If you are looking for a wooden coat rack stand, you might as well look at these 10 options. They would meet your expectations with what they have to offer. 
1.  Zober High-Grade Wooden Tree Coat Rack Stand, 6 Hooks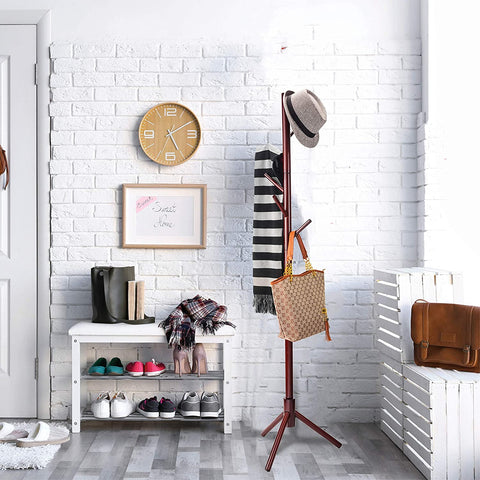 Zober wooden coat tree comes in handy with a simple structure, more precisely, it's one of those versatile wooden coat hooks you can use to hang your garments by using each hook. Although the wood looks very attractive from distance, actually the surface uses a pretty thin layer of oil-like paint to make it look glossier. Anyway, the wood itself is real wood which feels natural and sturdy. With such dark brown color, the wooden coat rack stand will blend in well with other furniture in your room. It is ergonomically designed with 6 hooks, which are nicely laid out to hand clothes conveniently. The entire coat tree has a space-saving design to take up much less room than traditional old school coat racks. For all these features you would get impressed with this coat tree, it allows for easy assembly. This is important as basically no one would expect a laborious task dealing with the pain in assembly.
Pros:
Easy to assemble
Space-saving design with adjustable height
Built for all kinds of garments
Cons:
Vulnerable if it goes through a rough installation
A layer of paint finish in lieu of real wood finish
2.  Tangkula Wood Coat Tree with 12 Hooks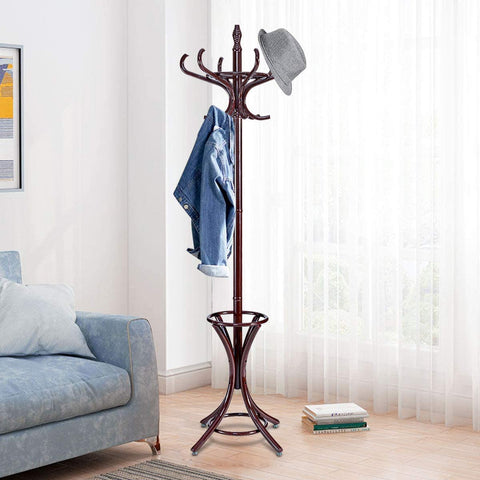 The Tangkula standing coat rack makes a perfect first impression with its elegance in design. The design is rich in a vintage vogue which seems to bring you back to the early 20th century. Made of quality birch wood, the material is sturdy with a nice texture. Plus, it uses eco-friendly varnish finish so that it shows a pretty good look without any chemical involved. Believed to be a perfect solution for your home, this wood coat rack has as many as 12 hooks which are way enough to hang so many pieces of clothing for you, and surprisingly the base has a unique feature for storage of something like an umbrella. When you have a wooden coat tree standing in your house, you would expect to be space-saving, not taking up much room, and serving its purposes to the most. With this one, you can make the most of the design. However, a few users have complained about the assembly. It takes quite a while indeed.
Pros:
An elegant look with a space-saving design
12 hooks and base can store items like umbrellas
Real wood construction; Stands steadily
Cons:
It's not so easy to maneuver assembly as expected. 
3.  Solid Wood Coat Stand Tree with 10 Hooks
The tri-leg design enables the wooden coat tree to stand steadily, and the base is solidly built while keeping the whole rack tree to a lightweight design(6.83 lbs only). 10 hooks can be very convenient to hang a lot of clothing for you. Using the coat hooks nicely will help keep your jackets, hats, coat and more well organized in place. This wood coat stand works like a charm if you are looking for something that puts clothing elegantly in order and match your decorations in your house. If you compare this model with other typical stand trees, you will find you easier to use because of the more ergonomic hook angles that can be literally used to hang various types of garments, or even bags, caps, hats etc. Although many users find it easy to assemble the wooden coat tree, quite a few users aren't still satisfied with it, it really requires careful steps to assemble it accurately and properly.
Pros:
Attractive real wood design
Lightweight and sturdy stand overall
Odorless paint
Cons:
It's not so easy to maneuver assembly as expected.
4.  Deluxe Wooden Coat Rack Tree – 8 Hooks
Basically no one complains about the assembly issues of this wooden coat rack because the whole structure is pretty simple, making it easy to set up, mount and adjust. The assembly is so satisfying because all the screws and nuts required to hold the rack together already come in place, ready for setup. And most users are happy buyers because this wooden coat tree offers a quite reasonable price. And the most attractive part of all for this coat tree, is the adjustable heights. Heights are important because adjustable design allows grown-ups and children to reach the tree branches easily. It has 3 different height levels. For toddlers, it is about 38.5", considering such height is enough for the length of kids' clothes. And the medium height is about 53.5", which works perfectly clothes of teenagers, adults. And its tallest level is about 68.5", fitting all types of large garments.
Pros:
Great simplicity in structure design
Adjustable height for convenient use
Good price and easy to set up and mount 
Cons:
The stability leaves something to be desired 
5.  SONGMICS Coat Rack Stand, Coat Tree 
When it comes to wooden coat racks, we expect them to be wood. However this Songmics coat rack stand is half wood half metal. Let's see what good it does for us. The tri-angle design ensures the whole thing is stable enough to hold a good many garments. Each hook is able to hold up to 11 lbs, while each shelf can hold 22 lbs. This is way enough for daily use unless you expect to see large piles of mess hanging over there. The metal parts are strong enough to keep the coat tree stand upright naturally with multiple garments on. And the shelves give the space from easy storage. It's a good product to organize clothing indoors. As for the look, honestly, this design, claimed to be slightly rustic and eye-catching, is actually not a widely acceptable design in appearance if we are talking about elegance that blends with decors in the room. 
Pros:
Great durability and stability
Minimalist style to match your room
Great usage overall 
Cons:
Not quite beautiful in design indeed
Most parts aren't wood
6.  Freestanding Coat Rack 
In this list, there are several simple models, but not that simple as this one. The over simplified low profile design coat rack is made of steel and wood. The round small base would make you doubt its stability while it stands. It's tested and proved to work fine with this base design as long as you don't hang too heavy clothes. Despite oversimplification, it's able to tuck away neatly into any living room, study, or office. You can use the 6 wood tipped coat hooks to organize your coats, jackets, scarves, hats, ties, hats etc. This simple thing requires easy assembly and comes with tools for that. If you are into this style, you should pull the trigger, it sells at $85. 
Pros:
Minimalist style to match your room
Metal and wood combined with durability and stability
Easy to assembly and use
Cons:
Nothing attractive in design overall
7.  Monarch 73" Traditional 11-Hook Wooden Coat Tree Hanger Rack 
Monarch wooden coat tree features a classic, old school style, giving you a rich vintage sense of the old times. And it's not just the look that makes it worth the value. The wood material is superior and solid, it lasts long with reliable quality. Not to mention it has a beautiful dark cherry finish to build up the retro style look to a higher level. The whole thing has well-made triple tiered pegs for multiple hanging options, with up to 11 hooks for coats, scarves, hats, shawls etc. And the pedestal base is amazingly built with traditional turn post styling. This wooden coat rack stand is a top priority option for those vintage style lovers.
Pros:
Solid wood construction
Multiple hooks and triple tiered pegs for hanging options
Good-looking overall 
Cons:
$99.99, a little pricey for most people
A little heavy to move around 
8.  Vlush Sturdy Wooden Coat Rack Stand 
Let's check another typical, vintage style wooden coat rack that fits your entryway, living room, office etc. This wooden coat tree uses real rubber wood with solid construction and nice-to-touch texture. And the surface is beautifully coated with eco-friendly lacquer. The finish offers a layer of slight protection from moisture and corrosion, as well as scratching garments. Other than the good look of real wood and all, this rack is very functional, designed to do its job perfectly with a dozen of hooks for hanging garments. For a couple of models we recommended in this list, some users weren't happy about the assembly, it's either too complicated or demanding to get it done properly. But, for this model, you don't have to worry about that, the assembly is as easy as pie, without the need to use tools at all.
Pros:
Solid wood construction
Multiple hooks and triple tiered pegs for hanging options
Good-looking overall
Easy to assemble, no tools required
Cons:
The base design is not ideal considering stability and durability 
9.  VASAGLE DAINTREE Coat Rack, Shoe Bench, Hall Tree with Storage Shelf
Compared with traditional wooden coat trees, this coat rack is more versatile in its functionalities. Thanks to the 3 layers of shelves and 4-foot base, it's able to hold a lot of items besides clothes. With such roomy design for multiple garments and other household items, this rack is strongly built for long lasting quality. However, it's not a space-saving coat rack since it contains a 3-layer shoe rack as well. As for how it looks, it's hard to say it's a beauty. This design seems to have put designers in a dilemma while considering the elegance and the practical use. Frankly speaking, you should look for a better balance between the function and appearance look.
Pros:
Multiple hooks and shelves for clothes and shoes
Durable metal and wood materials
Convenient to use 
Cons:
Not quite beautiful in design overall
Takes up much room than expected 
10.  Logan Coat Rack
If you are searching for something as a helpful addition to your room, this Logan coat rack is well worth your consideration. The coat rack is designed with metal and wood combined. Both metal and wood are finely distressed to get rid of rust, paint on surface, creating long lasting quality. The solid wood is made heavy-duty to stand straight, with 8 hooks for clothes and hangers to hold items like umbrellas. If you think the most important features you are looking at a coat rack are durability and functionalities, this could be your perfect coat stand. On the other hand, you are picky enough on such furniture, you might think it carries a thick mechanic look styled in an old school fashion, which it truly is. This style goes way back a rustic, retro fashion.
Pros:
Stable 4-foot base
Multiple hooks and hangers in the middle
Extremely durable metal and wood materials
Cons:
$162, pricey for most people
Not an attractive design to most people