It goes without saying that people use laptops a lot more often than before, because of the great convenience that you can easily use it almost anywhere anytime, doing complicated office work stuff, or just for entertainment. However, a recent survey shows that people, more or less, suffer some sort of neck pain or fatigue owing to long hours staring at their laptops at a non-ergonomic view angle. To fight against that kind of physical pain or fatigue, a new type of portable and adjustable laptop stand has rocketed unexpectedly, with obviously greater popularity than the laptop itself.

Adjustable laptop stands' surprisingly growing need, meanwhile, has formed a fierce competition, which results in a wide variety of designs and functions. Among all these laptops stands on the market, the best adjustable laptop stand impresses people with its durable materials, portability, and easy adjustments, of course.

Let's dig into a few best portable laptop stands by comparing their advantages and other details. These laptop stands are greatly reviewed and highly praised by a large number of customers.

1. Roost Laptop Stand – Adjustable and Portable Laptop Stand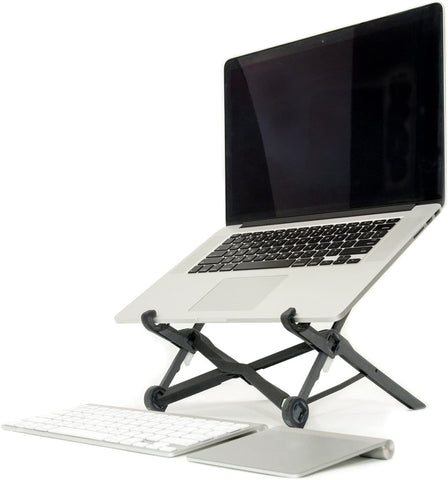 This laptop stand is made in the USA, but this isn't the reason that makes it different. Its fine quality and reliable material enable it to stand steadily enough and hold laptops of heavyweights securely in place. Besides, it has a lightweight style. Yet, it's not only being the light that makes it sell, but it's also compact and collapsible. This design makes it a perfect tool for business travelers. Supposed that you take this stand with you for your trip, you will be able to enjoy better eye-level laptop viewing on whatever occasions you might need to be.
2. Nulaxy Ergonomic Adjustable Laptop Stand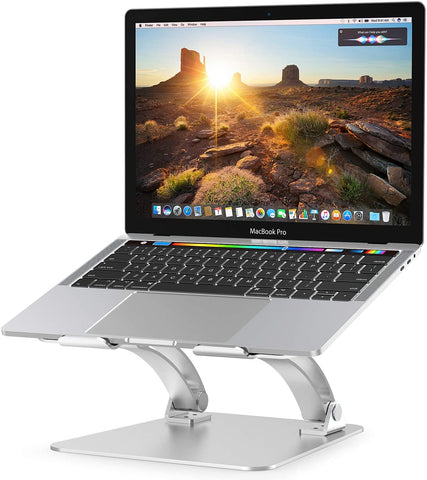 This adjustable laptop stand is solidly built by integrated one piece of aluminum. With such strong hardware, it's able to support up to 44 lbs' weight. Considering the heavy-duty metal, it uses rubber pads to protect your laptop from possible scratches. As for its compatibility, it would amaze you by fitting sizes from 10 to 17.3 inches. So you can use it for a small tablet like MacBook Air, MacBook Pro, Microsoft Surface, and big ones like HP, ASUS, Alienware laptops. This stand typically solves your view angle setting for laptop no matter what laptop sizes you may have. One more striking idea from this stand is its cooling function, with holes for airflow to go through, so the heat produced by a laptop can easily vent for better health of your laptop.
3. Twelve South HiRISE Designed for laptops of all sizes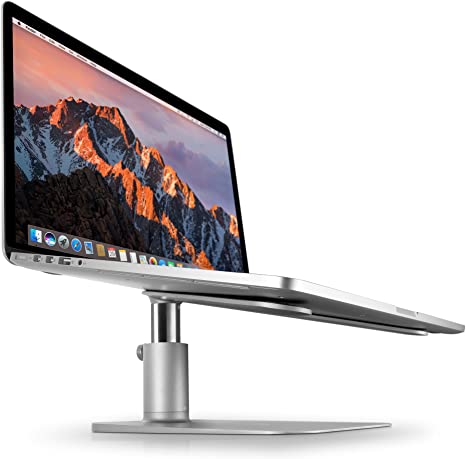 Claimed to be suitable for laptops of all sizes, this Twelve South HiRISE portable laptop stand has an aesthetic look. The easily adjustable height can convert your laptop into a comfortable desktop view angle with great eye care. This laptop stand does a great job for ergonomic setting, for example, it helps adjust your MacBook screen height to 6 inches, or align MacBook with an external display for a dual-screen workstation. More comfortable viewing angles let you enjoy a whole day's computer work without feeling tired. What's more, the stand has nicely designed non-slip arms to hold MacBook of all sizes(from 11 to 16 inches) securely.

4. HUANUO Adjustable Laptop Stand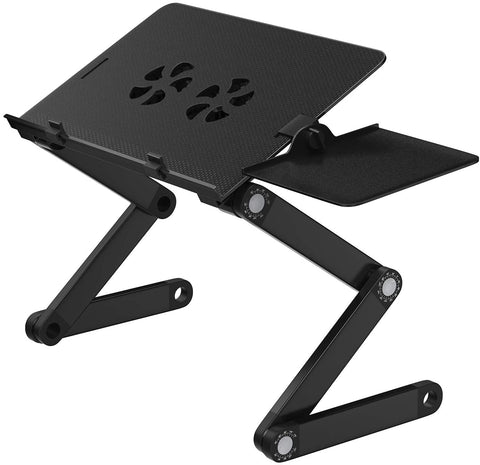 This adjustable laptop stand is designed to be furniture friendly, which means you can conveniently use it to set your laptop for a better viewing angle while you are sitting on sofa, bed, chair, etc. It has a solid construction, made of highly durable aluminum and sturdy ABS auto-locking joints. As far as cooling design is concerned, it has two CPU cooling fans built in, which are powered by USB ports to abstract heat produced by your laptop. These cooling fans are very helpful for preventing overheating, especially if your laptop is used for long hours on a daily basis.


5. MOFT Invisible Lightweight Laptop Stand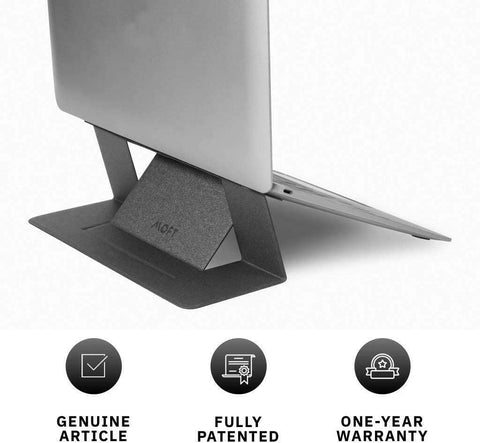 Compared with other similar adjustable stands for laptops, this stand shares many features, like ergonomic viewing angles setting, and great compatibility for different sizes of laptops. It literally works for many tablets like MacBook Air, MacBook Pro, with the largest size up to 15.7 inches. Aside from these features, this laptop stand is strikingly lightweight, thin, and portable. With a weight of 3 ounces or so, and 0.1 inch thickness, it's too slim visually, making it hard for people to believe it can hold a heavy laptop, and actually, it can. Despite the slim size, it's extremely strong, owing to the special PU and fiberglass materials.


6. Nulaxy Ergonomic Sit to Stand Laptop Stand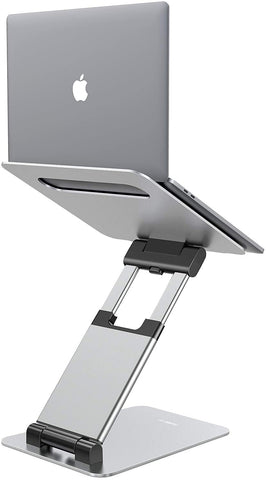 Let's move on to another laptop stand from Nulaxy. Similarly, this stand works perfectly with laptop sizes from 10 to 17 inches. Not so similarly, it supports up to 22 lbs' weight, because it's another model from Nulaxy. However, the material is as strong as its other typical models, also with rubber pads for protection. And it also has ventilation hold for better heat dissipation. Other than all these advantages, the most special one is its Sit to Stand Convertor. This works flawlessly to raise your laptop screen height from 2.1 to 13.8 inches, allowing you to enjoy comfortable viewing no matter you sit down or stand up. This Sit to Stand Converter feature helps a lot for your physical comfort, while successfully avoiding long hours' fatigue, neck pain, back pain, etc.


7. Lamicall Adjustable Laptop Stand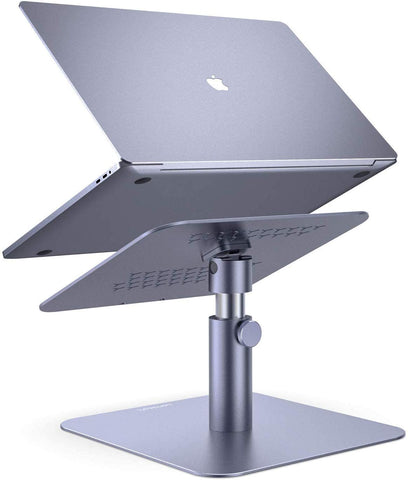 As always, last but not least, listing this stand the last doesn't mean it's ranked the 7th. It's a beautifully made adjustable laptop stand that's equally popular as the others recommended today. Like the Nulaxy, it fits most laptop sizes from 10 to 17 inches. The great compatibility makes it ideal for MacBook, Google Pixelbook, Dell XPS, HP, Lenovo, Acer Chromebook, etc. Moreover, this durable laptop stand is really worth your attention with its 360 degrees rotation design. You can easily adjust the viewing angle as per your need. From 45 degrees to 180 degrees, all angles are your options, you can keep adjusting it until you find the most comfortable angle for you. The adjustments are easy as pie by turning the knob at the back.


Ready for New Experience of Adjustable Stands

When you start to look for the best portable laptop stands on the markets, these 7 good examples can be your great alternatives. They are easy to adjust for your favorite viewing angle, they are light and portable with easy setup, and they are durably made with reliable materials. All in all, having such an adjustable laptop stand will give you a totally new experience of using your laptop in your everyday life. At least, you may relieve the neck pain a little bit.