Cases for iPhones and other Apple devices are as important as the devices themselves for the protection they provide. They keep your smartphone, tablet or other devices, gadgets safe and sound, like new every day. Compared to frequently-seen cases that are made of fabric, nylon, canvas materials or other AirPods Accessories, leather cases seem to be more popular. Like AirPods Pro and AirPods leather cases, they are selling like hot cakes on the market, with various designs based on superior leather quality.
Let's view a roundup of best leather cover cases for AirPods Pro and AirPods 2020, a great way to protect your airpods and also, show your style. 
Part 1:  Best Leather Case for AirPods Pro    
1.  iCarer Leather Case for AirPods Pro -Free Worldwide Shipping 
Just like its leather case for AirPods, iCarer leather case for AirPods Pro uses the same high quality leather material. Other than the same metal clasp for easy attaching as well as the lightweight design, it's specially made to fit AirPods Pro with precise cut-outs for convenient usage and total protection.
2.  Nomad Horween Leather Case for AirPods Pro - Free Worldwide Shipping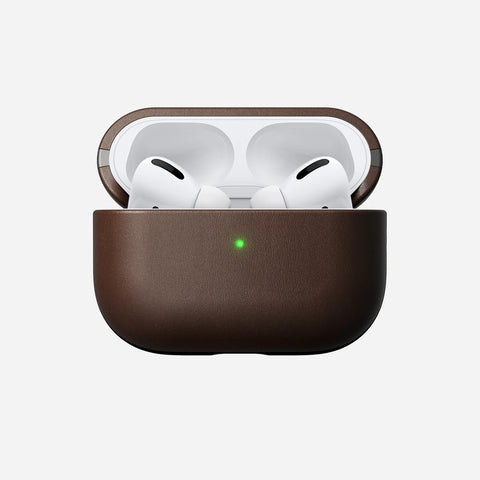 This leather case for AirPods Pro, from Nomad, has a lot in common with its AirPods case. Apart from aesthetic leather gloss and great touch, it ensures AirPods Pro a good stay without any possible scratches thanks to the perfect layout inside and thick leather cover outside.
3.  Twelve South AirSnap leather case for AirPods Pro
Compared to its case for AirPods, Twelve South leather case for AirPods Pro has basically the same design for ergonomic usage for cable connection charging and wireless charging. It's also full grain leather with soft, natural leather texture. It looks great and protects well with a compact, portable design.
4. Native Union Leather Case for AirPods Pro 
Available in Black and Tan color, the Italian leather AirPods Pro case from Native Union is a premium case carefully crafted with quality and design that will last and great for daily carry. Thanks to its sleek and thin design, you can easily access to every functions even with the case on.
5.  Elago Leather Case Compatible with Apple AirPods Pro
Similarly, Elago lather case for AirPods Pro has a fancy look, and it works impressively too. The premium cowhide leather is sturdily built and turns naturally glossier overtime. Rust-proof brass made holder enables you to attach AirPods Pro somewhere safe when you go outside. It's a case that still works perfectly for wired, wireless charging.
6.  V-MORO Compatible with AirPods Pro Case Genuine Leather
This genuine leather case for AirPods Pro is fully compatible with wired and wireless charging. AirPods Pro can just stay in the case for easy charging, with front LED visible. The well made top grain cowhide leather ensures protection from possible scratches, shocking, etc. Beautifully designed for easy opening and closing, you will be able to use the case wherever your AirPods Pro goes.
7.  Personalized AirPods PRO Case Keychain - with Any Name Engraved
This AirPods Pro leather case is made of quality PU leather. The sturdy leather gives AirPods Pro full protection due to its thick leather texture. Despite its perfectly fit interior design, you can put AirPods Pro in and out effortlessly. The case is a charging friendly case with a hanger that works exactly like a metal clasp. What really makes it special is that the company can engrave a name to personalize this case. It's a cool idea to have it that way, a unique symbol to show the difference.
In contrast to white AirPods Pro, this case has a stylish light pink color that blends well. The pocket-friendly design is made perfectly fit for AirPods Pro. Cowhide leather feels sturdy and greatly protective. Much thought has put into the holes design, making front LED visible and charging port accessible. It has a metal buckle for attaching when necessary. Thanks to easy installation, you can put AirPods Pro in and take it out easily.
Part 2: Best Leather Cases for AirPods 1/2
8.  ICARER Genuine Leather Case for AirPods
Made of real leather of superb leather texture, this genuine leather AirPod case has natural veins and pores on the leather. With perfect precision for the layout, it's perfectly fit for AirPod, allowing for easy access to the charging port. The metal clasp is a real bonus with great ergonomics. You can attach your AirPod wherever you go. It's a great choice for its protection and portability.
9.  Twelve South AirSnap Leather Protective Case for AirPods
Twelve South provides reliable AirPods accessories like this popular leather AirPods case. It's made of full grain leather with nice touch. Apart from the beautifully made liner with cut-outs for the charging port, it has a metal clasp for easy attaching, and the whole case features a snap closure for easy opening and closing. It's fully compatible with AirPods and is friendly to wireless charging.
10.  NATIVE UNION Marquetry Italian Leather Case for AirPods
This genuine leather AirPods case has a stylish look. It fits AirPods with charging case or wirelessly charging case perfectly. Nicely designed with holes, you still enjoy full access to AirPods' charging port and controls with this leather case on. The leather is superior Italian real leather.
11.  Nomad Horween Leather Case for Airpods
This leather case for AirPods is made of quality Horween leather imported from the USA. This leather is aesthetically and naturally glossy in a rugged style. The inner layout is delicate and flawless to fit in AirPods. It gives AirPods great protection and keeps it well organized when you are on the move.
12.  Air Vinyl Design Leather Case for Apple AirPods
This leather case for Apple AirPods is made of quality top grain Nappa leather for the outside, for lining, it features a sturdy, impact-resistant plastic frame design. Like other AirPods cases, it has beautifully designed holes for easy access to the charging port. This leather case is fully compatible with AirPods 1 and 2.
13.  Elago AirPods Leather Case for AIRPODS 1 & 2
This AirPods leather case looks very luxurious and high end. Made from natural cowhide leather, it shows a vintage style in the look. Plus, it has a ring holder which is made of rust-proof brass for easy attaching AirPods to bike, bag, etc. This leather case fully protects your AirPods and supports wired and wireless charging without the need to take it off.
As we recommended these best leather cases for AirPods Pro and AirPods today, we can have a rough understanding of what we are trying to get: a well made leather case that provides protection wherever you take your AirPods/AirPods Pro with you. It'd better be perfectly fit from the inside, with access to charging ports, necessary controls. It'd better has a clasp/hook for attaching, and it'd better be light, and portable enough. And last but not least, it'd better last. Good leather material really matters.