Usually, you have to clean your mattress from time to time, because there could be visible dust or pet hair all over the place. Even though you don't keep pets, there could be invisible dust mite growing more and more. So, for your hygiene and health, your mattress definitely requires regular cleaning. Since cleaning a mattress entails a lot of hard work, you'd better use a professional mattress vacuum cleaner, which can do that job effortlessly.

To purchase the best mattress vacuum cleaner, what aspects should we take into account? Based on how a mattress vacuum cleaner fundamentally works, a few main factors can be concluded as follows:
Filters: They are closely related to a vacuum cleaner's cleaning capability and they filter dust directly.
UV Light: Sounds a little bit technological though. Most vacuum cleaners use UV light to kill mite or other bed bugs, eliminating them thoroughly.
Suction: When dust or mite is filtered, vacuumed, the suction functions to collect it for a nice finish.
Design: Most users prefer a hand-held design for convenient holding in hand for precision and easy control.
Electrical Power: This is important as you would expect it to work powerfully to vacuum your mattress to be like new again.
Let's check a roundup of 10 best mattress vacuum cleaners.
1. Dibea 15Kpa Powerful Suction UV Bed Vacuum Cleaner
This Dibea model is an outstanding UV mattress cleaner with advanced UV quartz sterilization and automatic protection. The UV quartz sterilization tube makes it perfect to work on mattresses, sofas, carpets, pillows, etc. With high frequency based on 15Kpa suction, it runs with 6000 times/min vibration to beat out bed bugs, dust allergens, dust mite and stuck them inside the vacuum for thorough cleaning. Plus, it uses HEPA filters to trap tiny debris and microorganisms on fabric. With an extra HEPA filter and a brush included, it could be your best bed vacuum.
Pros: 
Affordable price 

Easy to assemble/disassemble.

14.7-feet long cord for added cleaning reach

20cm Long lamp ensure high efficiency of removing dust

Not much noise with strong suction
2. Dyson V7 Trigger Cord-Free Handheld Vacuum Cleaner
In the first place, Dyson is a world famous brand in this field. This Dyson V7 vacuum cleaner is a typical handheld mattress cleaner with a powerful handheld suction for cord-free operation. Without a cord, you can hold this vacuum cleaner to reach wherever you want for vacuuming. Plus, it comes with a crevice tool for cleaning gaps, crevices more easily, a combination tool for gentle dusting and mini motorized tool to remove pet pair and stains. With multiple tools, it cleans car seats, furniture, and mattresses very well. This vacuum cleaner has a big capacity of 15 gallons, meaning it can hold plenty of dust and dirt for long periods of time.
3. Housmile Mattress Vacuum Cleaner Dust Mite UV Vacuum Cleaner
Housmile mattress vacuum cleaner uses advanced HEPA filtration to capture a high percentage of particles, and UV light to remove bacteria, making it perfect to work on mattresses, carpets, sofas, etc. Its powerful suction 10.5Kpa enables it to rotate at high frequency up to 6000 times per minute. Deeply hidden dust mites can be killed and sucked away. Thanks to a compact design, it's lightweight and easy to hold in hand to use. Besides, its filter is easy to clean. It's been highly recommended as a great mattress vacuum cleaner with UV light to get rid of dust and bed bugs.
4. Dyson V6 Cordless Mattress Handheld Vacuum

Dyson V6 shares most feature with its V7. It's another handheld vacuum cleaner that works flawlessly on sofas, carpets and bed mattresses. Thanks to a run-time enhancing trigger, it puts its battery power for vacuuming only, keeping powerful suction for approximately 20 minutes. For such a decent amount of suction, dust, and harmful allergens inside the mattress will be completely removed. It has a mini brush that serves for upholstery and furniture with flat surfaces. The brush has soft bristles to do the job carefully enough for cleaning. The vacuum handle features great ergonomics for easy carrying and controlling.
5. RAYCOP LITE UV Sanitizing HEPA Allergen Vacuum
This mattress vacuum cleaner is designed to keep your bedroom a healthy environment. With its patented RayClean technology, it helps get rid of dust mite, pollens, and bacteria inside your mattresses. In detail, it kills bacteria and mites with powerful UV light. The UV light is powerful, creating a strong wavelength to eliminate bacteria in fabric materials. And it uses pulsating pads for high-frequency vibration to loosen tiny dust and dirt and filter them with HEPA filtration. It will be well worth the investment because this vacuum helps a lot, allowing you to live comfortably and sleep through the night without inhaling bacteria.
6. Euleven UV Handheld Vacuum Cleaner

This UV mattress cleaner uses a 253.7nm UV tube with up to 55℃ high temperature hot air to kill dust mites and harmful bacteria. 3800 times/min high frequency vibration works together with HEPA air filtration to lock in small particles to create fresh air for you. The suction is powerful and highly efficient in sucking dust, dirt, and invisible bacteria. The 160ml dust chamber allows you to vacuum for a long time. This handheld vacuum cleaner features great portability. You can carry it easily to vacuum other hard-to-reach spots other than bed sheets, mattresses.
7. LivePure Ultramite UV HEPA Allergen Vacuum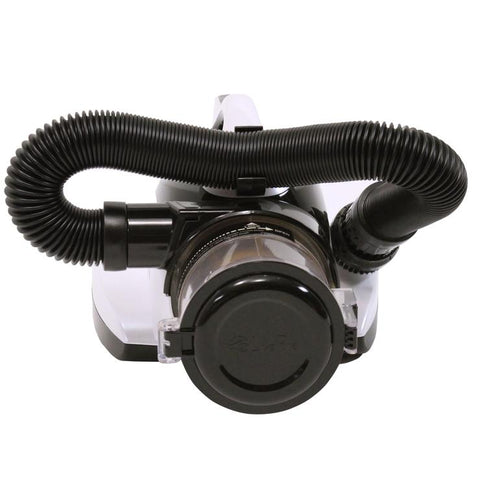 This mattress vacuum cleaner has been recommended for its ability to eliminate dust mites, bacteria, viruses, and other allergens that are invisible to the naked eye. Built with covered rolling brush and strong optimized suction, it's found most suitable for vacuuming mattresses, curtains, furniture, upholstery, etc. The true HEPA filter is the key function other than the UV technology, capturing over 99% of particles and dust mites on the surface and deep inside a mattress. The vacuum cleaner has an extendable hose for it to reach narrow spots more easily.
8. Houzetek Bed Vacuum Cleaner with Roller Brush Corded Handheld Cleaner

Believe it or not, this handheld mattress cleaner will prove how much dirtier your mattress is than you thought it would be. Based on a 300W high-power motor and high frequency vibration, 1200 cycles per minute, it will perform UV sterilization, and 10Kpa powerful suction. Due to its multiple filtration system, it will give you a fresh mattress after a thorough cleaning. Despite the powerful motor inside, this vacuum cleaner runs extremely quietly. It's ideal for mattresses, blankets, carpets, yet, it also works fine for sofas or even floors.
9. Housmile Upgraded 836 UV Vacuum Cleaner
Let's see another Housmile vacuum cleaner with UV light. This 836 model is its latest UV vacuum using a 253.7nm UV tube for 130℉ high-temperature hot air to destroy underlying bacteria and dust mites. The UV light combines with HEPA filtration and powerful suction(12Kpa) to clean carpets, mattresses, blankets, sofas, etc. It has a super large dust chamber 400ml for easy cleaning and dust collection. Designed with a 5 meters long power cord, it can easily reach a wide range for cleaning. This is helpful when you use it to vacuum furniture or floors. It's a great UV mattress cleaner that you can use every time you change sheets.
10. Make Lemonade UV Sanitizing Dust Mite Vacuum with HEPA Filter
Like most mattress vacuum cleaners with UV light, this Lemonade vacuum makes no exception by claiming it would get rid of over 99.9% of dust mites and bacteria. We all wonder how such statistics were figured. Admittedly people would be skeptical about this. But through our tests, the result did turn out very close to that percentage. Well, at least, this vacuum can remove so much bacteria by the UV light. This vacuum cleaner features a higher frequency vibration(8000 times per minute) to beat out bacteria and debris. And its HEPA filter can be conveniently replaced for long time cleaning. Besides, the portable handheld cleaner is powered by an 18V Lithium battery in its base.
Conclusion:
As we can conclude from the 10 best mattress vacuum cleaners listed above, handheld mattress cleaners without a cord are obviously more popular for its easy usage, and that UV mattress cleaners enjoy favorable reception for its ability to eliminate invisible bacteria and dust mites. And more details like HEPA filter, strong suction, are also obvious advantages to consider before a purchase decision is made.