Supposed that stylish items are all over your house, from modern electrical appliances to small stainless steel units, you've got your whole house shining like silver and gold. But, sometimes, a retro style of things could make a difference. The new tide of vintage style allows you to see the nature of stuff, the low profile, and nice touch of texture, etc. Like a headphone stand, I guess, you've seen hundreds of different designs, and a large percentage of them are modern materials like steel, plastic, PU, etc. Still, you can see some of them, quite rarely though, are made of wood. Wooden headphone stands are actually more suitable for a cozy house as the natural wooden design blends in perfectly with furniture in your office or study room. 
Wood headphone stand will greatly please the eye other than just serve its basic purpose. We've rounded up a few good-looking wooden headphone holders with excellent quality and positive reviews. Frankly, we love such creative designs as they ignite our excitement from a tedious, monotonous desktop life. Let's experience the retro style by checking out some best wooden headphone stands we loved so far. 
1.  Avantree Universal Wooden & Aluminum Headphone Stand with Cable Holder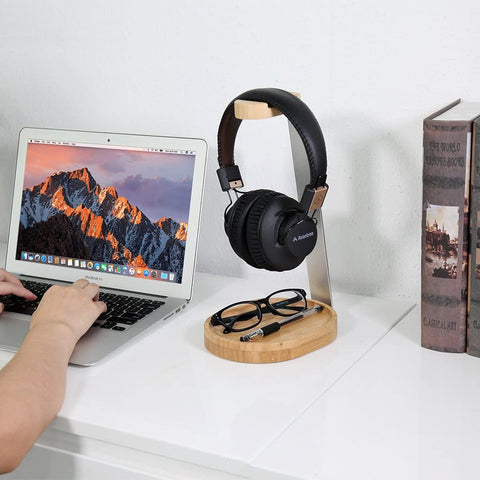 Let's see a more traditional model, with a wooden base and top, and a metal arm. Such structure is solid and space-saving. Thanks to the robust aluminum alloy arm and sturdy base, it's able to hold heavier headphones than most stands. And obviously, the best feature of this stand is its base. It's creatively designed like a shallow swimming pool where you can comfortably store your headphone cables or other small accessories. They call the unique base surface the cable holder. Much thought has been put into this design as it can keep headsets, cables, cell phones well organized in great condition.
Pros:
Unique cable holder on the base
Space-saving design overall
Robustness with wood and aluminum alloy combined
Cons:
Overly expensive for such materials 
2.  Grovemade wood headphone stand - Best looking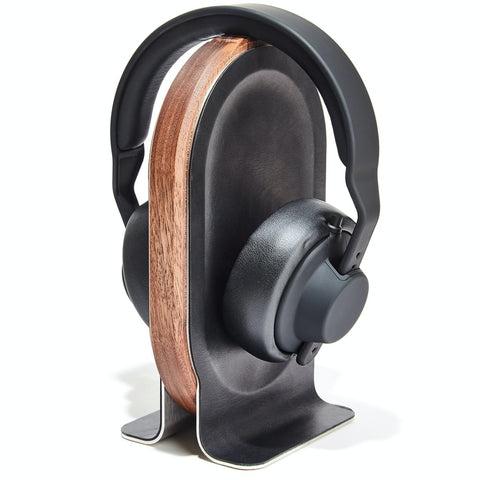 The best feature of this Grovemade wood headphone stand is that it's not compatible with bananas, making itself a deal breaker for monkeys. But seriously, it works perfectly to hold your headphones. Compared to traditional hook style headphone stands, this no-hook stand is one of a kind. The new shape allows you to easily secure your headphones and take them off when you need to use them. Machined grooves in the top of the wood offer extra grip to let headphones stay in place well. Besides, it's nicely integrated with vegetable tanned leather to give a simply functional headphone stand yet with a fantastic retro look.
Pros:
Breakthrough in shape, holding headphones easily
Quality wood and vegetable tanned leather for a retro look  
3.  ONEGenug Wooden Walnut Headset Stand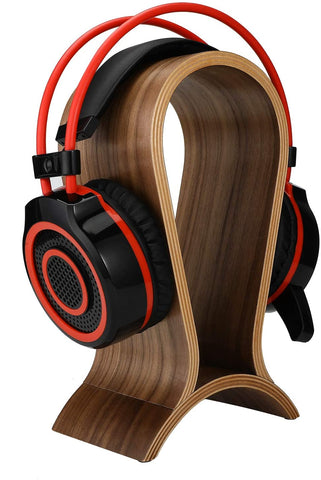 This walnut headphone stand is a fine piece of ornament itself with an aesthetic arch bridge shape. It's made of premium walnut wood, which is beautifully crafted with a vogue style and a comfortable finish. The whole arch bridge headset stand is a highly environmentally friendly design. It can do more than just holding your headphones, with extra space to secure your cell phone, cables, gamepad, etc. This wood headphone stand works as a great organizer for a gaming desktop. And the support it provides is strong while the wood material is rigid enough to hold the weight of your headphones and other gadgets without stress. Moreover, it's so nicely built that you can always think it as a gift option for your friends.
Pros:
Beautifully made walnut wood
Sturdy enough to support headphones well
Able to store other accessories as well 
Cons:
The shape may stretch headband over time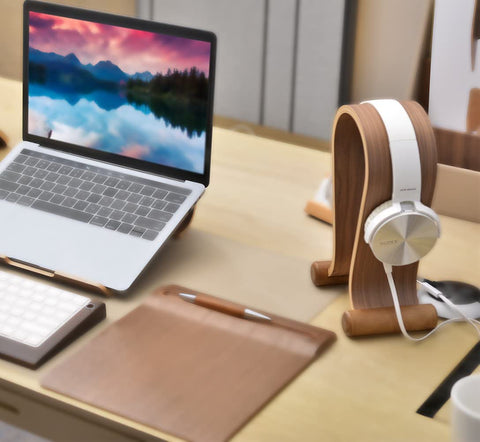 This wood headphone stand is highly similar with the ONEGenug stand, still there's some difference in design. If you are into such designs, this is a great choice for organizing your desktop. It's particularly great for gamers to set their headphones. Solid walnut wood is beautifully crafted with natural finish. The curve shape is found snugly fit for headphones to stay on, specially designed not to stretch headband over time. In contrast with ONEGenug, the biggest difference could be the base. Two separate feet are well integrated to provide a stable base. Overall, this model has an elegant look and holds headphones steady.
Pros:
Great craftsmanship
Beautiful look as decoration
Stable base feet 
Cons:
Narrower than other models
5.  AIGEL Wood Body Headphones Stand Holder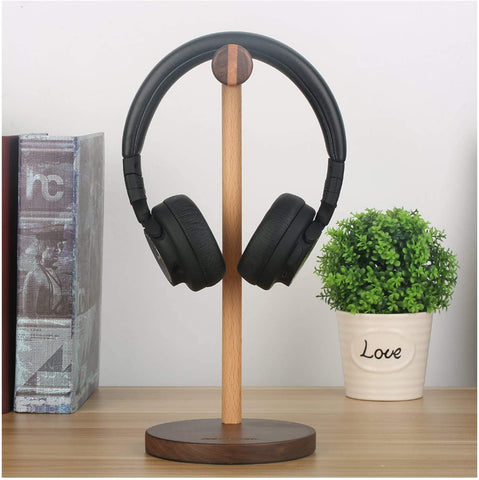 This model shows a lot of differences, at least for the look. It's made up of a simple base, a simple arm and a simple top. Despite oversimplification, it's able to do its job well. It fits all sizes of headphones mainly because of the universal top design. For all the wooden headset stands you can find on the market, this one seems to be a little skinny, but it's strong enough to hold your headsets. The sturdily built arm and top feature ergonomic length for headsets holding, and the base stays stably enough, not for you to push around too easily (with its weight 0.4 lb). This wood headphone stand is slim but durable for everyday use. 
Pros:
Easy to assemble
Simple structure in design
Durable wood material
6.  Oakywood Geometric Solid Wood Headphone Stand

The Oakywood stand is made of sturdy steel material and the base is solid hardwood to improve stability prevent it from tipping over from whatever surface you place it. As a typical walnut headphone stand, it's stylish with well polished surface using ecological oils and waxes for an aesthetic geometric look. The ideal size enables it to fit into most desks. If you want something that holds your headphone while beautifying your desktop, this could be one of your options for its durability and simple structure.
Pros:
Beautiful geometric look for a base
Practical size to use 
Cons:
No grooves on top to secure headphones 
Final Words
These above are the best wooden headphone stands we loved so far. Owning one of these is definitely necessary if you have a pair of headphones which need to be stored and organized properly in place when they are not in use. Such headphone holders can keep them safe and sound while the wood material adds a classy, vintage style that might fit your workspace. Since walnut headphone stands are so popular for the time being, getting one of those could be the right decision to make.