A baby monitor is definitely a must-have device for your little loved one especially if you have a growing family, it's a great helper letting you know instantly that your baby is sleeping peacefully, waking up suddenly, or crying somehow. But few people know that new generations of baby monitors are the dual baby monitor with split screen, they are usually designed for you to monitor 2 rooms or more. Keeping 2 rooms under close surveillance is a great idea to check on a toddler or baby who might go around from room to room. And for parents who have a twin or a toddler and infant, they will absolutely like the fact that they can easily keep an eye on both of their kids without having to switch from one camera to another.

How to select the best dual baby monitors? Since various functions and configurations can get us a bit confusing. Be cautious when purchasing a dual baby monitor with split screen because getting one randomly probably won't do you any good, but just a waste of money. We hope our reviews of the best dual baby monitors for 2 rooms can help. They are good examples of products in this line, with reliable performance(including battery life, Wide Angle, Screen Split, Audio Talk, etc) and positive reviews from a good many existing customers. Let's take a look now. 
1. Moonybaby Split 30 Baby Monitor Split Screen with 2 Cameras
This Moonybaby Split 30 is an excellent dual baby monitor with split screen. The split screen means it supports 2 cameras to monitor 2 different rooms. With 2 cameras though, you can simultaneously view the video image from both cameras from one monitor. Of the 2 cameras, one supports audio, for you to know more details of what you can see from the monitor. Its 2-way talkback function is a bonus for easy communication with your child while monitoring.
The audio sound and crystal clear video are workable within up to 1000 feet range. The screen is large with high resolution display. And for more about the camera, it has wide angle lens, automatic night vision mode, and zoom function, doing everything it can for better monitoring. Besides, this dual baby monitor has a long battery life, up to 12 hours of continuous monitoring. 
Pro's
 Con's

Split screen design

2-way talkback function

High resolution display

Battery sometimes doesn't hold charge stably

Camera connection gets disconnected once in a while

2. VAVA 720P 5" HD Display Video Baby Monitor
This baby monitor, first of all, features super high resolution 5" 720P, showing much more details in the video. However, this is not a dual baby monitor with split screen. Despite its inability for split screen, it supports an extension to connect up to 4 cameras by scan view. With 4 cameras, the alternate screen mode gives you full room coverage by view scanning every 15 seconds. And this monitor has more functions that are totally worth recommending, like WiFi connectivity, LED noise indicators, when it's set to the highest level, it can easily alert even the heaviest sleeper when it's set too low volume, you could barely hear unnecessary noise, but clearly hear everything about your baby. The monitor has a stable connection for monitoring, featuring 2X, 4X zoom, and autopilot panoramic modes to scan your baby's nursery.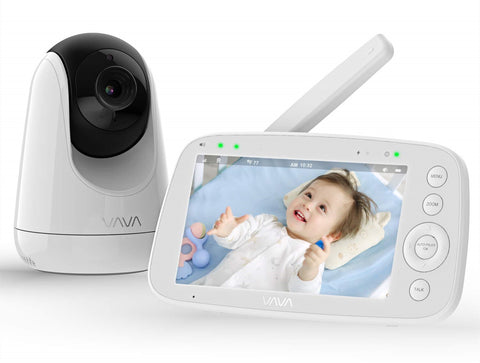 Other than the stable wireless connection, it enables you to monitor easily within a wide range, from 480 to 900 feet. Moreover, thanks to a powerful 4500mAh rechargeable battery, the battery life is long enough to last for 12 hours in display mode, or 24 hours monitoring mode without the display on. If you are looking for a baby monitor that runs round the clock, that'll be it.
Pro's
Con's

Super high resolution 720P, WiFi connectivity

LED noise indicators

Long battery life

Need to buy extra cameras for more camera connection

3. Motorola Video Baby Monitor - 2 Wide Angle HD Cameras with Infrared Night Vision and Remote Pan
It's a very well made dual baby monitor with 5" LCD color screen for the parent unit, offering clear video that covers the entire room. And the split screen viewing function allows you to check on 2 rooms simultaneously. This baby monitor enables parents to set or adjust the camera for detailed functions wirelessly and remotely. You can easily adjust the viewing angles by panning, tilting, or zooming in and out to know more about how the little one is doing. And you can communicate with your baby via the 2-way intercom system. Built-in speakerphone makes your parenting easier even while you are in the other room.
Besides, the monitor features infrared night vision that ensures it's still working properly at night, and the room temperature monitoring function assures you by keeping you informed of the room temperature using its temperature sensors built in.
Pro's
Con's

Split screen viewing,

Remote control for easy viewing angle adjustments

2-way intercom system

No dual audio

Night vision quality needs more work

4. Infant Optics DXR-8 Video Baby Monitor 
This Infant Optics DXR-8 won an award in 2018 for its performance and quality. And this monitor enjoys great sales with nearly 40,000 pieces sold. It shares the same feature with Motorola baby monitor for easy adjustments for camera settings. Parents can remotely tilt, pan, or zoom the camera to get to know what exactly their baby is doing. And it supports an interchangeable lens and is available for adding as many as 4 cameras, functioning exactly like the VAVA video baby monitor. Optics DXR-8 provides high-quality real time pictures as well as audio sound. The two-way communication is useful and funny between children and parents. And something else you might need to know, video and audio from this monitor is transmitted via a secure 2.4 GHz channel based on the FHSS technology, keeping great privacy and security.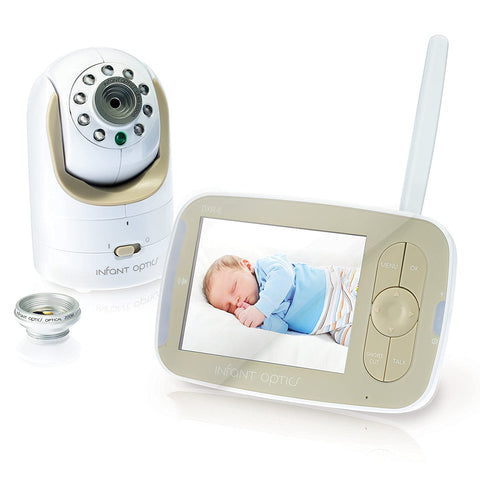 Pro's
Con's

Easy adjustments for the camera

Expandable for more cameras

Great pictures and sound, easy to use overall

Not a dual baby monitor with split screen

Need to buy cameras for more camera connection

Awful beeping alarm when it runs low on batteries

5. Moonybaby Split 50 Baby Monitor with 2 Cameras and Audio
Another Moonybaby dual baby monitor for 2 rooms: This is generally believed to be an upgraded product based on its previous edition Moonybaby Split 30. Let's see what improvements it has to offer. In addition to its split screen function, 2-way talkback function, high resolution display, room temperature display, automatic night vision, this monitor works amazingly with better picture quality and longer life span. The camera pairs fast and perfect for easy monitoring.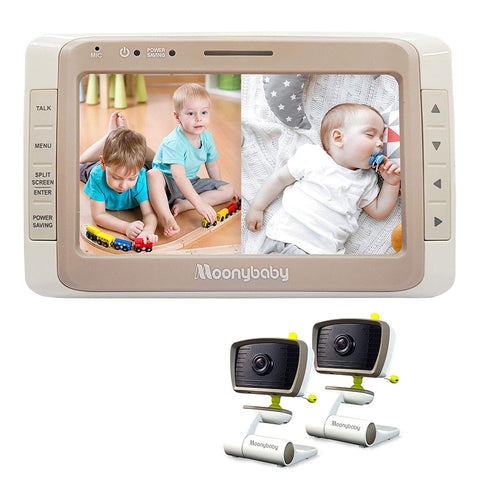 Many users find the rotating option quite helpful. The camera views switch every 10 seconds to create a consistent view, thus you can have the entire room covered. And what's more, people are also impressed with the monitor's long range, for outside, it works within 1000 feet away and indoors, it has great connectivity within 200 to 350 feet.
Pro's
Con's

Split screen design

2-way talkback function

Full room coverage, long range connectivity

Battery sometimes doesn't hold charge stably

Split screen mode with 1 camera's audio only

6. Babysense Baby Monitor with Two HD Cameras
As greater attention should be paid to privacy and security, this dual baby monitor focuses on Wi-Fi free technology, making its video and audio completely well kept locally within the monitor. It has a large 5" LCD display screen with 720 HD high resolution, which is quite similar to most best dual baby monitors with split screen. Speaking of which, the split screen is based on 2 separate cameras for clear pictures respectively. And, unlike other dual baby monitors for 2 rooms, this one is available for expansion for more cameras, up to 4, which will be able to cover the entire rooms for better surveillance effects.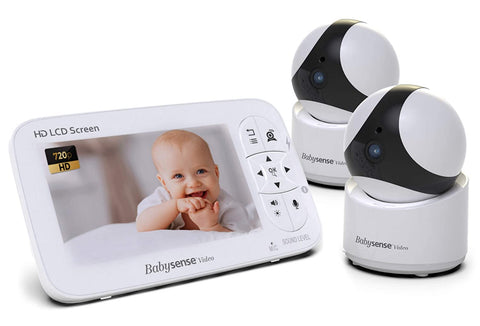 For other functions, like the 2-way audio, the programmed lullaby sounds, IR night vision, this baby monitor is thoughtfully equipped with all necessary needs to assure parents of their care for their baby.
Pro's
Con's

2 separate HD cameras

2-way audio, secure video protection, an extension for more cameras

Battery life needs improvement

Sound is comparatively low on the monitor

7. VTech 5-inch Screen Video Baby Monitor with 2 Cameras- 2 Way Talk
This dual baby monitor shows more care about how a baby experiences such a product. It's specially designed to meet the needs of babies themselves. For example, when babies start to fall asleep, they need sweet, soft sounds from mommy or daddy. This monitor does more than just monitoring, it has unique calming melodies and soft ambient sounds to help tuck babies to bed comfortably.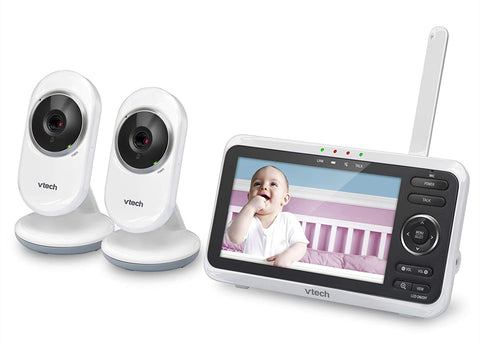 And the room temperature indicator can remind you of adjustments on the thermostat. When the light is off, you can use the automatic infrared night vision to check on your baby. The whole monitor and camera units are beautifully built with great durability, and it's easy to set up the units with convenient "plug and play".
Pro's
Con's

2 cameras with high resolution video

Auto infrared night vision, temperature indicator 

Night vision is a little blurry

Charger with a buzzing sound, the battery doesn't hold a charge well

8. Babysense Video Baby Monitor 3.5 Inch Screen with 2 Cameras
In the first place, surprisingly, this dual baby monitor sells at $85.99. This could be the best video baby monitor you can buy under $100. Other than 2 separate cameras for real time video monitoring, it has dual Microphone, too, making the two way talkback function as great communication between parents and child. For better surveillance of the entire room, this monitor allows for adding multiple cameras. It has easy panning and tilting adjustments for you to clearly check your baby's nursery. The 3.5" screen, is comparatively smaller, however, the picture quality is excellent. The monitor has a long battery life and supports auto infrared night vision.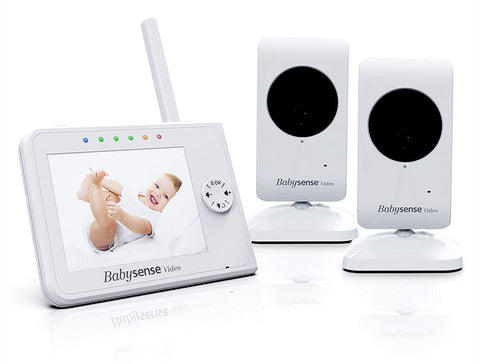 Also, it has real time room temperature on display for better care. Overall, this is one of the best dual baby monitors for two rooms with an affordable price and great performance.
Pro's
Con's

Affordable price under $100, 2 separate camera for 2 rooms

Two way talkback function, available for more cameras extension

Noise cancellation needs improvement

Audio doesn't switch well for multiple cameras
After reading this blog you may get to know what is important when choosing the best dual baby monitor with split screen: talk-back, temperature gauges, wide view, and night vision, battery life, etc. And these 8 good models listed above have the best balance between features, longevity, simplicity, and overall performance, so they could be your best choices. Highly recommended.
They work perfectly to help monitor your baby and allow you to do your own stuff in another room. Start parenting by picking the best baby monitor and build a connection with your child in a high-tech manner.