Today I wanted to share some of the best portable power stations you can find in 2020 that can keep your electronic devices full charging and operational while on the go. You would be impressed with some highlights of these excellent examples.
What is a Portable Power Station?
A portable power station is a useful device that helps you recharge your electronics whether they are USB or AC powered. Despite the fact that a portable power station can't really charge too big or powerful electronics as these appliances demand too much power consumption and would definitely require a massive generator to fill the power, using a portable power station is something practical and ideal. Because, in the first place, charging USB devices is like a breeze no matter how many USB gears you have out there. And even for some light duty AC-powered gears, a powerful portable power station will absolutely meet your needs.
Benefits You Can Enjoy from aPortable Charging Station:
You can literally benefit a lot from a power station when you are enjoying some quality time with friends or family, like camping, hiking, picnicking or some other kinds of outdoor get-togethers. First of all, you can enjoy the great portability. Being portable is extremely important when it comes to the best portable charging stations for camping. Supposed you have such a portable station ready to charge everything for you, and it's easy to pack, easy to move, holding in hand effortlessly, that could be one of the coolest things for outdoor activities. And, secondly, its functions, you would expect it to charge your laptop, mini cooler, drone and more other entertainment gears, not to mention USB stuff like a cell phone. And more, you would love to know the power station has a high capacity battery pack, ready for long hours continuous use. Last but not least, what you benefit from it is safety. Better safe than sorry, with a highly safe power station outdoors, it helps power up all electronics and stays safe for use.
Scroll below to see our favorite power stations that worth your investment. All of these following portable power station we recommend here are reviewed carefully with hands-on experience for a long time depends on brand, compatibility, power output, etc.
1.  Jackery Portable Power Station Explorer 240
Jackery has a great reputation for its portable power station series and they have product line called Explorer Series Portable Power Stations. This Jackery portable power station explorer 240: Its AC output port can only support electronics under 240 watts. This is way enough for a good many devices you might use outdoors, like a mini cooler. It has 1 AC outlet( 110V 200W to 400W Peak), 2 USB ports and 1 DC car port. With these outlet and ports, it will meet your needs for all possible camping electronics. And it can work with a solar generator too, like the Jackery Solar Saga 60W/100W this company recommends.
Capacity: 240Wh (16.8Ah, 14.4V)

Battery Type: 67000mAh Lithium-ion Battery

Input: 8mm DC, 12V~30V (42W max. )

AC Output: 110V, 200W (400W peak.)

Car Port: DC 12V, 10A , 120 Watt

USB Outputs (2): 5V, 2.4A (each)

Weight: 6.6 lbs

Dimensions: 9.05*5.24*7.87in

Two-year warranty for its power products
This model has a huge battery capacity 213Wh/57600mAh, which is enough to power many appliances for multiple times. Anker has strict testing results for the power station's performance, which shows its power within is enough to charge a MacBook Pro more than 5 times, not to mention charging a phone over 12 times. For camping purpose, you might have a mini fridge that requires more power, well, this power station can provide power for up to 4 hours use. What's new about this charging station is that, it has a pretty well built handle for great portability, as well as USB C port for convenient connection. And most importantly, Anker ensures great safety for this charging station by its MultiProtect technology. 
213Wh/57600mAh
Power Delivery In and Out
AC Output:  110v~ 0.91A, 60Hz/100W
Car charger output: 12V@5A
7.48 x 5.47 x 4.69 inches
6 pounds
Portable for a power station
free 18-month warranty and friendly customer service.
3.  Jackery Portable Power Station Explorer 160
This Jackery Explorer 160, like its other models, is a quiet generator apart from being a portable charging station. Yet, it's still constructed like a battery pack device that requires built-in battery only. The Lithium ion battery inside features a large capacity 46,400 mAh/3.6V, offering 167 watts power. Designed for camping use, it has 1 useful AC outlet rated at 110V, 1 USB C port, 2 USB A ports and 1 standard DC 12V port to power all electronics outdoors effortlessly. Likewise, it can pair with Jackery's solar panel for expansion usage. The built-in LED flashlight with SOS mode is a real bonus, especially for outdoor activities.
One of the smallest Portable Power Station

Dimensions: 7.40*4.59*6.73 inch

Weight: 3.97 lbs
4.  Jackery Portable Power Station Explorer 500
More Jackery power stations to go: This Explorer 500 is obviously an upgraded model compared to the other two listed above. Based on 500 watts power (1000W surge), it's able to power heavier duty electrical appliances like a television, projector etc. If you usually don't use such appliances outdoors, you may also find it perfect to power small blenders, drone, car appliances etc. Since it's so powerful, it's a great power station to have for more purposes other than just camping, like you can have it in case of power outages. Compared to traditional generator, it's easier to use and more portable. The display screen allows you to read the charging process easily.
Battery Capacity: 518Wh (24Ah, 21.6V)

AC Output: 110V, 500W (1000W peak.)

DC Outputs (Total 120W): 1*Car Port (12V, 10A), 2*DC Outputs(12V, 7A, 6.5*4.4*1.4 mm).

USB Outputs (3): 5V, 2.4A (each)

Input: 8mm DC, 12V~30V (100W Max)

Dimensions: 11.84*7.59*9.2 in

Weight: 13.32lbs
Possible Downside: Works not so well with solar panel; Charging needs too long time.
5.  ECOFLOW Portable Power Station
This power station is designed for universal purposes. It's portable and functional, and will literally come in handy for camping, power outages, RV devices, DIY construction work etc. Equipped with 110V 1800W, this portable power station has powerful AC outlets to generate pure sine wave for a great variety of tools and devices indoors and outdoors. Thanks to 6 AC outlets, 4 USB A ports, 2 USB C ports and 1 car port, it's able to power up to 13 devices at the same time. For a power station this powerful, you might worry its loading and safety problems. This company focuses on the protection against overloading as well as great temperature control.
Main features you need to know before buying: 
Capacity: 1260Wh (350Ah, 3.7V)

AC Charge Input: 100-120V, (1200W max.)

Solar Input:10-65V, 10A (400W max)

AC Output: 1800W (3300W Peak, Pure Sine Wave)

USB-C*2: 60W (5V,9V,12V,15V,20V,3A)

Fast-Charge*2: 28W (5V,9V,12V, 2.4A)

Car Port : (13.6V, 8A max.) + USB-A*2: 12W (5V, 2.4A)

Weight: 30.9lbs

Dimension: 15.7 x 8.3 x 10.6in
6.  Jackery Portable Power Station Explorer 1000
Supposed that, with all the three Jackery power stations above, you are still not impressed either way, here comes the Explorer 1000. This model is the most upgraded and most powerful with 3 standard pure sine wave AC outlets to power multiple electrical appliances simultaneously. With 1000 watts (surge 2000W) rating, it's good enough to power various household devices like TV, ice shaver, pellet smoker, blender or outdoor devices like mini fridge, portable oven, coffee maker etc. Many users find it ideal for parties, camping, RVs, trailers as it almost solves the power needs for all electronics you might have to use out there.
Battery Capacity: 1002Wh (46.4Ah, 21.6V)

3*AC Output: 3*110V, 1000W (2000W peak.)

Car Port: DC 12V, 10A.

USB Outputs (4): 2*USB-C ports with PD, 1*USB-A port, 1*quick charge 3.0 port.

Input: 8mm DC, 12V~30V (200W Max)

Dimensions: 13.1*9.2*11.1 in

Weight: 22.04lbs
Possible Downside: Kind of overpriced, Charging needs too long time.
7.  WEN 56200i 2000-Watt Gas Powered Portable Inverter Generator 
This WEN inverter generator features great portability and quietness in operation. Despite all the functions it can help you, it's very lightweight for easy carrying on the go. As to its noise control, using a 79.7cc 4-stroke OV engine, it controls noise very well, with quiet 53 decibels at quarter load, making it awesome particularly you use it for construction sites and unexpected power outages. Rated at 2000 watts, this inverter is gas powered and works greatly for heavy duty electrical appliances. It comes with 2 three-prong 120V receptacles, 1 DC receptacle and 1 USB port for convenient use.
Possible Downside: Fuel refill is troublesome.
8.  Goal Zero Yeti 400 Portable Power Station
This portable power station, like most models, is powered by rechargeable battery built in. It uses 396Wh lead acid battery with great power for up to 7 devices at the same time. It functions as a generator for many frequently-seen devices like phones, computers, cameras, lights, mini cooler etc. The screen display is clear and easy to read the charging process. The real-time input and output calculator is extremely helpful when positioning solar panels. Besides, you can use it to chain with other 33Ah lead-acid batteries to extend runtimes and power through outages or road trips. 
Possible Downside: Recharging the power station itself takes too long.
9.  Energizer Portable Power Station 
Energizer is known for its AA AAA Batteries and other batteries. Equipped with advanced CYPRESS chip, this portable charging station gives you fast, stable charging by the USB PD 3.0 technology. The power station is easy to use, requiring an easy press on the button into the AC mode, and another press to quit the AC mode. It uses high-performance lithium ion battery with great temperature and short circuit protection. The high capacity 75000mAh makes it very powerful to power up multiple AC and USB enabled devices at the same time. Moreover, apart from what it can mainly do for you, it also offers a 4W LED light that can function as a useful flashlight at night.
Possible Downside: Noise cancellation needs improvement.
10.  ROCKPALS 300W Portable Power Station
For this portable power station, the screen display is very impressively designed. It's large and clear, showing many details you need to know how your devices are charging or powering. It's a 300W power station with 600W surge max. Containing 1 three-throng AC receptacle 5 DC ports, 2 USB ports(2.1A), 2 Quick Charge 3.0 USB ports, this battery powered generator power station will meet the needs for a great many electronics. And charging the power station itself takes about 7 hours by wallet outlet, or optionally by a car charger. With a lightweight design, it's very portable(7.3 lbs) for outdoor use.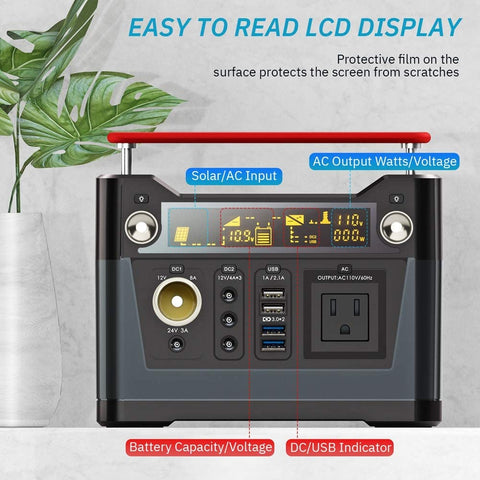 Possible Downside: DC output is not well regulated.
11.  GOAL ZERO YETI 3000 LITHIUM PORTABLE POWER STATION WITH WIFI
About this model, first thing first, it's literally super portable as it's perfectly constructed with wheels and telescoping handle, making it easy to move around. It contains a 3000Wh Lithium battery for long lasting power. It's a gasoline powered generator that produces 1500W continuous power with 3000W surge max. What makes it more special, is that it works as a power station with WiFi connectivity, allowing you to control it remotely with Goal Zero Yeti App. Besides, it's an MPPT Pre-Installed station(maximum power point tracker) that offers approximately 40% as fast as other similar power stations. And it works perfectly with solar panels for recharging.
Possible Downside: Works not so well with solar panel.
Taking a best portable power station with you for your camping will be brilliant. These best ones are powerful and portable. They are great for camping trips, and definitely a perfect gift idea for outdoor lovers, as they are specially designed for charging USB devices as well as AC electronics. Seeing that you could have so many options, like these above mentioned best portable power stations for camping, pick one that suits you best, and it will be no doubt well worth your camping experience.