A golf cart Bluetooth speaker system, unlike some frequently seen Bluetooth home stereo sound systems, demands special requirements owing to the particular atmosphere where the music is played. To enjoy fantastic music in golf carts, you are better off looking at some options people already experienced and gave two thumbs up. Here's a list of best golf cart Bluetooth speakers in 2020 that have been highly recommended by users in the following including all shapes and sizes. If you're considering to buy a Bluetooth speaker, pods, soundbar or speaker ideas for golf, this guide is for you.
Why You Need A Good Golf Cart Speaker?
Basically, a golf cart speaker entails needing a stable, strong Bluetooth connection in the first place to ensure the sound quality, the fluency of music. Moreover, since it's played outdoors, in the clearing of a golf course, people would like a golf cart Bluetooth speaker that's well equipped for high volumes. In addition to this, it's equally important that the very speaker for a golf cart should be lightweight and portable. No one wants to work out with some heavy dumbbells since they are already planning on playing a round of golf.
Best Golf Cart Bluetooth Speakers You Can Buy Now
1.  NOAM NUTV5 - Golf Cart Speakers Stereo System
NOAN NUTV series is always the first choice when considering to choose a golf cart speaker.  NUTV 5, the "big brother" of  NUTV4 is a one-stop solution for your golf audio needs which features new 4-channel full range NAMP4 amplifier with an advanced Bluetooth remote control. The NUTV 5 will fit any round bar at a diameter of 1.5", 1.75", 1.85" & 2" bars. Thus, covering all side by side vehicles on the market. Main features below: 
Features new NAMP4 amplifier.
Bluetooth 4.0 + AUX input plug
IPX6 waterproof Grade tested
Watertight plug
Any 12v operated vehicle ON/OFF switch
Mud proof, shockproof
Complete Set mounting accessories
From our test, The quality of sound for this NOAM NUTV5 system is fantastic. And it is loud but incredibly clear, also east to install. So guys, look at the offered price, it worth your buck!
2.  Bose SoundLink Micro Portable Outdoor Bluetooth speaker
Compared to FUGOO Tough XL, this Bose SoundLink Micro Bluetooth speak is a slim, handy unit. The size is extremely portable, is as small as a portable power bank. You can carry it attaching it to your backpack, or even coat, wherever you. This outdoor-friendly Bluetooth speaker works beautifully as a golf cart Bluetooth speaker as you can hang it somewhere in the cart.
Likewise, it's a waterproof speaker despite the small size. With IPX7 waterproof rating, it works normally under all weathers. The unit is also quite solidly built with great quality and durability.
This Bluetooth speaker uses a built-in rechargeable battery, which provides up to 6 hours playtime when fully charged. The wireless Bluetooth pairing is easy and strong, allowing you to enjoy connection within approximately 30 feet.
Additionally, this speaker works closely with your cell phone. Its built-in speakerphone handles your phone calls, plus it has voice access to your phone's Siri or your Google assistant. With so many functions, it's small but useful, especially helpful when you need some music on a golf cart.
3.  Ampcaddy Version 3 
Golf Bluetooth Speaker with Mount
Ampcaddy Version 3 Pro Bluetooth Speaker offers a 2-year warranty. Actually, the company has great confidence in their products. For this golf Bluetooth speaker, they've built it with a rugged design which is able to stand tough weather situation outdoors. The robust material makes the speaker resistant to shocks and water. Rated at waterproof IPX7, it plays well even when the rain is coming, even though no one really wants to play golf on a rainy day.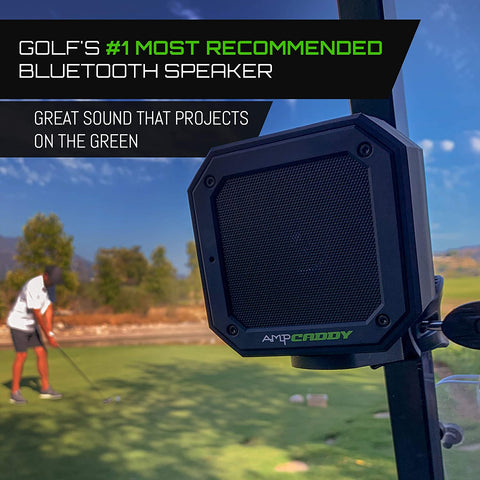 Whereas, the most impressive feature of this golf Bluetooth speaker is its design for easy mounting. The mounting gear it comes with allows you to easily mount it to a golf cart or push cart, or any other spot that fits the mounting gear. The mounting set-up will be a breeze. And the speaker will stay extremely securely in place. Thanks to the easy mounting swivel, it offers terrific 180° directional audio sound evenly, creating a stunning music atmosphere on golf court or elsewhere outdoors. 
There you may also find some other awesome features from this Bluetooth speaker, anyway, Ampcaddy sells it mainly for its quality construction, great sound and mounting flexibility.
4.  ROKFORM G-ROK Portable Wireless Magnetic Golf Speaker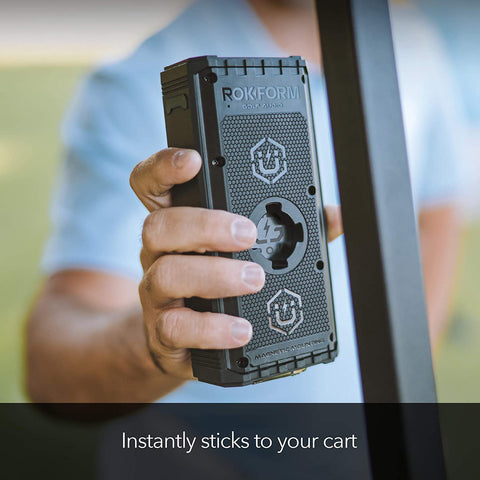 Last but not least, ROKFORM G-ROK golf speaker is another outdoor friendly Bluetooth speaker that can be used for multiple scenarios other than just golfing. Likewise, its IPX7 waterproofing enables you to use it on a rainy day or somewhere with water splashes.
Compared with Ampcaddy's mounting design, Rokform G-ROK seems to put itself to a higher level technically. Instead of mounting the speaker using physical mechanics, it adopts more advanced built-in magnet. This is something hard to believe, and designers rarely dare to try because setting magnet to a Bluetooth speaker from the inside, it needs great reliability, otherwise, it would fall. This magnetic golf speaker won't fail you like that. It uses super strong magnet built in, ensuring it will firmly stick to the place you want to mount.
Besides, G-ROK speaker features long battery life for up to 24 hours, with that, you don't have to worry about battery charges for pleasant, hassle-free golf playing. Overall, the instant built-in magnetic mounting feature makes it convenient for quick mounting wherever you use this speaker. 
5.  JBL FLIP 5 - Waterproof Portable Bluetooth Speaker
JBL Flip 5 wireless Bluetooth speaker is a small speaker with a compact cylinder shape. The lightweight, portable size makes it pretty easy to carry around.  This outdoor-friendly speaker fits a golf cart perfectly as you can take it with you comfortably without a bulky size.
Despite the small size, it gives you powerful stereo sound by easy pairing Bluetooth. It's particularly good at playing deep bass, creating a breathtaking atmosphere when you are on a golf cart.
Like most outdoor speakers, it's IPX7 Waterproof and plays wonderfully even in rainy weather, keeping rain droplets or splashes off.
Based on a built-in rechargeable li-ion battery, it supports up to 12 hours of playtime. Besides, the built-in speakerphone is technologically noise and echo proof, which means you can make crystal clear phone calls in the middle of music playing.
6.  NOAM NUTV4 Golf Cart Speakers Stereo System
NOAM NUTV4 comes with a complete set of stereo sound system units, including an amplifier, a Bluetooth controller, a pair of NOAM N4 speakers, some mounting accessories and a power wire. The overall design of these gold cart Bluetooth speaker bars is well made for easy setup and removal.
The Bluetooth is pretty easy to pair and it stays connected stably. The sound quality is awesome, it reaches far and wide as the golf cart goes. The sound effect sounds like a home stereo system that locks the music in the golf cart in a small area.
One more thing I have to mention is that the whole unit is greatly resistant to water. Even though few people would play golf on a rainy day, this Bluetooth speaker set helps keep rain or water splashes off, allowing for perfect music playing against the weather.
Pros:
1. Fits All Types Of UTV's and Golf Carts with Round Bars. NUTV4 sound system will fit any 12v vehicle with round 1.5"-2" bars.
ATV
Golf Cart
UTV - any type of Side By Side utility vehicle:
Polaris - Polaris RZR, Polaris Ranger
CAN-AM - CAN-AM Maverick, CAN AM commander
Arctic Cat - Arctic Cat Wildcat, Arctic cat prowler
Honda pioneer
Kawasaki - Kawasaki Teryx, Kawasaki Mule
Yamaha - Yamaha YXZ1000R, Yamaha Wolverine, Yamaha Viking
2. The sound quality is freaking awesome.
Cons:
Not easy to install. Make sure you pay very close attention to the diameter requirements for the bar that you will attach the speakers.
7.  FUGOO Tough XL- Ultimate Rugged Waterproof Wireless Bluetooth Speaker
FUGOO Tough XL seems more like a rugged wireless Bluetooth speaker designed for off-road vehicles for wild outdoor music. Yet it's also a great golf cart Bluetooth speaker.  The speakers feature great robustness due to the strongly built materials. Rated at IP67 waterproof, this speaker set is fully waterproof. The rugged, durable hardshell makes it highly resistant to dust, mud, and shock as well.
It is able to give 360 degrees sound effect thanks to 8 symmetrically aligned speaker drivers, plus 4 tweeters, 2 aluminum domed neodymium woofers and 2 bass drivers. The overall sound quality is stunning, just like music all over a room. 
As for its power source,  it gives insanely long battery life, up to 35 hours for maximum. And the Bluetooth speaker system has something else to offer -- it also functions as a power bank. You can charge your cell phone or tablet on a golf cart while you are listening to rich, deep audio music.
This BOSS Audio system is uniquely designed like a binocular. The round design is found perfectly fit for ATVs, UTVs, and of course also golf carts.
Bluetooth pairs instantly for your cell phone, iPod or other Bluetooth compatible music players. No matter how much noise your vehicle makes, this amplified sound system with a built-in amplifier still makes loud and clear music for excitement. 
This Bluetooth speaker is powered by a 12V power source, featuring a plug-and-play user-friendly operation. Like most outdoor speakers, being waterproof seems like a requirement, this speaker serves the same purpose too. It works flawlessly with protection against rain droplets and water splashes.
9.  Pyle Marine ATV Powered Speakers
This model looks extremely the Sound Storm amplifier sound system at No. 5, just somehow looks bulkier. The seller takes it for granted that it's specially made for an ATV. Actually, it would work perfectly fine on a golf cart too.
You would love the fluent wireless music streaming thanks to the speakers' easy pairing by automatic 4.0 Bluetooth connectivity. Bluetooth connection range is about within 30 feet.
This Bluetooth speakers are enormously powerful owing to 800 watts power rating with a built-in 2-channel digital amplifier. Overall the speaker build is strong and heavy-duty with waterproof IP 44 rated protection.
10.  Wet Sounds STEALTH-10 Ultra - Black 10 Speaker All-in-One Bluetooth Soundbar -The Best Golf Cart Soundbar
This Wet Sounds STEALTH-10 Ultra is one of the best golf cart Bluetooth speaker bars on the market considering the robust build, sound quality and performance.
It's extremely solid and durable with quality aluminum housing and stainless steel hardware. The Bluetooth soundbar is easy to set up on a golf car or an ATV due to its installation-friendly design with included mounting accessories.
The sound is surprisingly stunning with a built-in 300 watts full range class D amplifier, and quick frequency response 40 hz-20kHZ. Besides, the Bluetooth speaker bar is able to turn itself off to save power, namely, the automatic shut-off system will activate after it detects no source for 10 minutes. 
11.  EZ GO Club Car Yamaha Radio Stereo Pods Enclosures
This pair of Bluetooth speakers are very well made golf cart Bluetooth speakers with durable anodized aluminum clamps for easy setup on a golf cart.  Other than the clamps, the speakers are made of heavy-duty plastic with great hardness.
In contrast with other Bluetooth speakers recommended,  this model seems to be cut out for the job on a golf cart. Because other types are either sitting on somewhere in the cart or hanging, this one can be installed securely in place.
As for its sound quality, the two speakers are rated 3000W power for each, giving you amazing music during your golf playing time.
12.  Bluetooth Speaker by Celtic Blu
This Celtic Blu Bluetooth speaker is a piece of gorgeous device that can be easily mounted on a bike or a golf cart bar. It's characterized by smart handlebar remote control which enables you to control your music tracks and volume using the handlebar.  The Bluetooth available range is up to 100 feet around.
You would be blown away by the powerful 360 degrees surround sound effect. The rich bass and room-filling style loud and clear sound will surprise you on the go. It gives you music on bicycle, scooter, ATV and in a golf cart. With long-lasting battery for up to 30 hours playtime, you can enjoy some prime time outdoors without worrying about power consumption.
In addition, this Bluetooth speaker has a few other functions, working as a power bank, with a built-in antenna for FM radio, Microphone function for phone calls etc.
13.  Tribit XSound Go Bluetooth Speakers
The Tribit XSound Go is built to last. Like other waterproof speakers, the durably rugged housing is dust and waterproof(IPX7 waterproof rating), making itself an ideal outdoor wireless speaker.  The size is compact and ideal for on-the-go traveling, hiking, picnicking and golfing. When you use it on a golf car, it will not take much space and will produce loud and crystal clear music for you.
Powered by built-in Lithium-ion battery, the speaker can play non-stop around the clock, with up to 24 hours playtime. As to the Bluetooth connectivity, the speaker uses Bluetooth 4.2 technology for easy Bluetooth pairing within approximately 66 feet. Also, this speaker serves the voice input function for Siri and Google Now. It generally works as an outdoor speaker and naturally does a good job as a golf cart Bluetooth speaker system, giving you high-quality music wirelessly.
Experienced Users Tell Us:
If you are looking for the best golf cart Bluetooth speakers on the market, like those listed above, you really need to take a closer look at them to ensure you have taken every aspect into account. A great golf cart Bluetooth speaker system does keep you good company during golf playing, mostly on the golf cart or near it. Focus on the sound effect, functions, and durability, and avoid making rash decisions without thinking through your purchases.