If you visit the discussions.apple.com as often as other Apple Watch users do, you will find this place swarmed with questions like "How to protect Apple Watch screen", or you would hear complaints like "Ouch, my Apple watch gets scratched". Experienced users say that, if the display is scratched, it's permanent. No doubt you can't live such an imperfect screen, so, let's get some protection.
So, what is the best way to protect Apple Watch screen?
Some new users would be more straightforward, like asking "Do you need an Apple Watch screen protector?". Well, the answer is affirmative. A screen protector for Apple Watchis like a screen protector for your smartphone, it gives great protection and keeps your Apple Watch safe and sound. Screen protectors like tempered glass screen protectors or protective cases are essential accessories for your Apple Watch. If you want to avoid a cracked screen or even tiny scratches on your Apple Watch, it's definitely necessary to get a screen protector, whether you are using Apple Watch Series 5, or previous versions like series 4, 3, 2 or 1. On the other hand, using a protective case for Apple Watch is another helpful solution. Wearing a case safeguards the watch in an all-round way without compromising its usage or beauty at all. Thus, fair enough, the best way to protect the Apple Watch screen is to use a screen protector or protective case for Apple Watch optionally.
Part 1:  5 Best Screen Protectors for Apple Watch
No. 1:  LK [6 Pack] Screen Protector for Apple Watch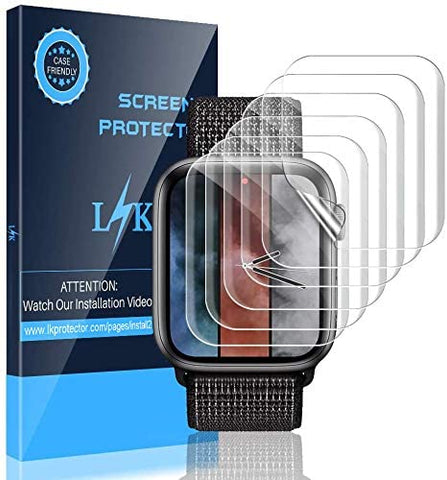 This LK screen protector for Apple Watch is sold at 6 packs. It's really a good idea to have a few spare protectors around. They come in handy when it's necessary. The protector is perfectly compatible with Apple Watch 44mm (Series 4/5). The material is flexible TPU, which is durable and protective without compromising your watch's beauty and usage. It's beautifully designed with nice curves that fit iWatch snugly. When you add a layer of protection to your Watch, you would expect it to be thin enough without being bulkier than before. LK protector allows you to enjoy sensitive touch thanks to its 0.1mm paper thin design. And the transparency is pretty impressive.
Pros:
Great popularity: over 9500 pieces were sold
Perfect design with great clarity and thickness
Durable for protection 
No
.
 2:  
Lululook Apple Watch Screen Protector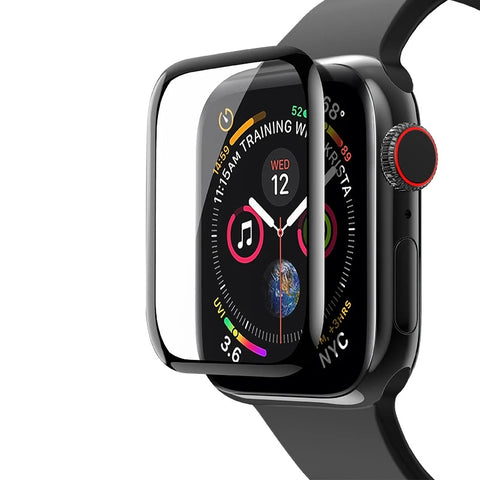 This Apple screen protector from Lululook gives users a fabulous experience by sophisticated craftsmanship and protection performance. The material is high strength alumina tempered glass, processed by 3D curved hot bending for edges to fit perfectly. The protector has a finely plated anti-fingerprint layer that makes the surface smoother while reducing fingerprints. For a screen protector, the last thing you want to see is bubbles. Basically bubbles mean bad screen protector. Surprisingly this protector is beautifully made without bubbles at all. It's pretty thin but hard enough for protection, rated at 9H hardness. Designed for easy use, it offers above 99% transparency. This Lululook Apple Watch screen protector is for series 5/4 44mm/40mm.
Pros:
Durable and protective tempered glass
Anti-fingerprint layer
Great transparency and super thin
The website offers 50% off for this protector
Cons:
Comes in black color only
No. 3:  
Zagg Ultra Clear Ultra Clear for Apple Watch
How about this Zagg protector? It looks like a nice piece of protector with a glass-like surface. Perhaps you would appreciate they get the job nicely done by creating such great clarity and transparency. Your Apple watch displays in an incredibly clear way with great eye-caring protection along. Besides, looking beautiful doesn't compromise its durability. Despite clarity and thinness, it's strong enough to safeguard the screen from scratches, scrapes or accidental drops. All in all, this protector is nice-looking, bubble free, protective, and easy to install.
Pros:
Clear look, bubble free design
Easy to install
Great protection to offer
Cons:
The price tag would scare you away
No. 4: IQ Shield Screen Protector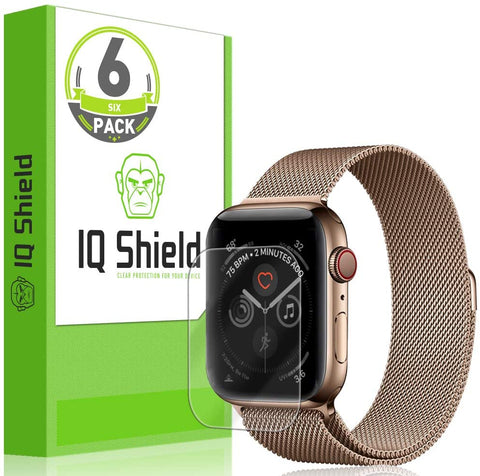 If the cost for Zagg protector is kind of prohibitive for you, you will surely find this IQ Shield screen protector relatively acceptable. Selling at $7.85 will obviously sound a lot more reasonable and affordable. However, the price is not the only spotlight for this protector. Let's focus on what it can do for you. It offers great protection by a super tough film. Similarly, being thin doesn't mean it's weak. Thanks to the advanced technology, it's successfully crafted with robustness, high response accuracy and high transparency. This screen protector comes with squeegee, cloth and instructions for installation though, many users find it not that easy to put it on the screen perfectly.
Pros:
Affordable price
Lifetime replacement warranty  
No.5: ArmorSuit [6 Pack] MilitaryShield Screen Protector for Apple Watch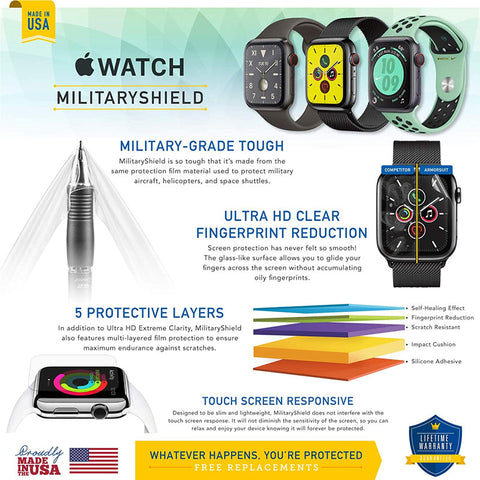 Let's see another 6-pack screen protector. If you are a screen protector keeper, you are better off looking at such options. This US-made screen protector has ideally designed cutting to make sure it fits Apple Watch Series 5, Series 4 40mm flawlessly. The flexibility of the thin film is really something that not only provides the most coverage for your watch but also protects the screen against every day possible scratches. Another highlight of this protector is its self-repair technology or called self-healing. It's able to eliminate minor scratches on the film all by itself, keeping off dust, oil and smudges.
Pros:
Great material by advanced processing technology
Snugly fit series 5, series 4, bubble free
Great idea of self-healing feature
Part 2:  5 Best Protective Cases for Apple Watch
1.  Spigen Rugged Armor Apple Watch Case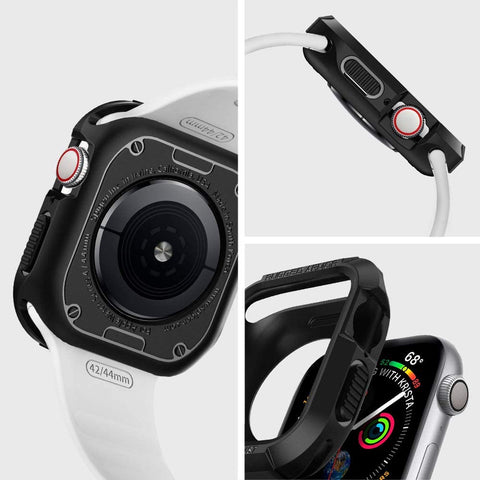 There's a huge difference between adding a case and adding a screen protector film to your Apple watch. Obviously, it inevitably looks a bit thicker from appearance. If you can live with a slightly thicker Apple Watch, well, embrace this protective case. It looks like wearing armor but serves its purpose greatly, as it defends whatever comes towards your watch accidentally. The shock absorbent layer stays strong and protective. The cutouts are perfectly laid out for easy access to all features you need. The matte finish makes it look better aesthetically.
Pros:
Beautiful look as a protective case
Great shock absorbent layer for protection
Well designed cutouts for accessible features 
Cons:
Leaving your glass screen exposed 
2.  Pzoz Apple Watch Case with Screen Protector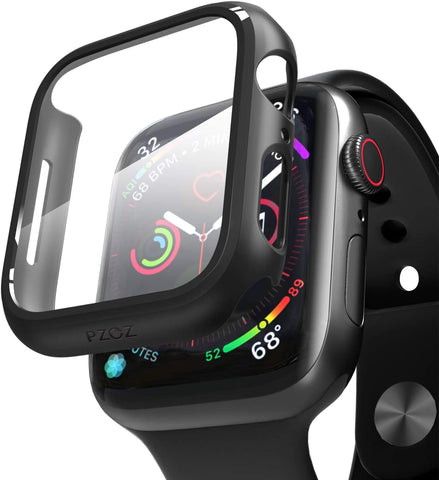 This Pzoz case will make up for your needs if you are looking for a full-coverage case. Let's say it's a screen protector and protective case combination that protects the whole watch from front to back. Likewise, it has a nicely designed layout to allow you to enjoy quick access to all controls, buttons, sensors and other functions. Compared to other features, people are more impressed with its materials. Made of premium PC and PET materials, the protector and case combo make every effort to keep your watch safe and sound, from screen, backside, to edges. The material is thick and strong to withstand daily wear and tear.
Pros:
Strong, protective materials
Well designed layout for watch features
Full coverage: case and screen protector film included 
3.  Catalyst Waterproof Case for Apple Watch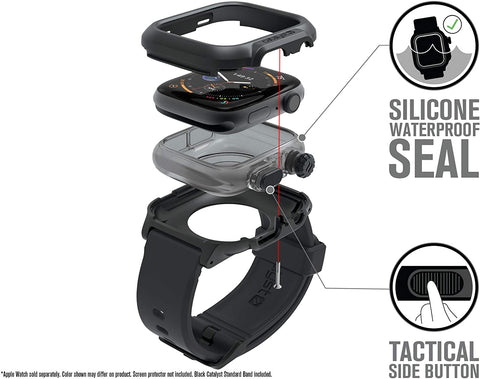 Let's see another protective case with full coverage protection. This Catalyst case for Apple Watch Series 4 and 5 is one of the rarely seen waterproof protective cases on the market. Looking a little thick in design, yet, it's still very comfortable on your wrist.  It's fully tested to be highly water-resistant, rated at waterproof IP68. It's not as simple as being able to keep off some splashes or rain droplets. It's seriously waterproof for you to wear your watch deep under water and it still keeps your watch safe and sound. Besides, this case features great resistance to shocks and drops, owing to its rugged polycarbonate and silicone material, claimed to be MIL-STD 810G military standard.
Pros:
IP68 Waterproof feature
MIL-STD 810G military standard for dropping protection
Cons:
Water could get through the seal the back of the watch.
4.  Misxi Apple Watch Hard Case with Screen Protector
The whole protective case with screen protector is a nice piece of case with great slimness and fashion. Users are happy to share their experience of using this case, they say it's barely noticeable that the case is there. The thickness is ideally controlled as a slim, light, thin but durable protective case. Especially the screen protector is thin enough for you to enjoy quick response while touching the screen. And it allows you to conveniently charge your Apple Watch without the need to take it off. If you are hunting for a full-protection case for Apple watch to avoid daily wear or accidental scratches, this case is worth your consideration, for all it can do for you.
Pros:
Snap-on design for easy installation
Durable material for protection
Looks great with perfect fit design 
Cons:
The screen cover seems to dim the screen a little bit. 
5.  Julk TPU Case for Apple Watch with Screen Protector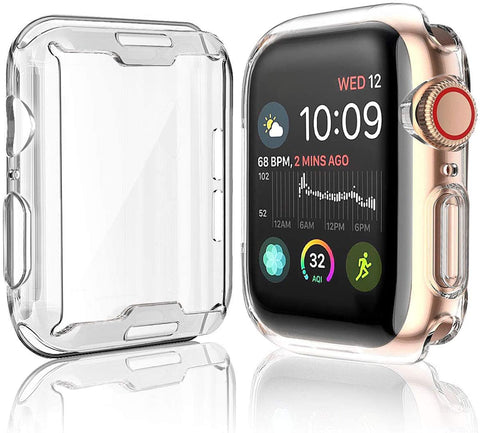 Julk TPU case is also a typically great protection option for Apple Watch Series 5 and Series 4(40mm). The whole thing is extremely lightweight but greatly serves its protection by the durable TPU material. The screen cover features great transparency, without sacrificing the original beauty of your watch. Plus, it's thin, barely visible at first sight, which allows you to enjoy the perfect sensitivity of the touch screen. Furthermore, this case with screen protector is super easy to put on and take off. All things considered, it's a great option with a beautiful look and an affordable price.
Pros:
Durable material for protection
Looks great with perfect fit design
Good cutouts without affecting all controls