Today I'm going to walk you through 17 best wireless chargers for multiple devices that you would think the money you pay will be worth every penny in 2021. Make sure you don't fall for some cheap knock-offs just with a fancy look and you will save yourself a lot of money in the long run.
No.1:  Best Dual Wireless Chargers for 2 Phones, work with iPhone, Samsung and other Qi enabled smartphones
Imagine that you and your loved one have two phones in your household and they all support wireless charging, still use two wireless chargers at home? You don't need it, get one dual wireless charger station is a better idea to wirelessly charge two smartphones at the same time no matter you have an iPhone, Samsung or other Qi enabled phones.
Why you need dual wireless chargers?
Naturally, you can benefit a lot from a dual wireless charger. First thing first, it is wireless, which means that you save yourself the trouble dealing with charging cables. Add to this a dual design really is a thoughtful idea that allows you to charge two devices at the same time. For example, if you use a dual wireless charger for iPhone and Apple Watch, you will be able to use these two devices freely without the need to worry about cable connection, compatibility or which to charge first.
1.  CHOETECH Dual Wireless Charger - Free shipping worldwide
This CHOETECH dual wireless charger looks compact, light, like a flat pad-style speaker. The well made edges are impressive. Aside from the nice look, people choose it mainly because of its ability to charge 2 phones simultaneously. Well, I'm not surprised about that, because way too many chargers are claimed to do so. But this one does charge 2 phones at a stable, reliable speed. And the pad does not get overly hot. 
Its charging ability depends on the 18W QC 3.0 adapter, with which, it can handle 2 phones nice and offer fast charge. The next thing we concern about is safety. The dual wireless charger does not get hot easily is because it's well equipped with multiple heat dissipation holes at the bottom side, so no matter you have an Android or Apple smartphone, you can charge your device at the same time with fast speed. Below is a list that the charger support.
7.5W Charging Mode: iPhone 11/11 Pro/11 Pro Max/XS Max/XR/XS/X/8/8 Plus
10W Fast Charging Mode: Samsung Galaxy Note 10/Note 10 Plus/S10/S10 Plus/Note 9/S9+/S9/Note 8/S8/S8+/S7/S7 Edge
5W Standard Mode: All Qi-enabled devices
2.  Belkin Dual Wireless Charger
The Belkin Boost Up 10W Dual Wireless Charging Pads allow you to charge two devices at once, so no matter your are using iPhone or Samsung or other Qi-enabled devices, the charger can offer a fast charging speed to your devices at the same time. The LED lights indicate when they're charging correctly.
Comes in black and white color, so you can easily choose your favorite color to match your desk. Belkin also offer a 2-year warranty for this dual wireless charger. 
Not sure it works with your device or not? Here is a list, including iPhone 11, 11 Pro, 11 Pro Max, XS, XS Max, XR, X, 8, 8 Plus, AirPods, AirPods 2, AirPods Pro, Samsung Galaxy S20, S20+, S20 Ultra, S10, S10+, S10e, S9, S9+, Note10, Note10+, Note9, Google Pixel 4, 4XL, 3, 3XL and more
3. Samsung Wireless Charger Duo Pad
With Samsung Qi-certified Wireless Charger Duo Pad, you can easily charge up to two smartphones by simply setting them down, but it now only supports fast charge 2.0 which offer at a full speed of 12w. You can also charge your phone and Samsung smartwatch at the same time, great for Samsung fans. 
The Wireless Charger Duo is Qi certified meaning any Qi compatible products can charge on it, including the Samsung, Apple iPhone or Google, Huawei, etc.
4. mophie Dual Wireless Charging Pad
Mophie just announces the dual wireless charging pad recently and the charger can charge three devices simultaneously. With two wireless charging spots deliver up to 10W, you can easily charge Apple, Google, and Samsung fast charge. The unique USB-A port allows you charging your third device — like an Apple Watch, Powerbeats Pro, or whatever else of a USB device. 
The smooth, polished finish will look sleek on any desk in your home. You can always feel safe to buy Mophie as they have collaborations with apple and sell their amazing products at the Apple Store. 
5. Anker PowerWave 10 Dual Wireless Charger Pad 
Apart from power banks and backup battery, Anker also has kinds of wireless chargers online. Trusted brand Anker releases its PowerWave 10 Dual wireless charger in September. With this pad, you can charges Samsung phones at 10W and iPhones at 7.5W; the fastest possible wireless input that each can accept, DC Adapter Included.
With charging power that can be transmitted through phone cases under 5mm, charging your family's devices has never been so convenient. You will love its sleek design and powerful function. 
6. Yootech Dual Fast Wireless Charger
This Yootech dual wireless charger resembles CHOETECH charger faintly in appearance. And so does the function. It also uses a QuickCharge adapter that ensures quick charges for 2 phones. What makes it a little different is that it's capable of charging 2 devices simultaneously.
If you are looking for a small wireless charging station, you are better off looking at this one. The Qi pad handles 2 phones while the USB-A output is able to charge a third phone for you. But considering normally you don't have 3 phones, I think it works flawlessly for family or college dorm.
7. ZENS Dual Wireless Phone Charging Pad
This one looks a bit thicker in the design, yet, it's still pretty lightweight. Likewise, it's able to charge 2 phones at the same time. It comes with an AC/DC adapter for widely compatible power connection.
As far as the efficiency is concerned, its max output of 20 watts ensures it fulfills charging 2 Qi enabled devices without a hitch. Plus, it has something smart to offer--auto charging management, which means charging will stop automatically when the battery is fully charged and will resume charging when it detects battery is running low. This smart technology effectively prevents over-charge as well as a completely dead battery.
No 2: Best Dual Wireless Chargers for Both Smartphones and Watches
8.  CHOETECH 2 in 1 MFI Wireless Charger for iPhone and Apple Watch
Typically, this CHOETECH 2 in 1 wireless charging station is known for its multi-task feature, allowing you to charge Apple Watch and another Apple device at the same time. Users are happy with this feature for the wireless charger greatly saves their time and desktop space.
When it comes to space saving, this charger has a foldable design for the iWatch magnetic charging part. It can be laid flat or vertically for easy charging. Nightstand mode enables you to check time from the watch conveniently. CHOETECH has impressed people with its quality and safety. Certified by MFi, Qi CE, FCC, RoHS, it provides safe charging for most Apple devices and Qi-enabled smartphones of other brands. There's another feature you might love --it's a case compatible charger, supporting phone cases less than 5mm thick. And its overall quality is long lasting with a durable zinc alloy construction.
9. Seneo 2 in 1 Dual Wireless Charging Pad 
Seneo 2 in 1 wireless charger is also a fancy wireless charger if you are the owner of the iPhone, AirPods or an iWatch (nightstand mode Available). It is compatible with Apple Watch Series 5/4/3/2/1.
And the charger can charge your phone through any defensive case (within 0. 2in/5mm), yes, you didn't need to take off your phone case while charging. Perfect gift for iPhone fans.
10.  Belkin Boost-Up Wireless Charging Dock
This wireless charger basically looks highly similar to Samsung Wireless Charger Duo except for the standing watch charging position. This charger is a professional Qi charger for iPhone and Apple Watch, with its wide compatibility for iPhone XS, XS Max, XR, X, 8/8 Plus, Apple Watch 4, 3, 2 and 1.
Its charging speed is satisfying with charging power 7.5W for iPhone and 5W for Apple Watch. In addition, it comes with a little bonus-- a USB-A port available for charging an iPad, AirPod etc.
11.  Anker PowerWave+ Pad for iPhone and Apple Watch
This Anker PowerWave+ Pad has much attention to details. The watch stand is foldable for easy storage. When you need it for a nightstand mode charging, you can set it up easily. In addition, the Qi charging pad is specially designed to be case friendly, which enables iPhone to get charged with its protective phone case on.
Most importantly, its full 7.5W wireless charge power makes it one of the best dual wireless chargers for iPhone and Apple Watch. It's also one of the certified safe wireless chargers for all Qi compatible phones.
12.  Samsung Wireless Charger Duo
Samsung Wireless Charger Duo looks one of a kind in the design, with a full-moon shape phone mount for your cell phone and a beautifully concaved circle position for a Samsung smartwatch. The phone mount is elegantly tilted for a good view angle considering you might still use the phone while it's being charged. And the watch charging position is perfectly fit for Gear S3 or later Samsung smartwatches.
Tested and certified by the Wireless Power Consortium, this wireless charger makes charging a cell phone and a watch together a breeze. The highly safe unit is well equipped with a built-in cooling fan for quickly cooling the heat during fast charging.
No 3:  Best 3 in 1 Wireless Chargers for iPhone, Apple Watch and AirPods, Great for multiple apple devices users.
13. Seneo Wireless Charging Station for Apple Watch, Airpods and iPhone
The SENEO Wireless Charging Dock Station can charges your phone, iWatch and AirPods simultaneously. It only costs you $29.99, but thanks to its unique design, it also comes with awesome quality. The 7.5W Qi-certified wireless charging stand fuels your Qi-enabled iPhone at the full speed, the other 2 ports can charges your iWatch and AirPods simultaneously via the built-in charging cable. A must-have for Apple fans!
14.  Belkin 3-in-1 Wireless Charger
This multi-functional wireless charger amazingly serves three main purposes, charging an iPhone, an Apple Watch and AirPods simultaneously. Like most other multi-task wireless chargers, it has a compact build with enough room to place three devices for charging.
It's a fast wireless charging dock with its ability to charge Qi-enabled iPhones at 7.5 watts power rating, and charge Apple Watch and AirPods at 5 watts. And charging all three devices won't compromise its charging speed or current delivery capacity because Belkin has built this thing to be able to support powerful current output. Besides, it's also a phone case compatible charger(no issue with cases as thick as 3mm). It comes with a 2-year warranty for any malfunction during use. If you are looking for an Apple Watch charging stand, an iPhone charging dock and an AirPods wireless charger, Belkin is your alternative since it can handle these three devices at the same time effortlessly.
15.  SODYSNAY 3 in 1 Wireless Charging Dock for iPhone and Apple Watch and AirPods
Aside from best dual wireless chargers for 2 phones or 1 phone and 1 watch, there have been quite a few striking wireless chargers for up to 3 devices, mostly for an iPhone, Apple Watch and AirPod. This SODYSNAY 3 in 1 Wireless Charging Dock is one of those I genuinely recommend.
Needless to say the user-friendly charging stand design, the whole unit features a kind of sturdy silicone material that prevents accidental scratches and scrapes for your iPhone, iWatch and AirPod.
Other than physical protection, it also has protection technologically, safeguarding your devices against overcharge, over voltage, over heating etc.
And what really makes it worth the money is the compatibility--designed with iPhone/Micro/Type-C interfaces for most smartphones and all iWatch series, and AirPod series.
16.  ZENS Dual+Watch Aluminium Wireless Charger
ZENS is your innovative wireless charging expert based in Netherlands. Smart. Simple. Fast. The Dual+Watch Aluminium Wireless Charger appeals to me enormously mainly for the aluminum material at first sight. The material looks well finished and feels robust, and yet it has a thin design.
Likewise, it's able to charge 3 devices simultaneously, like 2 smartphones and an Apple Watch. The charging performance is pleasing, with up to 20W total maximum output.
It's a both Qi and MFi certified wireless charger that works perfectly for Apple iPhone Xs, Xs Max and Xr and all other smartphones that support Qi wireless charging, as well as Apple Watch Series 4, 3, 2 and 1.
17.  SliceCharge 2 Wireless Charging Mat (with 30W USB-C Power Adapter)
Slicecharge company is a group of designers and engineers who are Apple's big fans. The charger is made thin and slim, so it's called a charging mat. It's made of high-quality fabric and aluminum for a durable structure. Looking like an aesthetic purse though, this wireless charger is as powerful as it can charge an Apple Watch and 2 Qi-compatible phones at the same time.
The wireless charger comes with a 30W USB-C power adapter for fast charge. For charging iPhones, it's rated 7.5W, which will fulfill quick, stable charge; for charging Samsung phones, it has 10W output while 3W for Apple Watches.  Charging 2 phones and 1 watch is a cinch.
Typically, as a wireless charger of this powerful, it has built-in protection from any unwanted issues, like over voltage, overcharge, over heating etc.
18. mophie 3 in 1 Wireless Charge Pad
This is another wireless charger from the Mophie brand. With this 3-in-1 wireless charging pad, you can enjoy the fastest charging speeds for your 7.5w iPhone, Apple Watch and AirPods. The premium ultrasuede finish adds a touch of style to any tabletop. Convenient Charging for All Your Apple Devices.
19.  Nomad Base Station Apple Watch Edition
Nomad, known as they offer kinds of designer mobile accessories. Nomad base Station is another attractively designed wireless charger for Apple iPhones and AirPods with an integrated Apple Watch charger, plus it is a great alternative for the Apple Airpower mat. Actually it looks more like an ordinary pad but with a watch charging stand.  The watch stand makes it a lovely bedside friendly unit, it supports nightstand mode for convenient charging.
20.  Native Union Drop XL Wireless Charger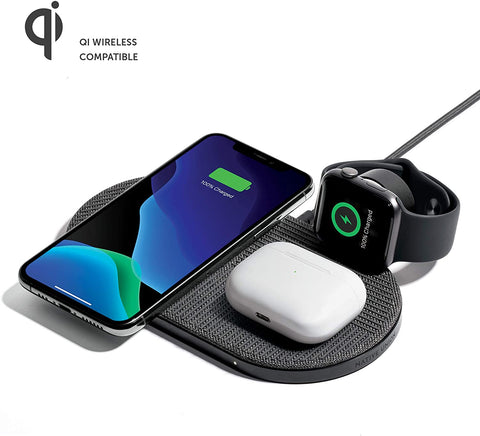 This is another gorgeous model that ought to be ranked in this list. Similarly, it's a typical 3-in-1 design, yet, not exactly structurally similar to those you've seen. What makes it different is its detachable Apple Watch changing stand. With this feature, you can freely convert this thing into a 2-in-1 charger when you find most convenient to charge two devices(iPhone and AirPods). Not to mention that the wireless charger has an obviously non-slip looking surface for devices to place.
Again, the case compatibility is not as good as CHOETECH, 3mm thickness is the best it could do. Yet, the fast, stable charging is definitely worth the comparison. It supports fast charging for, an iPhone 8, for example, up to 7.5 watts, and most other Qi-enabled devices, up to 10 watts. All in all, it's a powerful, multi-task wireless charger with wide compatibility for countless Qi-compatible smartphone models, iWatch and AirPods. And it comes with a 45W AC power adapter as well as a 6.5-foot-long nylon braided cord to conveniently power the charger itself.
In addition to the watch stand, it has more impressive details overall, like the LED charging indicators, padded leather charging surface, making the whole charging hub perfectly made and ready for use and protection.
Despite a compact pad style, it's available for an iPhone, Apple Watch and AirPod to get charges altogether, with 3 Qi-certified coils at 7.5W output for each.  Besides, it's also an MFi-certified Apple Watch charger.
People tend to use mobile devices a lot more than they used to, especially cell phone, tablet and e-watch. The main reason for people to get so into these mobile devices is the insanely developed apps that help business, life much easier.
Along with the increase in use, these devices' batteries inevitably go low in an unexpected manner. While a wireless charger is becoming like a requirement, it's wise to get one with easy power backup for a rainy day.
Among the top 20 best wireless chargers for Multiple Devices, I hope you would get one that fits you ideally, for the appearance design, for the function or charging performance. Now place your device on the charger station and let it power up.