Having ideal lighting for your front door or backyard could be one of the coolest things if you live in a villa or simply a house with a driveway, swimming pool or backyard. Some outdoor solar lanterns will create a lovely night view for your house. Solar powered solar hanging lanterns not only create a romantic atmosphere at night, but also provide you with perfect illumination in case of need. You might have a chat with family and friends in the back yard, grab a beer on the driveway near the porch or something. Such decorative solar lights will serve you right then.
So what's the benefits and best outdoor solar lanterns 2020?
Apparently, the best feature you can benefit from an outdoor solar hanging lantern is that it's powered by solar energy which it gains from sunlight during daytime. Hence, such solar powered products meet the concept of energy saving and environment protection. Buying a proper solar powered decorative hanging lantern could be your best shot to decorate your house a little bit from the outside in addition to the light's basic purpose.
With over a hundred different outdoor solar lanterns thoroughly tested, and going over countless reviews by existing users, we are able to tell you which models are the best outdoor solar handing lanterns. Ten solar lanterns truly stand out amongst so many options on the market. We are going to share their best features, from which you may figure out why they have made their places in this list.
1.  Mason Jar Solar Lights Lanterns
Mason has spent its time developing the Jar solar lanterns based on optimized solar energy transmission and energy saving technology. They brought about changes in solar lights by making the Jar lanterns 100% solar powered without extra wiring. The lights work safely at low voltage 1.2 V. While these lanterns are safe and easy to use, you can opt to hang them over the porch as great decoration and illumination at night, or you can opt to use them on your patio table. They work wonderfully for tabletop too.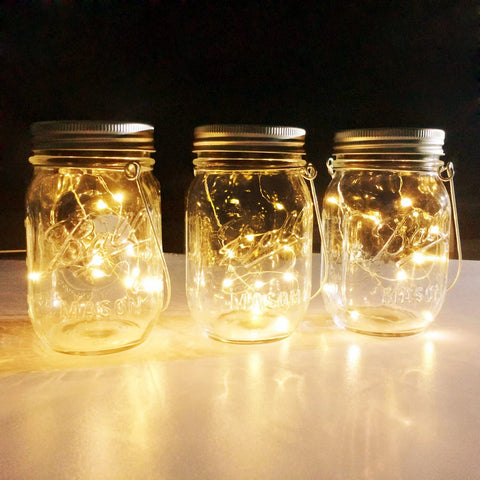 These beautiful Jar lanterns can automatically turn themselves on and off along with the environment. During the daytime, they stay off and get direct sunlight to store energy for night use. Honestly, through our testing, these lanterns really require more than 8 hours with strong sunlight to charge themselves so that they can stay lit for nearly 9 hours. If the sun isn't bright enough someday, they won't stay lit for long. And different amount of solar energy the lights receive will make them stay lit at different levels.
Pros:
Beautiful jar design lanterns for decoration
Low voltage 1.2 V for safety
Completely solar powered 
Cons:
Fragile glass jars needs great care to handle.
2.  TomCare Solar lights Metal Flickering Flame Solar Lantern 
TomCare solar lanterns are a good example of the best outdoor solar lanterns with illumination that fills your porch or backyard with awesome flame-like effect at night. Thanks to the beautiful flickering frames, you can have these lanterns to add ambiance to your backyard table, or front door table. Actually, they were originally designed to be hung over a window or porch, with a durable hook. The lanterns are nicely built with a vintage style rustproof bronze finish to meet the need to be great outdoor decorations.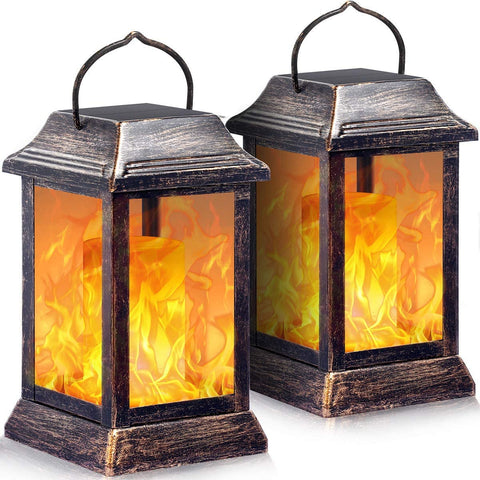 When it comes to outdoor use, these lanterns are rated at IP65 waterproof so that you can use them even on a rainy or snowy night. Even though you put the IP65 waterproof feature aside, these lanterns are still very durable and weatherproof owing to the solid metal construction. And the sides are made of poly plastic instead of traditional glass which is vulnerable. Still, the poly plastic showcases a beautiful glass effect without compromising the glass lantern look. 
Pros:
12 months warranty
Durable material with glass effect
Special flickering flames
Solar powered and waterproof
Cons:
Flames flicker too fast, harmful to the eye
3.  Smart Solar 3960KR1 San Rafael II Solar Mission Lantern
While this San Rafael II lantern offers a few enticing features, the most impressive feature could be the elegant mission style. Such a style is rarely seen these days. Many people are so impressed with the retro mission lantern especially it's so well made with weather ply with seeded glass effect which is not real glass. If you need a lantern with a substantial size and a classic look, San Rafael II works fine for you. Due to an integrated hanging loop, you can hang this lantern for backyard, porch, garden or you can put it on a table for relaxing night chat outdoors.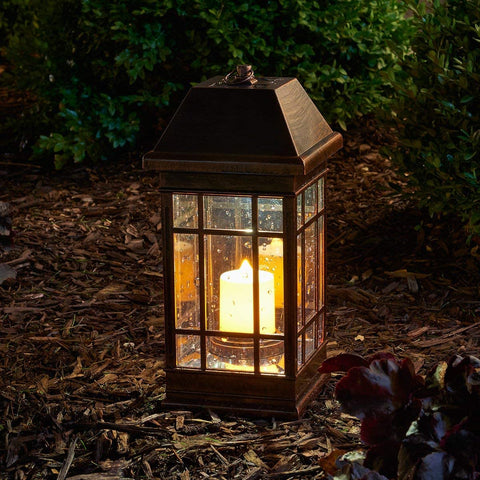 For its lighting, it's powered by a mono crystalline solar panel inside with rechargeable and replaceable Ni-MH batteries. With an on/off switch though, it's able to go off during daytime for charging by the sun, and stay on automatically to ignite the night. Given enough solar energy from sunlight, it's able to last approximately 6 to 7 hours. The candle inside creates a warm, realistic yellow glow that fits a nice ambient night. Plus, it has 2 LEDs to ideally reflect the glow to better the lighting effects.
Pros:
Aesthetic mission style lantern
Quality solar panel with rechargeable batteries
Unique candle inside with LEDs for lighting 
Cons:
Not bright enough, just for romantic atmosphere
Too light plastic to hang in the wind
4.  MAGGIFT 2 Pack Hanging Solar Lights Outdoor Solar Lights
If you are trying to get a more rustic, more oriental style, this MAGGIFT outdoor solar light could be your choice. The ambient glow creates a fabulous atmosphere. Such a lantern will look great hanging from a tree or from an outdoor canopy. However, some people don't think such an ancient look would blend with modern houses. Yet, from a different point of view, it's cool to have an old-school style lantern that give off a certain amount of light for lighting up the driveway and decorating the night view of your porch.
Typically, the light automatically turns on at dusk and off at dawn. With a built-in 400mAh Ni-MH battery, it offers a few hours' lighting at night. And lighting duration will depend a lot on sunlight exposure during the day. If you complain it's not bright enough, in addition to the ambient glow, it has 6 lumens white LED to increase the amount of light. 
Pros:
Durable material for long lasting quality
Rustic looking style for decoration
Great brightness by 6 lumens LED
Long hours lighting when fully charged 
Cons:
Not outdoor-friendly enough to get rusty 
5.  Solar Lantern Lights Dancing Flame Waterproof Outdoor
Solar lanterns from Yinuo Mirror take the LED flames more seriously by giving off 8-color flame effects, including Monochrome, red, green, blue, yellow, purple, cyan and white. Such colorful lighting makes these lanterns more suitable for festivals, or you may use multi-color light to spread all over your garden, porch or pathway. There's no other lantern that embodies light colors better than this. Plus, it's quite outdoor-friendly with IP65 waterproof and weatherproof ABS plastic material. You can use them right outside your house or even camping.
Compared with most solar lanterns, this one is even simpler. It simply uses a solar panel to absorb solar energy from sunlight and transfer it into electric power. So, there's no wire, no battery or cable. Thanks to the efficiency of solar panel, it can provide lighting for over 10 hours after 5 hours' charging in direct sunlight. And the lanterns come with pipes for you to stick somewhere you like.
Pros:
Multiple colors for lighting effects
Outdoor-friendly material
Easy setup with accessories
Cons:
Flickering is too repetitive 
6.  Goal Zero Lighthouse 400 Lantern and USB Power Hub
Goal Zero Lighthouse is one of the most rarely seen designs you've come across. It has plenty of features that you might find helpful in everyday life. One of its outstanding features is the collapsible legs which can provide a stand for better light dispersion, and fold in well for easy storage. Moreover, it has an integrated handle designed for hanging purpose as well as easy carrying.
On the other hand, this Lighthouse lantern has more significant features that surprise you. Thanks to a 4,400 mAh built-in Lithium battery, it works perfectly as a USB power hub as well. It can power up your mobile phone, tablet and other USB devices via the 1.5A USB output port. And for the solar part, it uses a Goal Zero Nomad solar panel to absorb energy from the sun. The efficiency depends on different panels you use. Sadly, the panel is sold separately 
Pros:
With a USB power hub
Using a Goal Zero Nomad solar panel
Convenient collapsible legs and built-in handle
Great brightness by 400 lumens 
Cons:
The power/mode switch button is poorly placed, hard to switch between modes.
It doesn't come with the solar panel.
7.  Home Zone Security Solar Wall Lantern Lights
Home Zone deserves to be one of the best solar powered decorative hanging lanterns considering every aspect it has done so well. The construction is solidly built with durable aluminum and attractive glass housing which can create beautiful accent light effects. The hoop is nicely designed for easy hanging and great portability. The aluminum frames really stand out for the protection they provide for the glass inside, saving your worries about the fragile glass. 
It uses advanced crystalline solar panel to get electricity from the sun. Even though the solar panel isn't large at all, exposure it in the sun all through daytime, it can yield about energy for 5 hours of lighting or so. If you don't need lighting through the night, this lantern will meet your needs. Besides, initially designed as a wall lantern though, literally you can mount it anywhere you like, and installation is a breeze as expected.
Pros:
1 year warranty
Durable aluminum for durability
Quick-release installation
Advanced crystalline solar panel
Cons:
Gradually turns dimmer when lacking power 
8.  Normandy Lantern
Check out this Frontgate exclusive Normandy lantern. It's well designed with a vintage look to go well with your porch or garden. With a simple structure, it's pretty use to use. All that you need to do is just to open the door to insert candles. Made of cast-aluminum and crafted with a gallant cross-brace design, it's very durable. Plus, it has more protection using a powder-coat to weather the elements. One more thing you would be satisfied with is the whole lantern doesn't require assembly as it comes in one piece.
People love the enchanting accent lighting it gives off for porch, side table, garden, pathway, steps etc. Since it's built for both outdoor and indoor use, it has a user-friendly circular loop handle at top which functions for easy hanging and carrying. Also, you would appreciate the easy maintenance, just open the door to get candles out, and wipe it with a damp cloth. 
Pros:
Perfect accent lighting choice
No assembly required
A decent size with great durability 
Cons:
Paint comes off easily
Many parts sold separately 
9.  MPOWERD Luci Original: Solar Inflatable Light
Luci Original solar light features great simplicity in design. It comes with a super lightweight and durable design. Although the transparent design looks vulnerable, it's able to withstand up to 150 pounds pressure. This battery-free lantern works like charm outdoors, it can be used as an emergency light, camping light, or just porch light. Surprisingly, it weighs less than most outdoor gear you might have, 4.4 ounces, so that you can easily pack it for outdoor adventures.
As for its illumination, it's built with 10 cool white LEDs, rated at 75 lumens, which is bright enough to light up a wide spot for outdoor use. In addition, it's thoughtfully designed with 4 modes to suit different scenarios, low, medium, high and flashing. This is awesome as sometimes you might want moderate brightness. 
Pros:
Small, portable size
Great brightness with 10 LEDs
Long lasting lighting based on a full charge
Durable and waterproof IP67 
Cons:
Takes too long to charge it fully 
10.  Otdair Solar Wall Lantern Outdoor
Otdair lanterns are beautifully built solar powered decorative hanging lanterns you would love to have for the entry of your house. It has a modern, decent lantern look with a simple structure that contains an LED light bulb inside, with stainless steel well wrapping the glass housing. The solar panel is at top for easy sun exposure. Built with a hook for easy hanging and carrying, it even comes with brackets for easy mounting anywhere you would prefer.
Made for outdoor use, Otdair lantern is recharged by its advanced solar panel which is small but gets plenty of solar energy by strong sunlight. 8 hours' sunlight absorption during the day will enable the lantern to illuminate about 8 hours. The LED bulb gives off great brightness to light up a considerable range. When you mount it for the entry of your house, or backyard garden, or balcony, you can see everything clearly there.
Pros:
Stylish and classic design
Durable materials, IP65 waterproof
Comes with mounting parts
Easy installation
Cons:
Battery cover isn't securely designed.