We believe the best gaming experience ever is created from a VR-based gaming device. It's true that you would find yourself literally live in the game world as long as you get used to the virtual reality scenarios in your games. Among so many gaming gears, Oculus Quest is typically a new and exciting game set, especially for its newest generation, the Oculus Quest 2. Sure thing, we've been told not to turn into a game addict somehow by people around us. However, if we do need to play games from time to time, let's just do it a little more seriously, by starting with the right gears that will make your time spent for the games definitely worth it.
For folks who are already an Oculus Quest 2 owner, or intend to purchase a set of Oculus Quest 2, in the following, we are going to share a list of Oculus Quest 2 accessories that are reliable and worthwhile. Let's get down to it if you don't want to miss a useful tool that's designed to make your Oculus Quest 2 more wonderful in playing.
8 Best Oculus Quest 2 Accessories in 2021: 
1.  Anker Charging Dock for Oculus Quest 2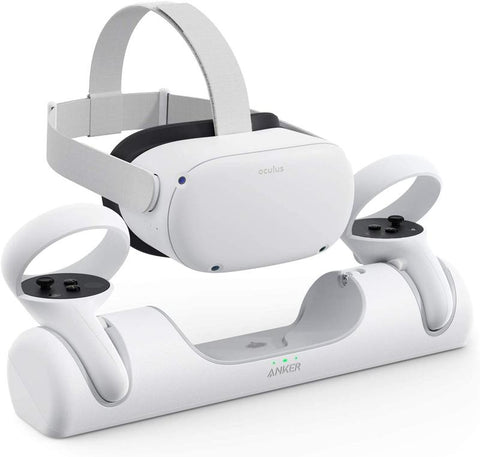 Before we go further, let's start with Oculus Quest 2's power by having a charging dock for it. This Anker charging dock for Oculus Quest 2 is a real piece of work highly recommended by way too many existing users. It's an Oculus certified charging station stand set. Official certified product means it will provide full compatibility with satisfying performance in use. It's easy to use. All that you need to do is to simply place your Oculus Quest 2 headset and touch controllers onto the dock to charge them. It takes approximately 2 hours and half for a full charge for the headset and controllers. This charging dock is based on an inspiring concept of using rechargeable batteries for saving money in the long run. And the whole set comes with a USB-C to USB-C cable, a USB-C wall charger, 2 battery covers, a magnetic USB-C headset connector, and 2 rechargeable AA batteries. And for the charging dock, Anker offers a 18-month warranty.
Features:
Official Certified Product
Easy to charge headset and controllers
Quick charging speed
Comes with a few accessories
2.  Oculus Link Virtual Reality Headset Cable for Quest 2 and Quest
This VR headset cable can help Oculus Link connect Oculus Quest and Quest 2 to a gaming computer easily, giving you access to a wide range of Oculus Rift apps and games. With this premium fiber-optic cable, your headset is powered, meanwhile, it ensures awesome performance for PC VR gaming on your Oculus Quest 2. The long cable has a solid construction for flexible connection, with up to a 5 meter length, you can conveniently set it up for a wonderful gaming experience. Yet, this cable is only compatible with specific PC, you might as well take a look at Oculus website for the PC compatibility specifications.
Features:
Decent length 16 feet(5 meter)for practical use
It powers your headset and connects for great PC VR gaming for Quest 2
Let's see something that will physically do you some good. This strap for Oculus Quest 2 features great ergonomics for physical health while you are playing VR games. Suppose that we put aside the ergonomic thing aside, this strap is still a great accessory to support Oculus Quest 2 a lot easier than without it. It simply provides great stability and comfort for long time playing. It's a gorgeous accessory with easy adjustments for tightness and easy setup overall. 
Features:
Great stability and ergonomics
Easy to set up and adjust tightness
Perfect fit for Oculus Quest 2 VR headset 
4.  Oculus Quest 2 Carrying Case
A carrying case is definitely a must-have accessory for Oculus Quest 2 for easy travel purpose. If you are looking for some standards for a headset carrying case, there will be usually, perfectly fit size, portability for easy carrying, as well as protection for headset. Well, this carrying case will meet all your expectations. It fits Oculus Quest 2 headset, controllers, charging cable and power adapter seamlessly with the compatible inner structure design. Highly protective molding slots inside help your organize everything neatly in place. Plus, it has extra room designed for Elite Strap. The handle is great feature designed for comfortable, easy carrying with reliable strength. 
Features:
Great portability for easy carrying around
Holds headset, charging cable and power adapter securely in place
Gives Oculus Quest 2 and accessories great protection
5.  G333 VR GAMING EARPHONES FOR OCULUS QUEST 2 
G333 VR is believed to be the official audio solution for Oculus Quest 2. Logitech G has put its inspiring idea into the design and worked with Oculus to design custom gaming earphones for improved VR experience. When it comes for earphone wearing, the top priority that would come to your mind could be the comfort levels. G333 has flexible, soft silicone tips that will gently sit inside your ears for comfortable wearing, how matter how crazily you play your games. And, thanks to dual dynamic drivers inside, it provides stunning audio effect with great clarity and deep bass performance. Furthermore, this pair of earphones has a beautiful, durable aluminum housing, and it also has done a great job in cable management for keeping everything neat. 
Features:
Stunning audio effect for better gaming experience
Comfortable silicone ear tips
Ergonomic cable management
Easy to wear and remove
6.  Facial Interface & Foam Replacement Basic Set for Oculus Quest 2
This Facial Interface & Foam Replacement Basic Set for Oculus Quest 2 is a helpful gear set to create better use of Oculus Quest 2 and give you comfort for wearing the VR headset. It includes a facial interface and a pair of PU leather foam replacements in 2 versions, standard and comfort. Foam paddings can help prevent light leakage, and the comfort version can ideally distribute the weight of the device with its thick, wide pad. On the other hand, the thinner, standard foam allows you to get closer to the display with better viewing for gaming. This basic set can directly, physically reduce pressure prevent red marks on the face, fighting against fatigue for long hours gaming.
Features:
Foam paddings help prevent light leakage
Comfort version helps distribute the weight of the headset
Standard foam helps you get closer to the display for more exciting viewing
Facial interface and foam replacements physically reduce pressure on the face 
7.  VRGE VR Wall Mount Storage Stand Hook
This wall mount style storage stand hook is made of durable aluminum material with an elegant gunmetal grey finish. It's solidly built with great robustness to last for ages. VRGE offers lifetime warranty for this storage stand hook. When something comes with a lifetime warranty, you can always believe its reliability, like a marriage. Let's see how it fits for all VR stuff. With its versatile hooks design, you can use the wall mount hook to store your VR headsets, controllers neatly in place, it widely works for many gears like Oculus Quest 2, Play Station 4 VR PSVR, Valve Index, HTC Vive etc. With included mounting screws and anchors, it's easy to install this stand hook and have it nicely mounted on a spot of the wall.
Features:
Easy installation
Durable construction
Easy to hook many VR gears
Lifetime warranty
8.  KIWI design Silicone Ear Muffs for Oculus Quest/ Quest 2
KIWI ear muffs are another set of useful Oculus Quest 2 accessory that ensures wearing comfort and sound leakage protection for better gaming experience. The pair of muffs are made of non-toxic, odorless, soft silicone. As you use the muffs super close to your ears, they are specially designed to be skin-friendly and perfectly fit in the ears. More importantly, the stuff has a lightweight design. Every gamer is expecting comfort and ease, instead of some sort of extra weight. The ear muffs are straightforward in design, requiring easy setup, align them to the side of Oculus Quest 2, put them in, and press them firmly from the end, and they will stay comfortably, tightly in place. In addition, the muffs would really improve your gaming experience by reducing sound leakage, so that people around you won't be tortured by your game noise.
Features:
High-quality comfortable soft silicone material
Lightweight design
Easy to install
Muffs help prevent sound leakage