A headphone stand is just as important as the headphones themselves, since it's where you can put and organize your valuable headphones, and enjoy very good protection for your headphones when they are not used. Nowadays, some headphone stands are designed to contain USB charging as well as wireless charging function, so that you can easily have your headphones charged up while having them organized by hanging on a stand. Most of the newly designed headphone stands with USB charger and wireless charger work like charm. That said, getting the right one that suits yourself best still needs some research and comparison. Because, like always, when a new idea of combo style product emerges, there are tons of copycats following up, flowing into the market like a flood. Furthermore, even among the best headphone stands with charger, they vary in design and performance, more or less. Picking the ideal one requires your preference and where exactly you would place the stand. They all go in style, yet not necessarily fits your study or office for your convenient everyday use. 
Choosing the best headphone stands with charger doesn't require a too complicated buying guide. However, getting some information from others' experience and recommendations will be always beneficial. Today, we are going to share two highly recommended lists of best headphone stands with USB charger and best headphone stands with wireless charger. 
Part 1:  Best Headphone Stands with USB Charger
1.  Satechi Aluminum USB Headphone Stand Holder with 3 USB 3.0 Ports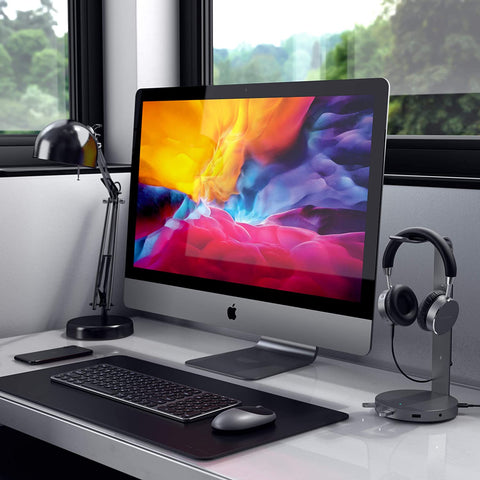 When you realize wireless charging is not that necessary considering all the phones you have, you should really try a headphone stand with USB ports only, like this one. It has a wide base to easily stand on your desk and gets your headphone comfortably organized. It's a real organizer with a backside hook to wrap and store cables when not in use. The 3 USB 3.0 ports are great enough to transfer files, back up data (5 Gbps). Sadly, these USB ports are only for such purposes. When you see a USB port, you naturally want to connect it for charging something.
Pros:
Sturdily designed to hold headsets in place
With USB 3.0 ports and 3.5mm AUX port
Perfect for all over-ear headphones
Cons:
USB ports not meant for powering or charging other devices only file transfers.
Slightly distorted noise in headphones sometimes. 
2.  Havit RGB Headphones Stand with 2 USB Ports
This headphone stand is sturdily built with durable materials. The space-saving design can organize your headset as well as other devices on your desk. With all its features, it's more like a professional gaming headset stand. The RGB lighting base offers 5 lighting modes to create a col gaming atmosphere. Luckily, it comes with 2 USB ports for connection, 1 for charging and the other for charging and data transmission. Other than 2 USB ports, it has a 3.5mm AUX port that you can connect for fantastic stereo sound effect. 
Pros:
Great RGB lighting function
2 USB ports and 1 AUX port
Nicely design to organize your desktop 
Cons:
Cable management needs some work.
Not both USB ports for charging.
3.  Corsair ST100 RGB Premium Headset Stand 2xUSB 3.0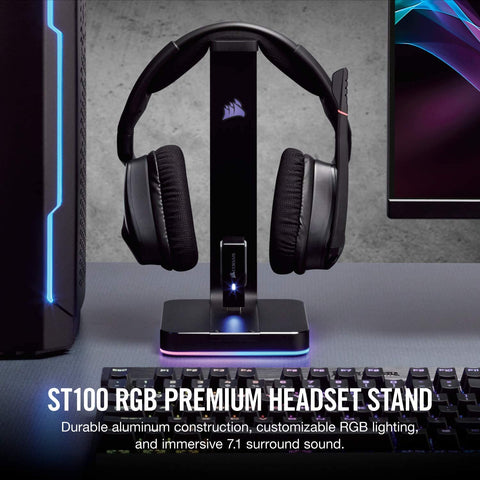 This headset stand is pretty nicely constructed with a nice finish and reassuring weight. It's made of durable aluminum, looks simple but robust. Typically, it has 2 USB ports. The 2 USB 3.1 ports enable you to charge and sync data conveniently, while they are particularly designed in different positions. Corsair, like most other headphone stands with USB charger, features great RGB lighting function to make this stand perfect for gamers. Thanks to a built-in 3.5mm input port, it can bring multi-channel audio effects based on the 7,.1 surround sound.
Pros:
Great RGB lighting function
2 USB 3.1 ports and 1 AUX port
Durable aluminum construction 
Cons:
RGB colors seem very dim sometimes.
iCUE software doesn't work fine when adjusting the lighting elements. 
4.  KAFRI RGB Headphone Stand with USB Charger 
Kafri is a typical gorgeous headphone stand/USB hub combination. It has as many as 3 USB ports, all of which are finely laid out and serve charging purpose well. These ports can automatically detect your devices connected for fastest charging speed, up to 2.4 amps per port at maximum. Moreover, it has 2 outlet power sockets which you can connect to power your laptop, speakers, Xbox 360 One, PS4, Nintendo Switch etc. If you are a gamer and have quite a few gadgets to power, that's the right headphone stand USB hub for you. 
Pros:
3 USB ports with 2.4 amps output per port
2 outlet power sockets
Multiple lighting effects by RGB LED lights 
Cons:
It's impossible to adjust headphones a little bit with the stand.
LEDs are not bright enough. 
5.  Blade Hawks RGB Gaming Headphone Stand with 2 USB Ports
Blade Hawks headphone stand is also a great gaming device idea as it's sturdily built for a durable construction. The base, despite too space-saving design, is steady enough to stand upright and holds headphones securely. True, the RGB backlit light is fabulous. So we think it a dedicated stand for gamers who can't live without RGB lighting effects. Typically, it has 2 USB ports and an AUX port to extend its functions. The way I look at it, it's cool in design and works perfectly to hold your headphones, and overall, it's built for RGB gaming use. 
Pros:
Great RGB lighting function
2 USB ports and 1 AUX port
Sturdily built construction with rubber base design
Cons:
Comes with slight sound interference.
USB ports charging is slow.
6.  COZOO Headphone Stand with USB Charger
Last but not least, we got a COZOO headphone stand, more exactly, it doesn't stand, but attaches and hangs. This under-desk design is something you rarely see among such categories. This under-stand style is actually more space-saving as long as it doesn't affect your thighs. It's big enough to hold a set of headphones and another device like an Apple Watch. The USB charger is practical and functional with 3 USB ports which offer great charging performance, with each port delivers 2.4 amps. Plus, this stand is made of fire-resistant material for a well-built shell.
Pros:
Unique under-desk design for saving space
USB charger with 3 fast charging USB ports
Solidly built construction 
Cons:
Cable management leaves something to be desired.
USB ports don't work as expected when 3 ports are used simultaneously.
Part 2:  Best Headphone Stands with Wireless Charger
1.  EasyAcc Headphone Stand with Wireless Charging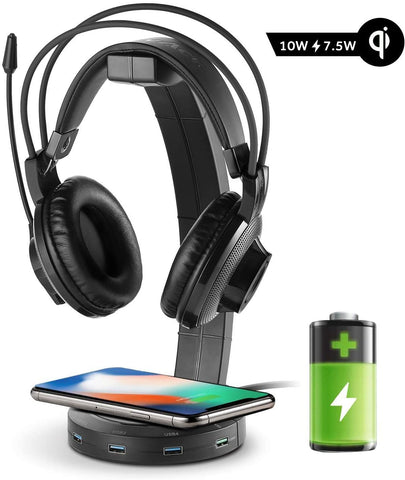 EasyAcc resembles Oakywood in design very much, just except the base part. It's built with an integrated structure with a more heavy-duty look overall. However, the material is not as heavy duty as steel. It's made of high-strength ABS material and TPU rubber. Likewise, it widely supports headphones of many sizes, like most Sennheiser, Beats Beats Solo, Sony, Philips headphones. The stand itself is a standard unit that supports headphones comfortably. EasyAcc puts much thought in the USB ports. It can be used as a USB hub with 4 ports to offer. One of the USB ports is the QC 3.0 port which delivers fast charging by 18W output. Furthermore, the smart charging system can wirelessly charge Samsung Galaxy S10, S10E, S9 and more by 10W output, and charge iPhone X, XS, XR, 8 Plus and more by 7.5, and other Qi enabled phones by 5W. Charging output and speed is all automatically optimized.
Pros:
4 USB Ports, easy plug and play, with no any driver required
QC 3.0 Port for 18W high output fast charging
Smart charging as per different devices 
Cons:
The masterial is well made but still feels plastic by touch.
For charging, smartphone needs to be aligned too perfectly.
2.  Oakywood 2 in 1 Headphone stand & Charger 
What makes Oakywood headphone stand and charger your choice? First of all, it's a neatly built stand with a real solid wood for the base and finely finished stainless steel for the arm. Imagine that you place this stand in your bedroom or study, it's more like an ornament than a functional stand with charger. Based on the arm length and hanger design, it's a decent stand for most sizes of headphones. For the wireless charger function, it's widely compatible with all Qi enabled devices, with 10W fast charging. And it's as case friendly as it works seamlessly with most cases of 4mm thickness. Plus, this stand is officially CE, FCC and RoHS certified, if you worry about the safety, that will set your mind at ease.
Pros:
Real wood and stainless steel structure
Functional wireless charging pad
Long nylon braided cord, 5 feet 
Cons:
Will expect it to be more space-saving. 
3.  Cooler Master GS750 Desktop Hub
Many users are pleased with the quality build of this stand. Your headsets can stay comfortably over it. The design features great aesthetics and goes well with a fancy desktop. And the base is wide enough to place your cell phone for easy wireless charging. Most wireless charger for such headset stands are designed less conspicuous, making the stand look beautiful. Like most multi-purpose device, this stand also has USB ports -- two USB 3.0 port on both sides. Another feature is its custom RGB beam lighting effect, creating a stunning atmosphere while you are using this stand. Besides, Cooler Master has onboard 7.1 surround sound for your headset as it's really designed for multiple purposes. 
Pros:
Comfortable stand for headsets
Two USB 3.0 ports
RGB beam lighting
Easy, quick wireless charging
Cons:
The surround sound quality sounds distorted sometimes. 
4.  KAFRI RGB Headphone Stand with Wireless Charger
For this headphone stand, people appreciate the Qi charger more than the stand itself. The Qi wireless charger works smartly like EasyAcc stand charger. It has its own smart system to change smartphones like Samsung Galaxy by 10W, and 7.5W for iPhones, and 5W for other Qi enabled devices. This is super convenient for those who have a few smartphones or devices. The base is perfectly made about slightly bigger than a cell phone's size, allowing for your smartphone to stay on comfortably. And the arm is comparatively slim while the top hanger is also space-saving, but good enough to hang your headsets well. People also are quite obsessed with the RGB LED lights, which display 9 lighting modes, creating myriad colors to build an atmosphere. This is believed to be the coolest thing about this headphone stand.
Pros:
Smart Qi charger with fast charging
Fantastic RGB LED lights
Solid build overall 
Cons:
Size not favorably designed, kind of bulky, yet not tall enough.
No USB port to charge headsets, only wireless charging available.
5.  ASUS ROG Throne Qi Gaming Headset Stand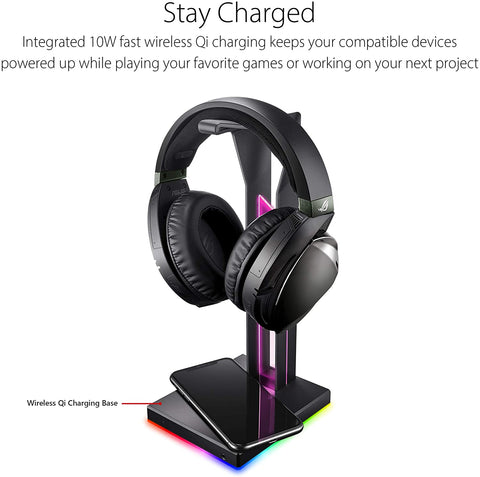 The hanger part of the ASUS ROG headset stand is a creative twisted style, with two pieces of arm joint together, yet, it's finely integrated for hanging headsets nice and easy. Actually, the arm seems a little short, even though a set of headphones can stay comfortably in place. The stand not only lets your headsets stay charged there, it also can deliver dynamic audio with the built-in ESS 9118 DAC and amplifier. You can use the 7.1 virtual surround sound setting for your favorite audio effect. One more thing about this stand is its customizable Aura Sync RGB lighting, which can create an awesome gaming environment.
Pros:
Fast wireless charging with LED indicator
With 2 USB 3.1 ports
Great 7.1 virtual surround sound setting
Cons:
When you sync the colors and disconnect the cord, it turns off the colors