Nowadays, more and more people are becoming crazy about working out in order to build up a healthy, strong body. Bodybuilding is a consistent process that entails hard work and the right equipment. Some prefer cycling, some prefer swimming, and some others. And still, many people stick to the old-fashioned dumbbells. Bodybuilding dumbbell exercise requires a regular routine as well as dumbbells that meet the standards for each stage. Professional bodybuilding dumbbells are designed for bodybuilders to raise the weight step by step. When it comes to buying the ideal dumbbells, it doesn't seem cost-effective to get the traditional ones one by one. For the time being, adjustable dumbbells are relatively more popular, and of course, more cost-effective, because getting a full set of adjustable dumbbells with different weight for each one can be convenient for routine process of dumbbell workout. Bodybuilders can easily adjust the weight for exercise of different stages.
Amongst all the adjustable dumbbells you can find on the market out there, they differ from each other in the design, more or less. Yet, they mostly are sold with a high price tag, even though they deserve such value for how they are built and what they can do for your bodybuilding. In this blog, we are going to list 5 best adjustable dumbbells under $200. These adjustable dumbbells have a quality construction and an ergonomic design for easy usage during workout. More importantly, they are under $200, which is an acceptable price compared to the majority of insanely expensive ones you could find in all marketplaces. 
No. 1: Nice C Adjustable Dumbbell Barbell Weight Pair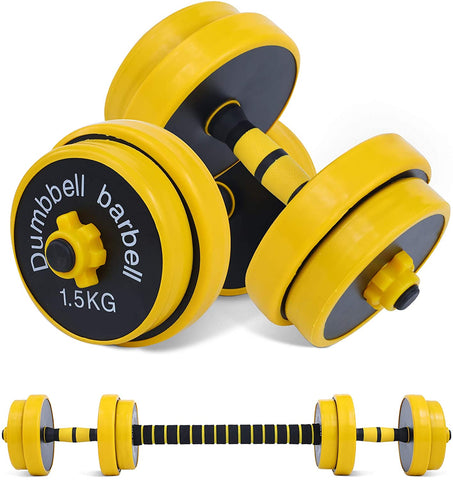 Nice C adjustable dumbbell and barbell set is a cool workout unit for you if you would like to exercise with dumbbells in multiple ways. As adjustable dumbbells, it comes with 8 weight plates, allowing you to adjust different weight levels easily. They include four 2.2 lbs plates, and four 2.8 lbs plates. In addition to adjusting the plates, you can also adjust the barbell for single hand or both hands workout, like you can practice dead-lifts or squats. Both the dumbbell handle and the barbell rod have some weight, adding weight to your dumbbell exercise. In a nutshell, these adjustable dumbbells are a complete set designed for different ways of exercise in different levels. Besides, they are nicely built with bright, vivid yellow color and non-slip surface for safe holding.
Pros:
Adjustable design for weight levels
With a bar for barbell option
With 8 weight plates
Non-slip design
Cons:
Barbell length isn't efficient to put on more weights.
It's a little difficult to tighten the nut. 
No. 2: Yes4All Adjustable Dumbbells 40, 50, 52.5, 60, 105 to 200 lbs with Connector Options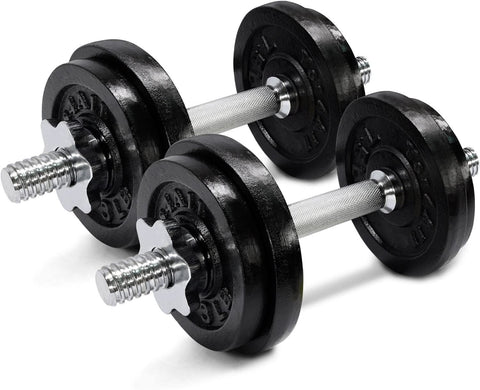 Yes4all adjustable dumbbells show great quality from the construction. The dumbbell weight plates are made of extremely durable cast iron material coated with beautiful black paint finish. The coated finish does a very good job preventing rust and corrosion. No doubt dumbbells are heavy, 50 lbs in total, but still, you'll appreciate the comfort of the touch on these weight plates. Owing to the finely made surface, you won't feel it's sharp to touch, or too clumsy to adjust. There's another thing you would appreciate this dumbbell set -- the chromed steel dumbbell connector. The knurled handles are designed with special locks to create an easy grip for comfortable holding and safety.
Pros:
Durable and beautifully coated cast iron weight plates
Nicely knurled handles and dumbbell connectors
Easy to assemble and disassemble 
Cons:
Screws at the ends get loosened somehow. 
No. 3: FLYBIRD Adjustable Dumbbells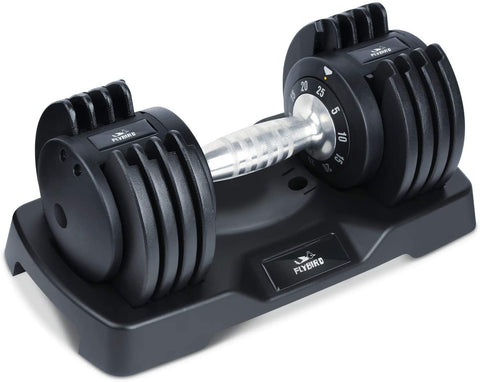 Flybird will surely meet your needs for a unique, space-saving, and safe set of adjustable dumbbells. These dumbbells are definitely different other adjustable dumbbells, needless to say traditional dumbbells. It has a simple design --with a solid handle in the middle, and both ends are creatively designed with grooves (or slots) where you can fit in weight plates. Flybird has a special and practical lock structure for the dumbbell slots, making sure weight plates are firmly locked in place. So, what will benefit from this design? Firstly, you save a lot of effort putting heavy plates together, like fastening screws, nuts or something else, secondly, you save a lot of space too, while the weight plates are perfectly locked into the grooves. Meanwhile, it's easy to take a plate or two out, or put any in for different levels of exercise.
Pros:
Safe weight plate lock grooves and structure design
Space-saving design with easily adjustable plates
Great material with nice coating
1 year warranty
Cons:
The mid-section of handle is overly thick to hold 
No. 4:  Soges Adjustable Dumbbells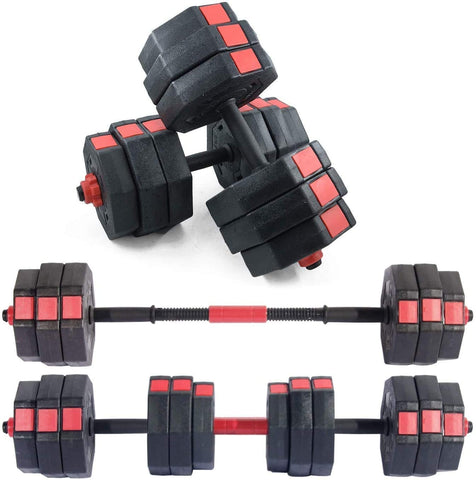 Soges adjustable dumbbells pair is a versatile weight set designed for multiple ways of dumbbell workout. The set includes two dumbbells, with four plates (4.4 lbs for each one), and eight heavier plates (5.5 lbs for each one). And what really makes the easy adjustments is the main rods and a connecting rod. With the rods, plates and screw collars, you will be able to adjust the weight and enjoy workout by different combinations of plates. The adjustable design feels like these dumbbells are a transformer that transforms to respectively focus on different parts, stages of bodybuilding. Moreover, the dumbbells' octagonal shape is a nice feature to prevent possible damages to the floors. Too sharp in shape, or round design will scratch the floor by accident. And octagonal dumbbells will just stay steadily in place. 
Pros:
Good value for the price
Adjustable for different ways of workout
Octagonal design protects floor against scratches
Easy to assemble and disassemble 
Cons:
Connecting rod is not long enough for a barbell. 
No. 5: Bayou Fitness Adjustable Dumbbell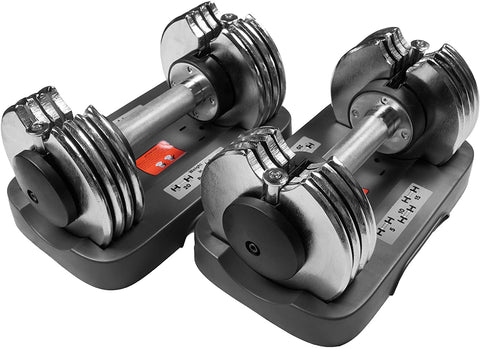 Bayou adjustable dumbbells are highly similar with Flybird in the design idea. However, they still differ from each other quite much. The main difference is the lock structure design. Bayou lock is also easy to easy, allowing for easy weight plates adding and removing. This space-saving adjustable dumbbell set is typically designed to be compact and portable on the whole. Such design is an awesome replacement for old school multiple dumbbells if you want to keep exercising for different stages. By adding such adjustable plates, you can adjust them in 5 lbs increments. This can be convenient for your fitness as you can challenge from 5 to 25 lbs step by step. 
Pros:
Heavy-duty chrome plated steel construction
Easily adjustable plates
Compact and space-saving design
Cons:
It's hard to take dumbbells out from the stand sometimes because they stay too tightly.
So, are adjustable dumbbells worth it?
With all their features to meet the standards of their purposes, are they worth the investment in the long run? After testing and experiencing how they perform, I will give a straight answer to that: Yes! The best adjustable dumbbells under $200 are absolutely worth your consideration. First of all, they are worthwhile for being practical. Adjustable dumbbells are perfect for those who stay at home for workouts, with adjustable weight plates, you can achieve your goal step by step, and they don't seem too challenging for beginners. Secondly, adjustable dumbbells are relatively more economic choices for you. The prices sound expensive, however, supposed that you buy dumbbells one by one, to get such a full set, it will cost you more than $200. So, a set of adjustable dumbbells actually save your money. Lastly, compared to regular dumbbells, adjustable dumbbells take up less room thanks to the compact design, making them perfect for study room, living room etc. If you think about the COVID-19 pandemic, you would stay at home even more. That's when adjustable dumbbells come in handy.