Nowadays, garbage classification is a serious subject, which should be considered to be something more than just a subject, as it does help save resources and protect the environment we are living in. Thanks to the positive doers nationwide, garbage classification has been put into use by simply using a dual trash can for recycling purpose. As garbage classification is more and more called for acceleration all over the world, trash cans with recycling compartment are globally becoming more popular.
What's the benefits of Dual Trash Can?
Why should you choose and use a dual trash can for your home, kitchen or any other spot in your house? Because a dual garbage can, unlike the traditional regular trash cans, has a divided recycling compartment to store everyday refuse that can be recycled for future production materials for new products. On the other hand, it also contains the other compartment for disposable garbage, mostly like daily leftovers, or other materials that can not be reused any more.
Start a New Lifestyle: Use One Trash Can for Sorting Recycling and Garbage
Let's see a most updated list of 10 best dual compartment trash cans with recycling purpose. 
1.  Simplehuman 46 Liter / 12.2 Gallon Dual Compartment Trash Can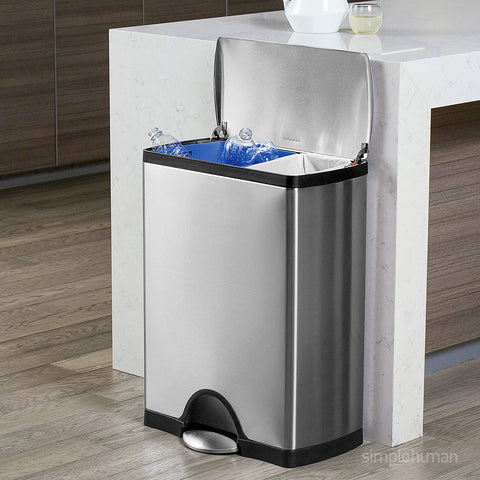 Simplehuman dual trash cans are typically trash cans with recycling compartment. This company has much thought in the designing and manufacturing, with superb materials and a 10 years warranty for reliable quality.  The dual garbage cans are specially built for home environment like kitchen, living room etc. The dual compartment layout serves its purposes perfectly, with one compartment for recyclable garbage, the other for disposal waste. The garbage cash is well built overall. Like the pedal, it's been through testing based on rigorous standards for it to function normally and last for decades. And the lid is a unique feature of the garbage can. Owing to Simplehuman's patent technology, the lid can close slowly, silently, without noisy, annoying banging sound no more. Another thing about the lid, it can stay open long enough until you choose to close it manually, this is helpful for long time household chores.
Pros: 10-YEAR Long warranty, good pedal, great lid features, overall design fits kitchen well.
Cons: Seems a little overpriced; Compartments are narrowly designed.
2.  iTouchless SoftStep 16 Gallon Step Trash Can & Recycle Bin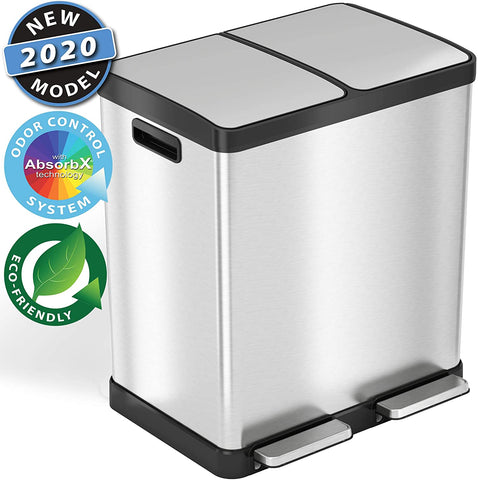 This iTouchless SoftStep 16 gallon dustbin is one of the best dual trash and recycling cans you can find on Amazon. It has a beautiful look that go with your modern kitchen perfectly. The bin is made of superior stainless steel, which is fingerprint proof, smudge resistant and very easy to clean for daily care. The 2 separate compartments are well coded by blue color for recyclable garbage and black color for disposable waste. And they are specially equipped with 2 pedals for convenience. Inside each compartment, there's a removable 8 gallon bucket, allowing you to empty the trash easily. And the buckets are widely compatible with most trash bags. The lid is nicely built with proper protection for the wall against banging or hitting the wall any other way. Moreover, the bin uses activated carbon to absorb the nasty smell of household waste, like leftovers.
Pros: Big can capacity, durable materials, nicely designed 2 compartments, nice lid.
Cons: Pedal handle could break trash bag; Trash bags changing seems troublesome 
3.  Simplehuman 58 Liter Rectangular Hands-Free Dual Compartment Trash Can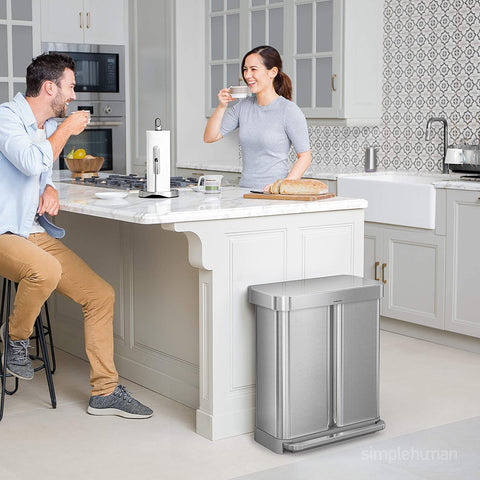 Let's take a look at another Simplehuman dual trash can. This dual garbage can is an upgraded model compared its 46 liters', at least, apparently, bigger in capacity, and better looking. All Simplehuman dual trash cans are similarly designed and engineered for functions and quality, such as its well made steel pedal with long lasting usage, quiet lid for closing, and separate compartments for disposal and recyclable waste. Compared to most dustbins, this dual garbage can is found more suitable for a well decorated modern kitchen for its aesthetic appearance design. Other than the good finish outside, it has stainless steel liner rims. When you change trash bags, the well made rims allow for easy changing, and when the can is closed, bags are beautifully held in place, with liner rims well hidden for a pleasing look. 
Pros: Good looking, well-built lid, easy bags changing, well made steel pedal.
Cons: Lid can't stay open for long; Easy to dent with the thin can design.
4.  SONGMICS 16 Gallon Step Trash Can, Double Recycle Pedal Bin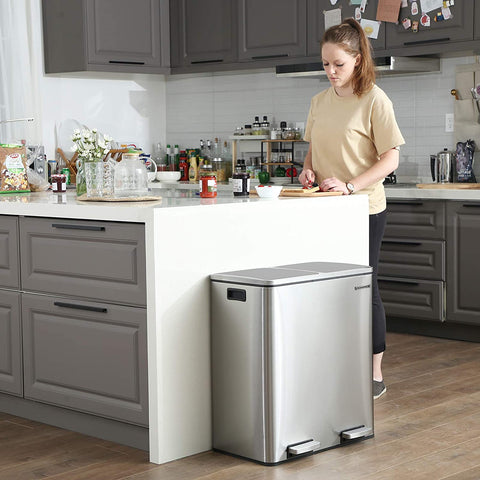 This trash can with recycling compartment greatly helps classify your everyday disposable trash and recyclable garbage. The whole can is made of heavy duty stainless steel except the lid which is made of ABS plastic material. It has a nice looking finish overall. And the well finished surface is not only nice looking, it's also against fingerprints and stains. Among most dual garbage cans on the market, this one is has a greatly space-saving design, despite 16 gallon capacity and 2 separate compartments. Elegantly built rectangle design allows it to stand closely to the wall corner, with access for you to throw garbage, and saving more space for your kitchen. The trash can is lightweight and easy to move. When you need to change trash bags, it's easy to take out the internal bins. A trash can of this size is perfect for a family of 4 to 5 persons. 
Pros: Well built stainless steel, light, easy trash bags changing.
Cons: The lid is not durable enough; Kind of short in height.  
5.  EKO EcoCasa II Dual Compartment Rectangular Kitchen Step Trash Can Recycler
Many customers are satisfied and impressed with this dual garbage can. They love that it offers dual compartments to keep your daily trash from recyclables. Like most other dual trash and recycling cans recommended today, people are quite into them because they are sturdily built, sleek, shiny and perfectly finished. This one, likewise, is designed well in a pretty good size. It can hold a lot of garbage and recyclables. Like the first Simplehuman dual garbage can we commended, it has a soft close damper lid which is also able to stay open optionally. For the liners, both can be removed for easy emptying. All in all, this dual trash can is easy to clean and it keeps odor in, making your kitchen smell nice all the time.
Pros:Quiet lid with easy stay-open option, removable liners with easy bags changing.
Cons: Beautiful but easy to get dents; Comparatively smaller for big family.
6.  NINESTARS Automatic Touchless Infrared Motion Sensor Trash Can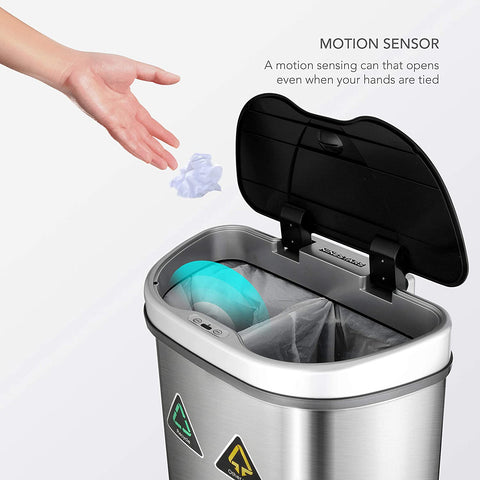 Well, if you really budget too carefully, this could be one of your top priorities among all models considered, because it sells at a tempting price, $68.97. This price is way too good if you compare it with all other dual garbage cans you can find under 100 dollars. Let's dig into this model further to see what else we can benefit from it besides the price. It's made of fingerprint resistant stainless steel like most cans are, and it has a water resistant infrared motion sensor that effectively prevents moisture or other kinds of spills in your kitchen. This company has done lots of advanced technology work to prevent the can from opening by kids or pets. And this can is good at keeping odor in and maintaining a good kitchen environment.
Pros: Space-saving design; Holds plenty of trash; Affordable price.
Cons: Battery assumption is fast; Heavy design overall.
7.  iTouchless SoftStep 16 Gallon Step Trash Can
Another model from iTouchless: It's a 2020's new model with everything to do with eco-friendly materials and design. However, sounds kind of a sarcasm that it's powered by 4 pieces of D size batteries. Fortunately, it can optionally be powered by an AC adapter. Actually, if you use rechargeable batteries, that would go with the idea of environment protection. It has 2 liners to separate trash and recyclables. Using activated carbons combined with the AbsorbX filter, it seals odor in perfectly for a fresh, clean kitchen. Many people like this dual trash can and compliment its performance for other details like the mechanism in pedal, the silent lid, easy emptying etc. And the nicely brushed stainless steel gives an awesome finish to blend with your beautiful kitchen.
Pros: Stay fresh with odor absorption, easy emptying, silent lid etc.
Cons: Pedal handle could break trash bag; the lid is too heavy.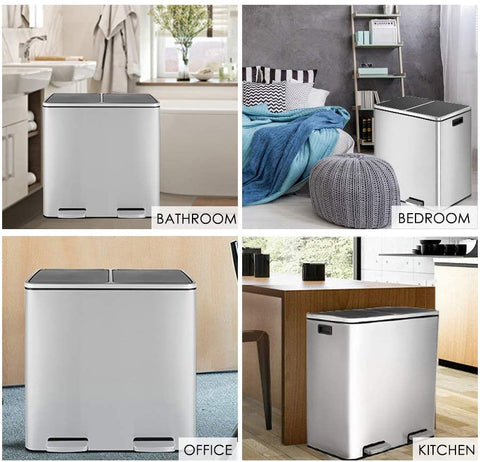 This Hembor dual trash can absolutely worth recommending as one of the best dual compartment trash cans for its quality build, ideal size and other details it has to offer for easy refuse classification in daily life.  People naturally skip those big, bulky trash cans as they take up too much room. This trash can blends perfectly with other stainless steel appliances in your kitchen. Like other cans, the soft lid doesn't slam back down along with a terrible noise. If you sort trash and recyclables regularly, you couldn't be happier with the separate compartments. And the inner bucket has a metal handle for easy emptying. The whole size of the can makes it easy to place against the wall while not being an eyesore or standing in your way in your daily life.
Pros: Perfect size with separate compartments, nice stainless steel finish, easy to empty.
Cons: Thinly built, easy to bend, Not too compatible with regular trash bags.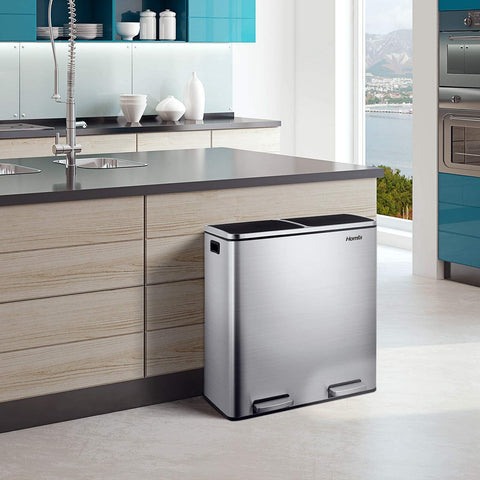 This trash can with recycling compartment, like other similar high quality ones, has a classy, sleek brushed stainless steel look. Each compartment offers 8 gallon capacity, big enough to hold plenty of trash or recyclables. It seems that a silent lid design is a must-have feature for these dual garbage cans. Homfa adopts advanced hydraulic slowdown technology to make the lid close automatically, slowly and softly. Much work has been done for noise cancellation. The sealed lid helps prevent odor spilling. As for the pedals, there are 2 pedals, one for each compartment, making separating trash and recyclables more easily.
Pros: Durable construction, quiet lid closing, 2 pedals and 2 compartments.
Cons: Not workable with all trash bags,
10.  Kohler K-20956-STW Dual Compartment Step Trash Can 
The Kohler step trash can features great ergonomics in design. For the dual compartments, typically, it has separate trash and recycling sections. Thanks to the raised liner design, you don't have to lift out the liner when you change trash bags. And the lid is also a quiet lid for easy, soft closing. The back side of the can is flat and snugly fits the wall, saving space as much as possible. And for capacity, the 5.5 gallon for each liners is enough for a small family for several day's refuse classification. With fingerprint proof finish, it looks nice in design and blends in with the rest of your appliances. This trash can is practical and beautiful as a great option if you are looking for a best dual garbage can.
Pros: Removable liners for easy emptying, quiet lid closing, good size for refuse classification.
Cons: It causes noise when step on the pedal.