Several months ago we made a list of designer apple watch bands online you can buy, but if you are still looking for some unique and fashion bands specially designed for women, we're excited to share our learnings in this blog! A fancy feminine Apple Watch bands show a great sense of fashion, vigor, and unique feature that works as an expression of a very strong personality.

As far as the best Apple Watch bands for women are concerned, they present a stylish, colorful lifestyle that modern females adore as if the fashionable Apple Watch bands stand for their attitude towards life, meaning way more than merely an accessory for a watch. Let's check out the most updated roundup of best Apple Watch bands for women to see how these bands play their roles in female watch users'life, all bands here we recommend is compatible with Series 5/4/3/2/1. 

1. Kate Spade New York Interchangeable Silicone Band

This Kate Spade Apple Watch band is beautifully designed with a stunning look that impresses so many women so far. The silicone band is unlike other stiff bands. It feels comfortable and adds color to a female's outfit when needed. The pattern design on the band is so cute and blends with most casual everyday clothes. With compatibility for 38mm and 40mm Apple Watch, it perfectly works for Apple Watch Series 1, 2, 3, and 4,5. With a price of $68 though, many people think it a great value for the money.
Tanok has a large collection of Apple Watch bands for women, from 38 mm to 44 mm, of different colors. These bands are characterized by the multi-color design and ballistic nylon material. Such material gives you a comfortable fabric-like feel with a nice touch and a retro style. The superior sewing work shows much attention to details, making the band well made and good-looking. If you are into such nylon bands, Tanok will be a great choice for you. 
3. Mia Cuff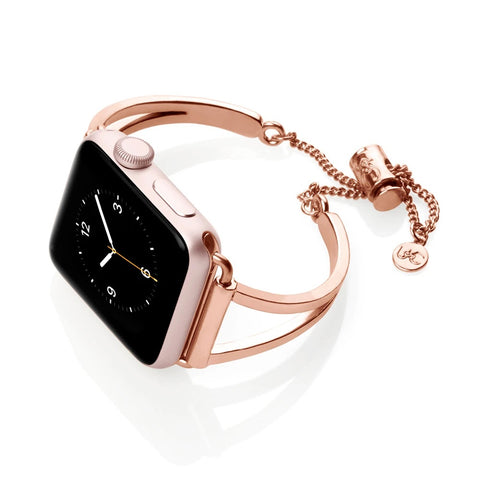 This Mia cuff style band is something you rarely see as a watch band. It's beautifully designed to be jewelry like creating an elegant look. The structure is a simple cuff with a small chain. With this thing on your wrist every day, you'll definitely receive tons of compliments and draw attractions somehow. The cuff bracelet is adjustable, so it easily fits your wrist as well as your Apple Watch series. Made of durable nickel-free and hypoallergenic material, nicely coated against daily wear, this cuff band offers an easy way to switch monotonous watch wearing to a much more feminine style.

4. Apple Watch® Strap With Tea Rose
Coach is a creative company that sells a great variety of clothing products. Like this Apple Watch band, it's quite different from other watch bands and straps. The band is made of chrome tanning leather, which is extremely flexible and durable. It has sophisticated craftsmanship on the design, with tea rose flower patterns. Each flower is hand made and built into the band with well-coated rivets. This Apple Watch band with tea rose creates a fashionable and adorable look that suits women most.

5. Secbolt Stainless Steel Band

Let's take a look at another jewelry style watch band. This Secbolt band is made of quality stainless steel. The great finish makes the band look shiny and classy. Besides, stainless steel is extremely durable, so if you are expecting a watch band that lasts for ages, that'll be it. The folding clasps are removable for you to adjust the length easily. It's easy to fit it around your wrist. The iWatch band is compatible with all Apple Watch models, from series 1 to 5, for 38mm and 40 mm.




6. Casetify CHEETAH DOTS

This Casetify CHEETAH DOTS Apple Watch band sells at $52, which is not cheap at all. Let's see how it's worth the price. First off, the cute leopard stripe design is an eye-catcher. Many people think the pattern neutral, and some think it more feminine. The stylish design naturally goes with your outfit. The quality is excellent, as it can hold up strong enough while you are working out, running, etc. Other than the comfortable texture, this band is easy to fasten and loosen for everyday use.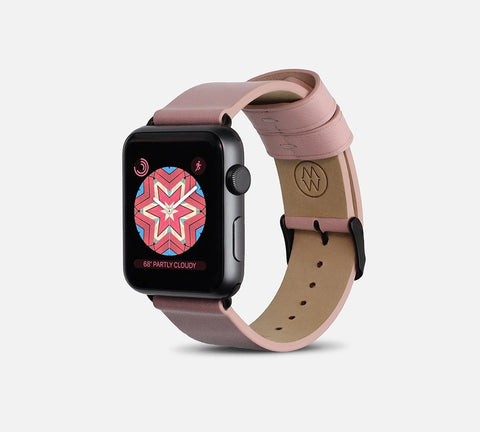 If you are looking for a leather band for your Apple Watch, this could be a pretty good choice. It's made of genuine leather with a clean, sharp look and quality texture. The band, overall, features aesthetic cutouts and exquisite edges. And the small buckle is made of beautifully coated stainless steel. The cute design perfectly meets the expectations of many women. This model has three colors, matured brown, young energetic pink, and neutral dark blue.

8. Casetify link bracelet Gold
Another Casetify bracelet band for Apple Watch that might intrigue you: It's a golden bracelet band with a subtle, brushed tone that will go pretty well with your casual and decent clothes. Made with a luxurious look, it has great craftsmanship, consisting of 14 links in total, which allows for easy adjustments if necessary. Such metal material with shiny color will make your Apple Watch wearing look greatly personalized. 
9. Diamond Band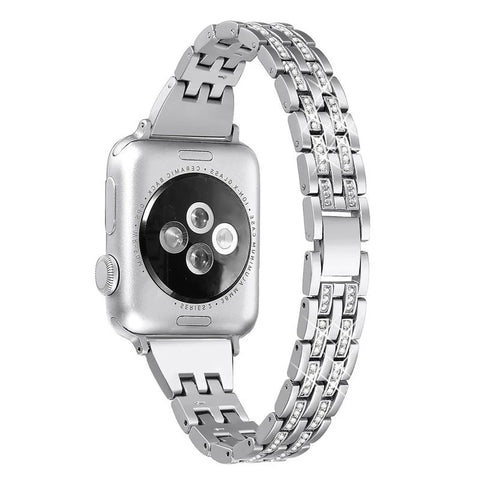 Let's check this Diamond Band from Lululook.com. This brand has a cute, delicate design that makes it more suitable for females. It looks beautiful with a slim size that fits the slender wrist perfectly. This company focuses on fashion as the diamond(rhinestone) decoration on the link makes it different from others. And the stainless steel adapter fastens and loosens easily. There are silver, black, rose gold, golden colors available for options. It's fully compatible with Apple Watch Series 5, 4, 3, 2, and 1. Overall, this diamond band is built for elegant, and comfortable wearing.

10. Apple Watch Sport band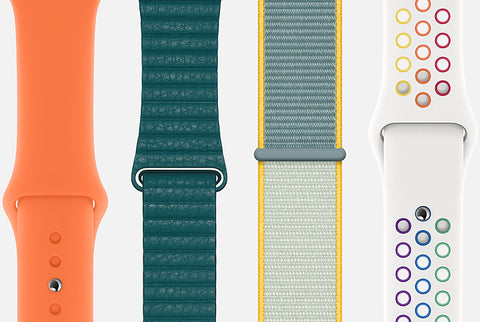 Apple itself has quite a few sport band choices officially to give your iWatch a lovely compliment. The Apple store, for these bands, is rich in various styles and colors. These bands are made of custom high-performance fluoroelastomer with a spin-and-tuck closure for easy fastening and loosening. Optionally, you might as well check Apple's sport loops which are made of soft, breathable nylon weave with an easily adjustable hook‑and‑loop fastener.

So what's your idea on our recommendation of Apple Watch Bands for Women?
These feminine Apple Watch bands have enjoyed great sales and been finely reviewed by many users. Recommended ones are always better than some unknown ones which you might end up returning them after experiencing for some days. These Apple Watch bands for women will cheer you girls up every day, encouraging you to stay cute, fashionable, and more feminine. If you own an Apple Watch Series 5/4/3/2/1, Apple Watch Edition, or Apple Watch Nike+, well, get yourself a custom watch band and be different instantly.