For those who would like to start the day with a fantastic cup of coffee, or keep the habit of drinking coffee all day long, coffee self-making has become a special lifestyle. For DIY coffee, there could be many tips, and usually with a few tools involved, from coffee makers, hot or cold coffee brewers, to coffee cups, mugs. Today we are going to share a few best coffee scales with timer. Having a timer function for a coffee scale is instrumental to making perfect coffee, because a scale does the job of weighing moderate coffee powder, while a timer is able to help you set, and calculate the perfect timing for coffee to be ideally brewed.
Before our recommendations for the best coffee scales with timer, let's get to know how exactly a coffee scale with timer works and what exactly it can do for us.
Part 1: So what can a coffee scale with timer do for you?
Suppose that you make your coffee without using a coffee scale like that, you won't be sure about the weight of coffee beans, neither will you have a clue about how much water needed. A coffee scale with timer will be a great helper in this aspect. In the first place, it does what it's supposed to do, weighing your coffee beans. This part is extremely important since a cup of coffee beans would not necessarily produce exactly a cup of grounds for you. While grinding, more or less, some beans would just physically vanish somehow. Therefore, a scale comes in handy to accurately measure the ideal weight of coffee beans as well as the proportion of water involved. On the other hand, the timer function is equally important. The scale timer enables you to how long exactly a cup of coffee should be brewed in water, and how long it'll be done. Also, it helps you conveniently set a certain amount of water and coffee to brew the right coffee you are most satisfied with.
Part 2: How to pick the best coffee scale with timer?
When you try to purchase a coffee scale with timer, there are a few factors you would need to take into consideration before pulling the trigger.
1. Brand
First of all, the brand does play a key role, because it has everything to do with technology and quality overall. It goes without saying that reputed companies have successful products with a good sale record. So the quality is convincing. 
2. Accuracy
Accuracy for weight measuring is a scale's first and foremost function. You got to know further how it does this part, usually, take a closer look at its specs, and see how many grams for the tolerance it can accurately measure.
3.  Waterproof Feature
Generally speaking, waterproof feature is a must-have for a coffee scale since water will be frequently used during coffee brewing. Being waterproof means a lot.
4.  Rechargeable Function
Obviously, a rechargeable coffee scale will be more popular. It will be a real hassle to replace batteries or keeping worrying battery life all the time.
5. Weight & Size
Weight and size for the scale means portability and easy use experience. Bulky and heavy ones are deal breakers for sure.
Part 3: 5 Best coffee scales with timer
Now let's move on with 5 Best Coffee Scales with Timer. Amongst so many options out there, we carefully tested these 5, and also read the reviews from existing users to understand them further. They are perfect recommendations, if you are on the fence, wondering which one could be suitable.
1.  Timemore Coffee Scale with Timer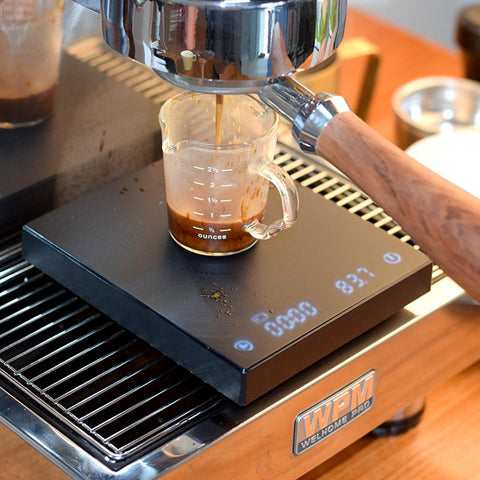 This Timemore Black Mirror Coffee Scale with Timer features a neat, modern design with a sleek look. It's a lightweight scale with a portable size 130 mm x 150 mm x 30mm (W x L x H). For its weight measuring function, it can measure coffee beans for a range from 0.5g to 2000g. Its accuracy is incredible with 0.1 gram increments. Despite that fact that it does the job greatly, it could have a slight error, especially measuring a large weight. It could be a 0.5 g for measuring 0.5 to 500 g beans. Frankly, such a tiny difference is actually negligible. Other than the marginal tolerance, this scale is a perfect with other helpful features, like the easy-to-read timer, rechargeable function with a USB Type C port, auto power off feature(in 3 minutes) for power saving, etc.
Highlights:
Beautiful, sleek look
Portable size and weight
High accuracy for weight measuring
USB Type C input for recharging
Auto power off feature 
Reasonable price: $65.99
Shortcomings:
Possible error for 0.5 to 3 grams tolerance
2.  Hario V60 Drip Coffee Scale and Timer, Black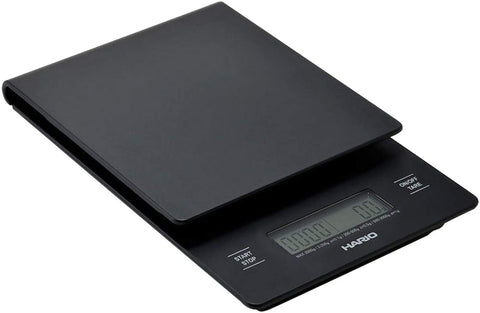 This Hario V60 Drip Coffee Scale is a typically popular product of the Hario Store on Amazon. Like Timemore scale, it features a 2000g max capacity for weight measurement. Inevitably, this scale would be some tolerance for actual use, for 2 to 200g, it could be 0.1 g more or less, from 200 to 500g, 0.5g, 500 to 2000g, 1g, in spite of its known accurate measuring. Anyway, 0.1 gram increment is already high accuracy for coffee scales of this sort. The built-in timer is another feature that enables you to have better control of the coffee brewing process. It also has an auto off feature within 5 minutes. 
Highlights:
1 gram increments for high accuracy
User-friendly, highly sensitive touch buttons
Auto power off feature
Shortcomings:
Not a rechargeable scale (requiring triple A batteries)
Possible error for 0.1 to 1 grams tolerance
Not many advanced features
Scales doesn't start weighing until at least 2 g beans is added
3.  Acaia PEARL
Pearl is literally like pearl, it's selling at a very high price: more than $140. Unlike the above two models, it also measures in ounces other than grams. It's highly sensitive and accurate in measuring weight, as accurate as up to 0.1 g, what's more, it keeps updating for weight changes resulting from evaporation and temperature. Pearl is a multi-functional scale with timer for convenient coffee brewing. Multiple modes include weight mode, timer mode, auto tare mode, auto start mode, espresso mode and beverage mode. Besides, it offers Bluetooth 4.0 for wireless connectivity to the Acaia App. If you are into an app-operated lifestyle, it's a great alternative. However, it may sounds a little complicated to get familiar with all features. With a built-in Lithium-ion rechargeable 3.7 V 1100 mAh, it provides approximately 25 hours runtime based on one single charge. You do have enough time to make the Pearl your pearl for delicious coffee.
Highlights:
Measurements in grams and ounces
Long battery life, rechargeable function
Bluetooth 4.0 for wireless connectivity
Acaia App available
Multiple modes for different purposes
Shortcomings:
A pricey option
It'll take quite a while to get used to using all function 
4.  OXO 11212400 Good Grips 6 Lb Precision Coffee Scale with Timer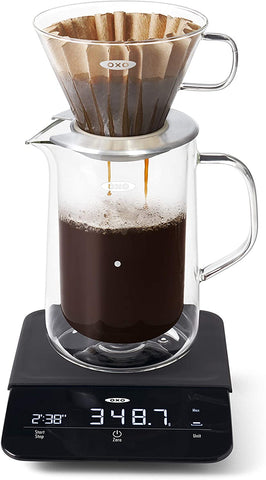 This OXO coffee scale with timer is a model with measurements in grams, ounces, pounds and kilograms, up to 6 lbs (3 kg). It's not a too complicated scale. With a smooth, flat surface, it's easy to use with easy-to-read digital display. As for timer, it allows time counting up to 9 minutes, 59 seconds, which is way enough for perfect coffee brewing. Plus, it also features an auto shut-off function, which makes it perfect for pour-over coffee. Auto shut-off will start after 30 seconds when it's not in use, and the standby mode allows for 5 minutes inactivity. OXO has done a very good job in battery power conservation. However, admittedly, it leaves much to be desired, it's not a waterproof scale, nor is it a rechargeable one.
Highlights:
Effective touch-sensitive buttons
Measurements in grams and ounces
Large weight range up to 3000 g
Auto shut-off at 30 seconds and standby mode at 5 minutes
Shortcomings:
Not a waterproof scale
Not a rechargeable scale
It is not as durable as other sturdy materials
5.  Acaia LUNAR
If you think the first Acaia coffee scale we listed overly priced, this Acaia Lunar will astonish you more. It charges you $225. Let's see how it works and what exactly it has to offer, making people believe it has such a value. Firstly, you can feel the quality by the appearance design. It's made of highly durable and water-resistant materials with protection against daily wear and tear. Compared to Acaia Pearl, Lunar can be considered to be an upgraded version, with improvements in almost all aspect, for instance, for multiple modes, it features dual display mode, timer starts with flow mode, as well as different auto tare modes. If you are expecting some advanced features, Lunar has got you covered. It's a mobile app compatible coffee scale, like Pearl, it's Bluetooth-enabled to sync with the Acaia App. Furthermore, it's firmware supported, as the scale will receive periodic firmware updates available in the app.
Highlights:
2-year warranty
Durable and water-resistant material
Rechargeable built-in battery with long runtime
App compatible and firmware supported
Shortcomings:
Too expensive: $225
Not intuitive interface to follow 
Final Words:
There could be hundreds of brands, thousands of models out there for your choice. Which ones could prevail sometimes depends on your actual needs. For most coffee lovers, they would like to keep things plain and simple, so they will deliberately exclude those with too advanced features. The very basic features they are looking for are a minimalist design, and the weighing and timer functions. If you enjoy a lifestyle of apps on smartphone, an app-compatible coffee scale could be a good alternative. These best coffee scales with timer we put together today all have highlights that we love, and some aspects that leave something to be desired. They could be a good investment in the long run if they function the right way, and most importantly, suit you perfectly.